Supreme Court judge also referenced The Handmaid's Tale as she told state school heads: 'Don't let the bastards grind you down!'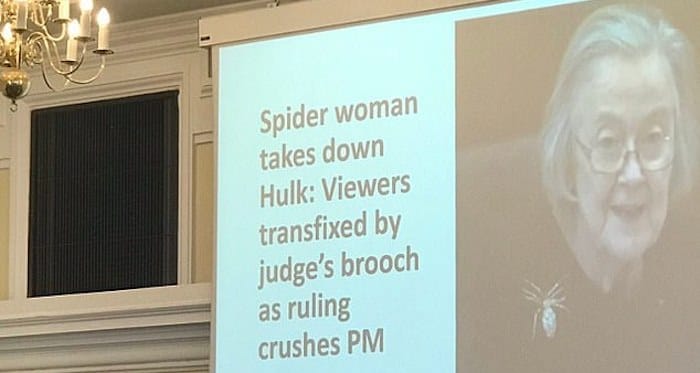 Lady Hale has sparked a constitutional row after opening a speech with the words: "Let's hear it for the girly swots".
The president of the Supreme Court, who last month declared the Prime Minister's prorogation of parliament "unlawful", was speaking at the Association of State Girls' Schools annual conference in Westminster on Friday when she made the comment.
Baroness Hale tells Association of State Girls' Schools, 'let's hear it for the girly swots' as she opens their leadership conference. pic.twitter.com/n3Rfb3D9aN

— Tes (@tes) October 4, 2019
The phrase "girly swot" was used by Boris Johnson to describe former PM David Cameron in a leaked government memo. And allies of BoJo reckon that Hale's use of the term is "injudicious". Iain Duncan Smith MP tweeted:
"For the president of the Supreme Court this is fundamentally injudicious of her — she's opened herself to the question, who judges the judges?"
State school-educated Hale, who is a patron of the association, reportedly said: "I was a girly swot and there were quite a few young men who were, similarly, girly swots: they wanted to get on with their work and their lives". The top judge was reflecting on her time at Cambridge University where she read law.
Hale, whose parents were both headteachers, was also reported to have told the gathering of all girls' schools heads that her number one piece of advice to young women is: "Don't let the bastards grind you down". This is a phrase used in Margaret Atwood's feminist novel The Handmaid's Tale.
The top judge made the remarks under a presentation slide that quoted a Metro headline about last month's ruling, "Spider woman takes down Hulk: Viewers transfixed by judge's brooch as ruling crushes PM". This was a reference to the spider brooch she wore when delivering the verdict and Johnson's Hulk-Brexit metaphor.
Responding to critical comments by Duncan Smith and others, Doughty Street Chambers silk Kirsty Brimelow QC took to Twitter in support of Hale. "And what actually did she say? Post the speech," she wrote.
And what actually did she say? Post the speech.

Commenting on press interest in the Supreme Court, success of live-streaming from the Supreme Court – or maybe just light-hearted amusement at this press headline?

Hoping no one believes this made up assertion @JamesHeartfield https://t.co/uSDHyAcDwf

— Kirsty Brimelow QC (@Kirsty_Brimelow) October 5, 2019
Her chambers colleague, Sarah Vine, added:
What, please, did she say with reference to a slide showing a headline from the Metro? What words or sentiments are reliably attributable to her? I'm assuming that you were there or have a reliable source, because otherwise you would be speculating which would be very foolish.

— Sarah Vine (@SarahVAtDSC) October 5, 2019
A spokesperson for the Supreme Court said Lady Hale had been unaware of the backdrop to her speech, stating:
"No, Lady Hale was not aware beforehand of the slide which was, we understand, a newspaper headline for which she was not responsible. Lady Hale said a few words before leaders of girls state schools and was glad to declare support for girly swots in that company."
The first female president of the Supreme Court is set to retire from the top post in January. During Friday's speech she wore a dragonfly brooch.