Slaughter and May distances itself from 'Slaughtered and Dismayed' corporate law meme account
Insta page, until recently, used a modified version of magic circle outfit's logo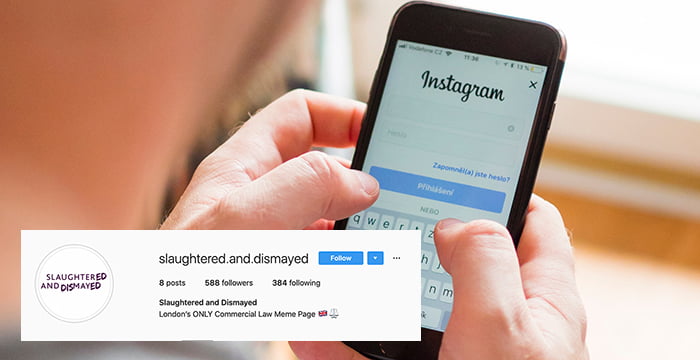 Slaughter and May has distanced itself from a corporate law-themed meme page which until recently used a modified version of the magic circle outfit's logo.
Launched just over a week ago, the account appears on Instagram under the username 'Slaughtered and Dismayed' and describes itself as "London's ONLY Commercial Law Meme Page ??⚖️". The page, as its description suggests, takes a satirical (and an occasional brutally honest) look at life as a City lawyer through the medium of memes.

The page had, until recently, used Slaughters' distinctive logo, adding additional letters so it now reads 'Slaughtered and Dismayed'. The account's profile image has now been changed to one which bears less of a resemblance to the firm's logo. Slaughter and May confirmed it has no connection with the account.
The account, which is fast-approaching 800 followers, has so far shared eleven images, touching on subjects such as the US-driven MoneyLaw movement, life as a vac schemer and partners taking the credit for associates' work.
Speaking to Legal Cheek, the account's creator declined to divulge their true identity — or even confirm if they were a lawyer — amid fears it could stifle their "creative freedom" or "jeopardise" their career.
News of the Insta page comes just weeks after Slaughters posted its first-ever tweet — ten years after it opened an account. Slaughter and May does not have an official Instagram account.