Spoiler: there's no singing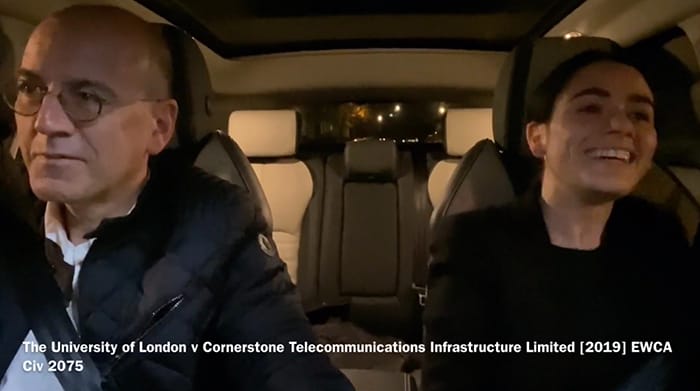 A father-and-daughter barrister duo have injected a spot of legal learning into their evening commute, filming themselves discussing recent case law as they tackle London's nightmarish traffic.
Wilberforce Chambers' Jonathan Seitler QC and his daughter, Miriam Seitler, a barrister at Landmark Chambers, have taken inspiration from 'Carpool Karaoke', a recurring segment on The Late Late Show with James Corden, which sees musical guests sing along to their songs whilst zipping around LA in a 4×4.
Seitlers' spin-off, cleverly dubbed 'Carpool Caselaw' (spoiler: there's no singing), see the property law specialists discuss the recent Court of Appeal case University of London v Cornerstone Telecommunications Infrastructure Limited.
The case, as the website of Wilberforce helpfully explains, concerned interim and temporary rights under the new Electronic Communications Code in Schedule 3A to the Communications Act 2003, which you are no doubt aware was introduced by the Digital Economy Act 2017. Jonathan successfully acted for the respondent.
Expert analysis aside, highlights include Jonathan's slight preoccupation with the football on the radio at the start of the five-minute long clip and the random interruption from the car's sat-nav. "I don't know how to turn this off," the QC confesses.
This isn't the first time the father-daughter pair have taken to the road to discuss the latest developments in property law. Earlier this summer the legally-minded duo discussed London Kendal Street v Daejan Investments, a county court case which concerned the ability of a landlord to refuse the tenant's lease renewal on the ground that the landlord intends to redevelop the premises.
Jonathan Seitler QC will be speaking at Legal Cheek's latest bar student event, 'How to make it as a barrister', tonight at The University of Law's Bloomsbury campus in London.