Eve Cornwell gives huge following glimpse into law life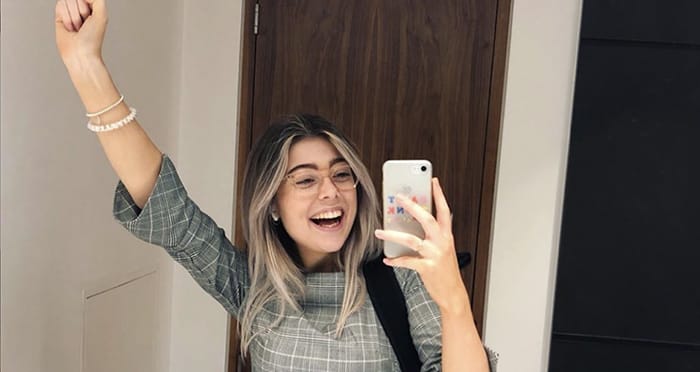 YouTube sensation and social media star Eve Cornwell has started her training contract, and given her loyal fan base a glimpse into life as a magic circle trainee.
Cornwell, whose popular YouTube channel has amassed a dedicated following of 217,000 subscribers and over 14 million views, started at elite City outfit Linklaters yesterday. In a smiley snap shared on her Instagram page, which has pulled in over 32,000 likes at the time of writing, Cornwell described her first day of the three-week induction course at the firm.
"I spent the day listening to workshops, including how to make the most of my training contract, a very comprehensive firm building tour and meeting key members of the trainee development team. This is kinda like real life [S]uits."
Cornwell regularly keeps her fans updated on her legal exploits, and shared several stories to her Insta page that day which showed her receiving her firm pass and updating her LinkedIn bio to reflect her new trainee solicitor status. The vlogger, who is known for her tongue-in-cheek remarks and quirky catchphrases, also posted a photo of her posing with a Legally Blonde-inspired notebook. "Only the most professional of notepads for first day at work x," she joked.
but did i take a notepad with a dog dressed as elle woods to my first day working at a law firm? yes. yes i did pic.twitter.com/82hQu3HYkR

— Eve Cornwell (@Evecornwell) September 2, 2019
Reflecting on a jam-packed day, Cornwell, who secured her first choice seat, wrote: "I left today filled with adrenaline… Without sounding too cheesy, today reminded me exactly why it's worth putting in the work. This is the career I want to pursue, this is what gives me energy to wake up in the morning, and these are the people I want to be surrounded by. I'm so excited to keep learning more and to start my first seat in 3 weeks."
Cornwell has been keeping busy in the run-up to commencing her City TC. The Bristol Uni law grad completed the fast-tracked Legal Practice Course (LPC) at ULaw Moorgate earlier this summer all while launching her very own brand. After much speculation, the commercially-minded lawyer and coffee connoisseur revealed the Millennial Coffee Club as her latest venture; the first "series" of which launched last month and includes coffee-related paraphernalia such as hoodies and cups. The trendy fashionista also dropped her first "legal lookbook" this summer which shows her model different work outfits.
She has also spoken candidly about overcoming imposter syndrome in recent months. From "crying in the bathroom because [she] felt so out of place in a room of such polished and confident students" during her first-ever interview to managing multiple projects on the go — Cornwell has come a long way and we can't wait to see what's in-store for the budding lawyer on her path to practice.
i've grown so much as a person in the last few months it's mad, i wish i could speak to this lil lost soul in february https://t.co/8Z2V07OpBU

— Eve Cornwell (@Evecornwell) September 2, 2019