'This is weapons grade shithousery', anonymous author complains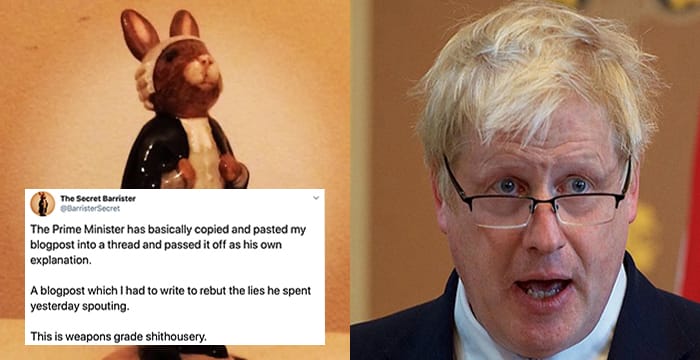 The Secret Barrister has lashed out at Boris Johnson over a Twitter thread about the London Bridge attacks, complaining that the Prime Minister's unusually detailed legal analysis was "copied and pasted" from their website.
The high-profile but anonymous author said that Johnson was guilty of "weapons grade shithousery", an accusation that has been retweeted over 30,000 times and counting.
The Prime Minister has basically copied and pasted my blogpost into a thread and passed it off as his own explanation.

A blogpost which I had to write to rebut the lies he spent yesterday spouting.

This is weapons grade shithousery. https://t.co/pnowlm60Y0

— The Secret Barrister (@BarristerSecret) December 1, 2019
The row centred around the release from prison of Usman Khan, a convicted terrorist who killed two people near London Bridge on Friday afternoon.
A political argument over changes to sentencing law led The Secret Barrister to write a detailed blog post about why Khan got out. Published on Saturday, it discussed how Khan was given a type of sentence called "detention for public protection" in 2012, but then had that changed to an "extended sentence" in 2013 by the Court of Appeal.
Substituting in an extended sentence meant that Khan was automatically released on licence after eight years of his 16-year term. That has since changed: The Secret Barrister stressed that "in 2019, no terrorist sentenced to a term of imprisonment is subject to automatic early release".
Enter Boris Johnson's Twitter account. A 16-part thread appeared in Johnson's name on Sunday morning, covering similar ground. Justice Secretary Robert Buckland plugged it again in a BBC interview today.
The terrible Khan case has highlighted a complicated area of law. There have been many inaccuracies reported about this case over the last 24 hours. Here are the details (1/16)

— Boris Johnson (@BorisJohnson) December 1, 2019
Although the thread didn't repeat any phrases from The Secret Barrister's blog post, the criminal practitioner thought it was hardly a coincidence that "a PM who has never before engaged in any form of detailed legal exposition — his style is famously broad brush and bright colour — decided apropos of nothing to publish a lengthy legal explainer on a complex issue, hours after mine was widely circulated".
Specifically, Johnson's thread linked to the same Prison Reform Trust explainer on sentencing as the blog post, and quoted one of the same paragraphs from the Court of Appeal's 2013 judgment.
In a follow-up to the viral "shithousery" accusation, the bestselling writer said that it was possible but unlikely that government lawyers had drafted the thread without reading the blog post. Instead, "the most obvious explanation is that Johnson (or likely his SPADs) have taken their info from the blog, stripped out the inconvenient context and used it to present Johnson as a legal sage sharing his wisdom".