Thoughts?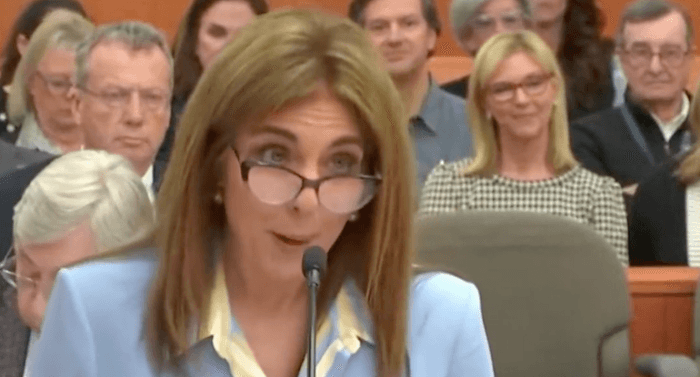 The latest US celebrity trial has caught the attention of lawyers this side of pond thanks in part to some rather interesting cross-examination.
Hollywood actress Gwyneth Paltrow, 50, is being sued by retired optometrist Terry Sanderson, 76, over a 2016 ski collision.
The eight-day trial, which is expected to draw to a close today, is being televised and so various clips documenting some of the rather eye-catching exchanges are doing the rounds online.
In one (below), re-shared by Edinburgh Law School commercial lecturer Scott Warley and viewed over five million times, Paltrow is cross-examined by Sanderson's lawyer, Kristin VanOrman, on seemingly random topics.
VanOrman, an experienced lawyer of more than 25 years, questions Paltrow on everything from her height to her choice in ski attire and whether she considers herself to be a good tipper — something she was asked to swear "under oath".
Warley wrote: "Advocates and barristers, is this how you would do a personal injury cross examination in the UK?"
Advocates and barristers, is this how you would do a personal injury cross examination in the UK? https://t.co/1hszdlKCNk

— Scott Wortley (@Scott_Wortley) March 27, 2023
Some Twitter users believed the lawyer's tactic was to lull the actress into a false sense of security and then presumably go in for the kill.
"It's just gaining the witness's confidence before going in with the really difficult questions!" said Kings Chambers silk Gerard McDermott KC.
Meanwhile, St Pauls Chambers silk Simon Myerson KC said: "When I first saw it, I thought overawed but perhaps getting some useful information about height and behaviour."
Sanderson claims that Paltrow recklessly crashed into him on a slope at Deer Valley ski resort in Utah, leading him to suffer a brain injury and four broken ribs. He is seeking $300,000 (£243,000) in damages.
Paltrow however denies the charge, claiming that it was him who crashed into her. She is countersuing for $1 (81p), plus legal fees. The trial continues.