Shares study update on Insta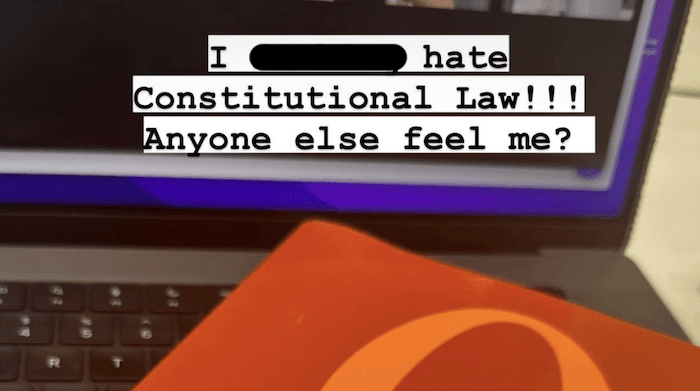 Never one to pass up an opportunity to update us on her legal journey, Kim Kardashian has taken to social media to complain about studying constitutional law.
The Keeping Up With the Kardashians star posted a picture on her Instagram story of a laptop and a constitutional law textbook, captioned "I fucking hate Constitutional Law!!! Anyone else feel me?" Students this side of the pond might well agree.
The textbook causing Kim so much frustration was LexisNexis' Questions & Answers: Constitutional Law by Paul E. McGreal and Linda S. Eads.
The star's latest post sparked comments from fans and students on message board Reddit, with critics slating her for what they believe is an easy topic.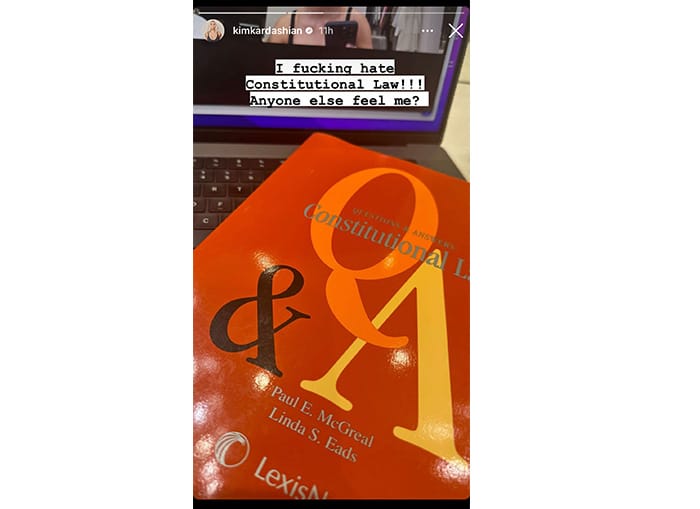 "For context, Constitutional Law is a fundamental core course in graduate law school. It is not supposed to be very difficult. Source: I am a graduate law student," one commenter wrote. Another chimed in, "I thought it was an easy and fun class. She must love civil procedure."
However some fans came to her defence, with one writing, "Former law student, current lawyer – I f**kng hated constitutional law lol."
Kim started her legal journey in 2019, citing her attorney father, Robert Kardashian, as the inspiration for her new career.
But the journey hasn't always been plain sailing. She failed her baby bar exam three times before passing it whilst ill with Covid at the end of 2021.
In her home state of California, the baby bar is a mandatory seven-hour exam for first-year law students like Kim attending unaccredited schools. Students are not permitted to continue their legal studies without passing the assessment which is made up of four essays and 100 multiple-choice questions.
The post comes barely a week after her last law school update, where she shared an image of a pair of folders for her Community Property and US constitutional law modules optimistically captioned "New subjects … let's go!"