Snaps show social media sensation using IRAC method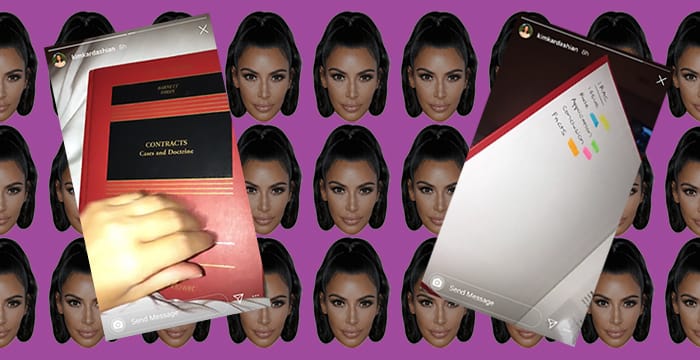 While most law students sleep away their summers, wannabe lawyer Kim Kardashian has shown no signs of slowing down.
The 38-year-old socialite took to Instagram stories yesterday to share snaps of her hitting the books.
In one shot the social media sensation, who has amassed a 145 million-strong following on the photo-sharing site, peruses a hefty contract law casebook. In another, and what appears to be the inside front cover of the book, Kardashian jotted down and highlighted, of course, a key for the IRAC method: issue, rule, application and conclusion. The acronym is well-known among law students to help structure problem-based essays.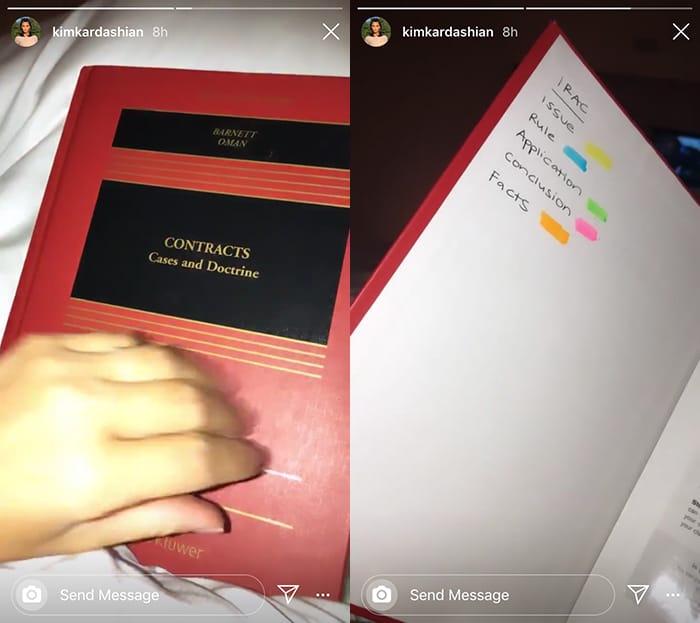 It seems the reality tele star who shot to fame on Keeping up with the Kardashians is keen to keep her fans abreast of her law school exploits. Earlier this summer she sacrificed TV time to study torts: "Sorry I wasn't live tweeting. I have homework tonight. #IntentionalTorts", wrote Kardashian, who typically tweets alongside an episode of the show when it airs.
Sorry I wasn't live tweeting. I have homework tonight. #IntentionalTorts pic.twitter.com/CWpRDxSsYJ

— Kim Kardashian West (@KimKardashian) June 3, 2019
The queen of oversharing has previously shared a criminal law problem question featuring some very famous friends. Singer and songwriter Justin Bieber appears as a stolen artwork dealer alongside Zayn Malik, Niall Horan and Harry Styles of boyband One Direction fame as possible co-conspirators.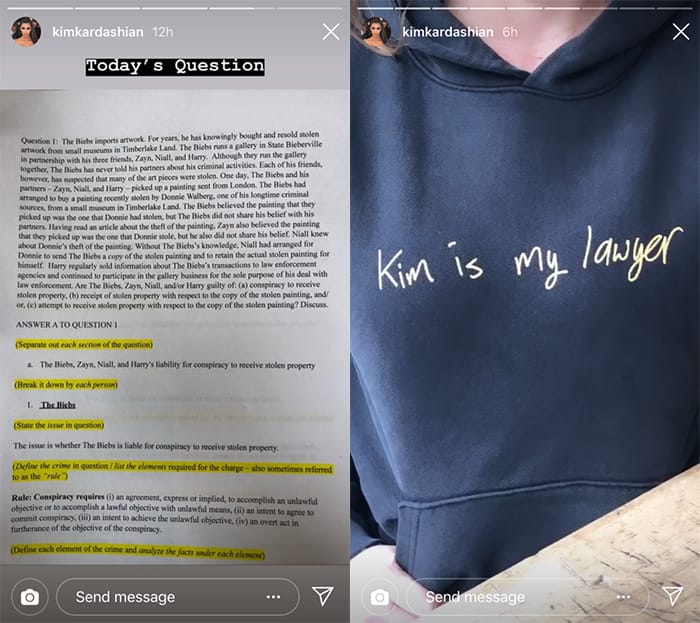 The style icon has left no stone unturned: one snap shared with her Insta followers shows someone wearing a hoodie (a law student staple) with the words "Kim is my lawyer" scribed on the front.
The mother-of-four's foray into law was first revealed in May's issue of fashion bible Vogue. Kardashian confirmed she had begun a four-year legal apprenticeship with an unnamed law firm in San Francisco last summer, with a view to sitting the California bar exam in 2022.