Meet Akin rookies Rebecca McNeill and Simrhan Khetani — aka 'becsandthecity'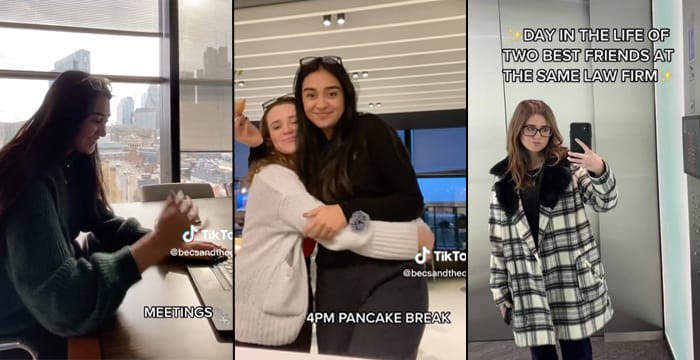 Ever wondered what it's like to work with your best friend? Rebecca McNeill and Simrhan Khetani are doing just that: sharing insights into trainee life at one of the highest-paying US law firms in London.
McNeill, 24, and Simrhan, 23, studied law at Cambridge University, where they lived together, and now work in the London office of Akin.
The study buds turned work besties regularly post 'day in the life' videos on TikTok, where they are known as 'becsandthecity' and have over 10,000 followers.
From pastry-filled breakfasts to lunch trips to after-work drinks to events at bougie venues, the first-year trainees share the high-points of working in corporate law. Both are currently in their second seats, in corporate, with McNeill in private equity and Khetani in M&A.
Their most-viewed vid (below), at over 767,000 views, shows McNeill get set a "massive task" at 5pm, before the camera pans to her ordering a Deliveroo meal at 8pm, grabbing coffee at 1am, leaving the office in a cab at 3am and arriving home at 4am. "I'm well compensated for working like this and I enjoy it — I would leave if I didn't!" she wrote in the comments, adding that she doesn't have to work late very often.
First-year Akin trainees are among the highest paid in the City, earning £57,500 when they start their training contracts and a dollar-pegged £179,000 salary upon qualification.
Speaking to Legal Cheek, the rookies said it was their criminal law supervisions during their university days that brought them together. "We both had criminal law supervisions together and would cycle down to these every Wednesday," they said. "We realised we had lots in common and quickly became great friends."
They started their TikTok account during lockdown, initially trialling different takeaways ordered through Deliveroo and sharing their thoughts. "During a time where a lot of people felt lonely, we hoped that we could spread some lighthearted fun," they said.
Soon after leaving university and securing training contracts at the same law firm, they decided to continue documenting their journey and friendship. "It's since been really rewarding to inspire other aspiring lawyers, debunk myths about the lifestyle and also have a creative outlet," they told Legal Cheek.
On how they balance content-creating with trainee commitments, the duo said: "We, of course, prioritise our trainee work. However, as our videos follow our day-to-day lives, it does not require too much effort to film what we are already doing. We usually edit our videos at the weekend, which is an enjoyable way to unwind and reflect on the week."
The besties were shortlisted for 'Best Use of Social Media 2023' at our Awards last month, and documented their attendance on the night in a recent clip.
Did you know Legal Cheek is also on TikTok? Give us a cheeky follow — @legalcheek.