They share more than meets the eye, writes Christianah Omobosola Babajide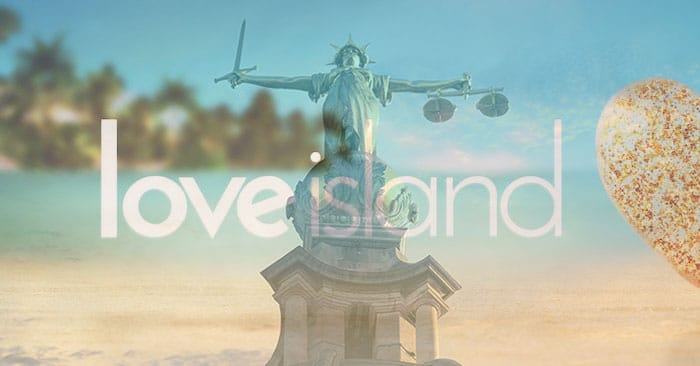 Love Island, the addictive reality TV show that has captured the hearts (and minds) of millions, may seem like an unlikely parallel to the solemn halls of justice. However, beneath the sun-soaked drama and spray-tanned bodies, there are striking similarities between ITV's hit dating show and the criminal justice system.
As someone with a guilty pleasure for trashy TV — evident from my Legal Cheek feature five years ago on 'Five reasons why students are obsessed with Love Island', it gives me great honour to present five ways Love Island is just like the legal world.
Cross-examination
In both Love Island and the criminal justice system, the art of cross-examination is performed well. In the villa, we witness heated confrontations like the time Whitney confronted Mehdi for kissing four women during the iconic heart rate challenge, or the time Tyrique admitted to Ella that he "misses the game" not long after confessing he's developing feelings for her.
Similarly, in the courtroom, barristers cross-examine witnesses and experts tearing down their credibility bit by bit. Whether it's exposing hidden motives or inconsistencies, both the Majorcan villa and courtrooms show us how cross examination can be done.
The jury of public opinion
Everyone knows the jury determines whether a defendant is guilty or innocent, in the same way the public pick sides on Love Island. In the villa, the islanders' fates will be in the hands of viewers at home who cast their votes and ultimately decide who they'd like to crown King and Queen of the villa. This is tantamount to a typical criminal case's fate that is decided by twelve citizens that represent society. Both systems showcase the influence of the masses in shaping outcomes.
Appeals and second chances
The criminal justice system allows for appeals because it recognises the possibility of errors or miscarriages of justice. Love Island follows suit with the Casa Amor twist — this is a fan-favourite moment in the series where contestants are split into two villas and six single guys and girls are brought in to try and rock relationships or build new ones in attempts to keep their place on the show. This dramatic shake-up provides an opportunity for redemption or a second chance at love. The same way that appeals can offer hope for justice to prevail, Casa Amor presents a chance for contestants to correct their earlier decisions and find true love on the island.
Presumption of innocence
In both Love Island and the criminal justice system, the principle of "innocent until proven guilty" can hold weight. The contestants are given the benefit of the doubt, their intentions questioned but not assumed. When Mehdi was still on the island, a viewer tweeted his behaviour towards Whitney (where he blamed her for making Jess cry) was "giving guilty until proven innocent" and described it as a "major ick". Similarly, defendants in court are presumed innocent until the prosecution proves otherwise.
Drama, scandal, and media frenzy
The Love Island tea is piping hot every season. Viewers at home are glued to their screens, captivated by each explosive episode on the island. Season after season, the cast members unleash a whirlwind of drama and scandal — the boys just can't seem to stay out of trouble! Just as the Daily Mail dissects the latest racy challenge, similarly the media delves into high-profile court cases like the defamation suit involving Johnny Depp and Amber Heard.
Court dramas popularity like The People v. O.J. Simpson — American Crime Story mirrors society's insatiable appetite for scandal. They provide us with true-story reenactments like Extremely Wicked, Shockingly Evil and Vile to classic films like The Lincoln Lawyer gives us cinematic moments that are built to be as tense and dramatic as possible.
Finally…
I'm sure you'll agree that Love Island and the criminal justice system share more than meets the eye. From the art of cross-examination to the power of public opinion, the parallels are undeniable.
Both worlds offer second chances, presume innocence, and thrive on drama, scandal, and media frenzy. So, next time you find yourself engrossed in the latest island love triangle or tuning into a courtroom drama on Netflix, remember that love and justice can be found in the most unexpected places.
Christianah Omobosola Babajide (she/her) works in legal marketing at a leading barristers' chambers in Central London. She has a degree in law and over five years of legal writing experience.