A panel of lawyers from White & Case discuss the realities of working on high-value, cross-border deals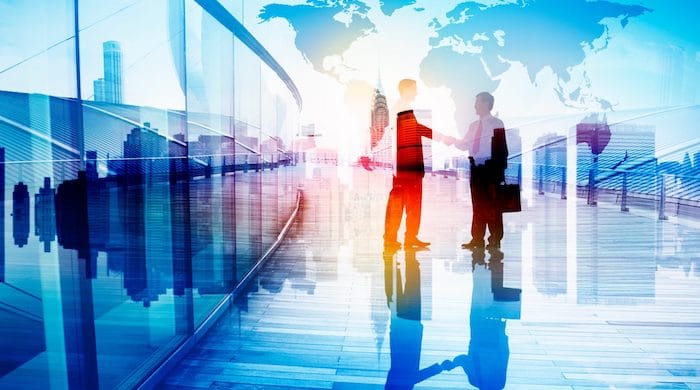 'What does the life of a lawyer at a global law firm look like?' is a question often asked by students seeking to enter the profession. At Legal Cheek's recent virtual student event, 'An international case explained', lawyers from White & Case came together to discuss how they work with clients and colleagues across the world to deliver high-quality legal advice.
The speakers
• Victoria Burton, partner in the commercial litigation team
• Julia Ogievetsky, senior associate in the commercial litigation team
• Elizabeth Hanson, trainee solicitor in the commercial litigation team
1. Challenging yet exciting work
Working with colleagues from different practice areas and countries can come with its unique set of challenges, said Julia Ogievetsky, senior associate in White & Case's commercial litigation team. Managing various stakeholders is a big part of her job and international lawyers need to be sensitive with respect to, for example, what kind of things can be discussed on which email threads. "I've even had eight different email chains for one single mark-up of a document," she explained. "It is about being sensitive to the interests of all stakeholders. It's a really fun task though and always satisfying when the case goes smoothly."
Managing the client through a case poses another great challenge, according to Victoria Burton, a partner in the firm's commercial litigation team. "Keeping the client with you emotionally throughout the process requires you to explain at the beginning that it might be a bumpy ride," she said. This is particularly a challenge for clients who do not have a lot of legal experience. "For a client who's never been involved in litigation before, being served with a big application can put them under a lot of pressure. It is important to make sure the client is happy so that they are able to input effectively throughout the litigation process," Burton told the virtual audience of over 500 students.
2. Rising use of tech in cross-border work
Lawyers at global law firms such as White & Case often work with colleagues in different time zones. "I did a restructuring matter last year which involved more than 20 of our offices," recalled Burton. "Being able to speak to people effectively through technology is truly a godsend! Sitting in the UK, I have ended up on group calls with people who are in L.A. and in Australia. Tech has made that possible."
The importance of technology is even more pronounced in areas like litigation. One important stage is disclosure, where a party is required to furnish its relevant documents to its opponent. Burton said, "in the last ten years, there have been huge leaps and bounds in how tech can assist in disclosure. In big litigations, it's not uncommon for there to be millions of documents to be reviewed."
Machine learning has proved a game-changer in her practice. With lawyers doing the initial review, the system learns what's relevant in a document and begins to identify themes. This saves a significant amount of time and allows the lawyers to focus on delivering high-quality legal advice. Burton said that this is a welcome shift for clients too, as disclosure typically used to be a very expensive stage in the process due to the hours and staff involved.
3. Collaborating with colleagues from around the world
Working at a firm like White & Case offers the invaluable opportunity of working with colleagues from over 30 countries. Elizabeth Hanson, a trainee solicitor in the commercial litigation team, said the firm offers many international opportunities to its trainees, including a guaranteed international secondment.
Adding to this, Ogievetsky said that the firm's vast global presence has proved very helpful in facilitating a seamless client service. "I was working on an arbitration which involved an element of Spanish law," Ogievetsky said. "Rather than finding external Spanish counsel, we simply engaged our colleagues in Madrid. At White & Case, you can do that with most jurisdictions you can think of."
4. Impact of ESG
The rise of environmental, social and governance ('ESG') aspects in the commercial world means that the work of lawyers is changing. Quoting from a paper published by the London School of Economics, Burton said that the cumulative total of climate-related claims doubled between 2015 and 2021.
Apart from representing parties in such cases, lawyers are increasingly focusing on prevention, or helping their clients before claims are even brought. Burton remarked that this includes encouraging clients to develop robust strategies to guard against potential claims by, for example, checking their policies and figuring out areas where they might be exposed to claims. She added: "If there are issues that can be corrected before somebody picks up on them and brings a mass claim, it is going to save the client a lot of time and a lot of money."
Equally, lawyers and law firms are expected to develop their own ESG credentials as well. This means many aspects of the big law lifestyle are being rethought, for example, business travel. "There is certainly great scrutiny now on whether or not we need to travel internationally for meetings," remarked Burton. "Often an issue can be discussed via a video call rather than spending hours travelling."
5. Developing commercial awareness on the job
While admittedly an elusive term, the role of commercial awareness cannot be overstated in the life of an international lawyer. Drawing on its importance, Ogievetsky said, "it is anything that affects your client's or prospective client's business. You can build it reading e.g. the Financial Times or even whilst using Twitter if you're going to the right news sources."
According to Burton, it is important to put yourself in your client's shoes at each step, especially as a junior lawyer. "Think about what the clients are trying to achieve and what their objectives may be," she said. "Go and speak to your supervisor about what's driving the client. Over time, it will simply become second nature."
About Legal Cheek Careers posts.