A panel of experts share their insights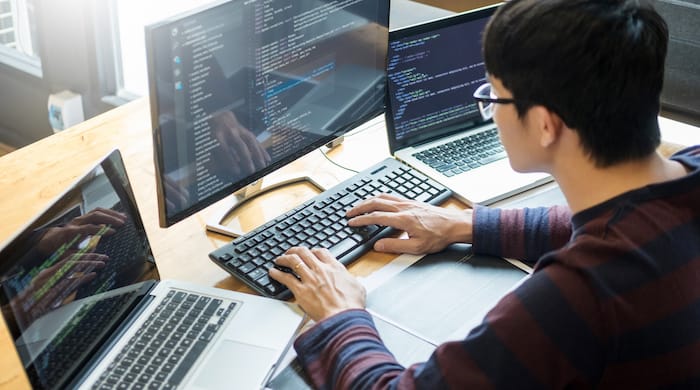 At the Leeds leg of Legal Cheek's and The University of Law's (ULaw) student careers and commercial awareness 'Secrets to Success' series, a panel of experts gathered to share insights on all things lawtech.
There were: Addleshaw Goddard associate Thomas Hinton; Konexo, an Eversheds Sutherland company, senior projects consultant Barry Rodick; Pinsent Masons head of product services Sarah Wilson; and Dr Chris Walker, tutor at ULaw Leeds and ULTRA (ULaw's Legal Tech Research Academy team member), came together to offer their views on lawtech.
Overblown fears that artificial intelligence (AI) is a scourge set to lay waste to the legal profession and sweep away countless jobs were met head on by the panel of legal experts in Leeds.
They agreed that machine learning and legal tech do herald a new era of change, but said they would also bring many benefits for future lawyers.
Trainees are among the first to reap the rewards, they said, with technology already taking care of the mundane and repetitive office tasks that once filled their days. While, AI will quickly become an essential tool, enabling law firms to keep pace with the growing demands and expectations of clients.
Here are four key takeaways from the panel.
1. Lawtech is transforming the legal market
The days of legal work being viewed as a quasi-mystical enigma by clients are over, explained Addleshaw Goddard's Thomas Hinton. Following the 2008 financial crash, with the ensuing need for cost-effectiveness, legal work began to lose some of its mystique. Clients, he said, "realised that legal matters are just like every other project, and can be split up into different pieces".
Hinton suggested that technology was one part of the project, and as in other industries, clients need it to be up to date and effective.
Price is a major impetus for innovation, but not the only one — clients also want something more engaging. The days of producing dry 200-page reports for clients to read are on the way out. This is the era of graphs, dashboards, and data visualisation.
Eversheds Sutherland's Barry Rodick explained that law is a business services industry like any other and the demand of the client shapes the industry. "Clients don't have much time, and don't want to read long dry documents," he said.
"Innovation and legal tech is the vehicle used to enable change in delivery and not the cause itself," said Pinsent Masons' Sarah Wilson, summing up the panel's thoughts.
2. Trainees are moving up the value chain
ULaw's Chris Walker explained that trainees are finding great improvements in the infrastructure supporting them at medium to large law firms.
Wilson said that firms are undergoing a cultural shift, with an emphasis placed on trainees being directly exposed to legal work and advising clients. Junior lawyers are presented with legal work from the outset, and there is now a focus on ensuring they spend as much time "lawyering" as possible.

"Trainees twenty years ago spent two weeks stamping documents — now this is completed via .pdf in ten minutes," said Hinton, adding that photocopying, once the preserve of trainee initiation, is now done by personal assistants and legal secretaries.
Indeed, there are big structural changes being implemented, for the benefit of trainees, enabling them to be more future-facing. The old culture of trainees spending their time on menial tasks, and taking in law passively as if through osmosis, is in decline.
3. The skills gap
A lot of government papers and advisory articles have been written about the skills necessary for the 2020s, and Walker insisted this was relevant for all industries, including law.
During his time as a tutor he said he has come across students who have been completely lacking basic technical skillsets. He suggested that an understanding of software such as Excel and Microsoft Word were requirements in most industries, and that it was important for students to develop basic technical skills in order to stay up to date in a changing work landscape.
Having identified this skills gap, ULaw launched ULTRA to encourage students to develop these skills and stimulate their curiosity about tech. It offers lessons in python coding, the language used by decision making systems in AI, for example. This background in technical skills will equip students entering a much more tech-focused legal industry.
Wilson explained how trainees were being taught to utilise tech tools at Pinsent Masons. A key strategy of the firm is to shift things to the lawyers, giving them the tools and the training, and not relying too heavily on legal technologists. Moreover, Wilson explained that the younger generation were more tech savvy and will be the ones driving the legal world into AI. They possess the advantage of being properly trained in legal technology at the start of their careers.
4. The future
The panel ended the discussion by sharing some of the innovations they hoped to see in the future.
Rodick extoled the virtues of technology with the ability to accept and understand instruction. He explained that a lot of legal work sits still, waiting to be chased. With the aid of a machine learning tool understanding the workflow of a matter, everything would operate at a faster and more efficient pace. If someone hadn't responded in six hours, it would alert someone to take action, and chase it down.
Walker had a word of caution, hoping that there will be more clarity in the way terms such as AI and machine learning are used — they should not be used too loosely. He drew attention to the phenomenon known as the "Gartner hype cycle", which sees an initial burst of enthusiasm for an innovative product that gradually leads to a plateau of productivity. The danger would be a slowdown in the uptake of legal tech, to the detriment of the industry.
Wilson stressed the huge potential impact on a trainee's daily life if legal tech was used properly. She said she'd like to see the basics done right first: document automation that can extrapolate the key information straight out of a system and produce a first draft. Instead of spending days producing first draft documents, this would achieve it within hours or minutes.
Hinton drew from his own time as a trainee, and the strenuous experience of taking the minutes of a meeting by hand. He explained that this detracts from the benefits of sitting in on a meeting, as the task of writing everything down takes up all the focus. Machine automation here would allow trainees to get to grips with the legal and business complexity at work, and enable a far superior learning experience.
About Legal Cheek Careers posts.