Lawyers who've come into law from other industries share their insights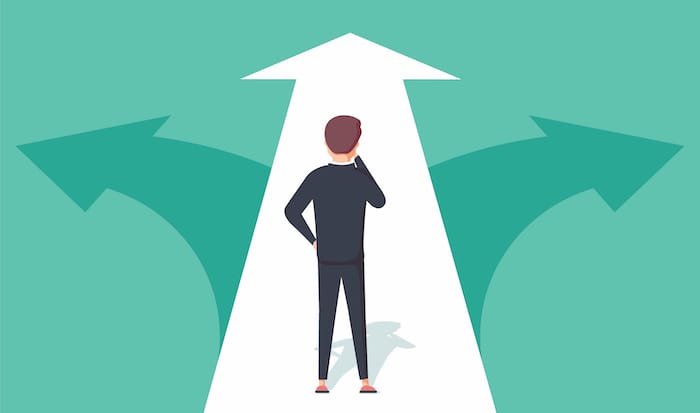 Some of the burning questions on career changers' minds have been answered: Am I too old? Why are my A-Level grades still relevant? Should I take a pay cut?
At Legal Cheek and The University of Law's (ULaw) latest 'Staying Set for Success' event, 'How to get into law as a career changer', a panel of speakers including, Irwin Mitchell partner Daniel Hedley; Shearman & Sterling senior recruitment manager Paul Gascoyne; 2 Temple Gardens barrister Jack Harris; former magic circle lawyer and careers coach Husnara Begum; and ULaw careers consultant Suzanne Hutton, responded to questions from over 300 prospective career changers.
The speakers were well-placed to offer guidance as most of them had successfully switched careers. Before Hedley was a tech partner at Irwin Mitchell, he worked as an IT consultant. Hutton spent ten years as a family law solicitor before joining ULaw as a careers consultant. Harris worked as a management consultant for a number of years before obtaining pupillage, while Begum started her career as a Linklaters lawyer before moving into journalism and then recruitment. Here are the highlights.
1. The challenges of changing to law
"One of the biggest obstacles any career changer faces is that little voice in your head telling you that you're too old or that you can't do it," said Begum. She advised career changers to separate: 1) the self-limiting beliefs related to that little voice in their head and any incorrect assumptions; and 2) the physical barriers, such as cost and timings, and to then come up with a plan to manage those barriers.
For Harris, like many students, finances were the biggest challenge. He was nervous about leaving his job to retrain himself considering the associated financial cost. His advice to attendees was that you need to remember that there is a job at the other side.
2. Am I too old?
"There was a psychological barrier about being an older trainee," reflected Hedley, who made partner at Irwin Mitchell three years ago. He caveated his response with "this is not the law firm I trained at problem; it was my own." He learned what he would have to "get over himself" when taking instructions from colleagues 15 years his junior.
Gascoyne added that he deals with this question a lot at Shearman & Sterling. "Law firms don't care about your age. Mature trainees always think they will stand out because of their age, but they won't because you're not evaluated on how old you are, but how good you are."
Harris offered insights from chambers: "Age is less of an issue at the bar than it is among trainee solicitors", adding that it is common for people to come into the bottom end of the bar in their late twenties, thirties and even forties.
3. A potential pay cut
"The reality for career changers is that there will be an initial salary reduction," said Hutton. She explained that her students say to her, 'I'm targeting 'X' firm because their starting salary feels right for the level of seniority in what I do now'", but she reminds them that they are starting from scratch and therefore need to be realistic about a pay cut.
Begum added that candidates should look at their "future earning potential" and to not get so hung up on the starting salary.
4. The application process
"Mature candidates are in a much better position when it comes to writing applications because they have more interesting experiences to draw on," said Begum, who drew upon her experience of looking through application forms and running mock interviews as a careers coach. She noted, however, that career changers shouldn't "answer a competency-based question with an experience from over 20 years ago".
5. A-Level requirements
The requirement for candidates to submit their A-Level grades can be frustrating for career changers who perhaps received their results a number of years ago. So how important are these grades to law firms?
"The good news is that there is a big shift in how law firms are screening candidates as quite a few firms are moving away from using academics as their benchmark to decide who will get an interview," said Begum. But she cautioned that there is a long way to go. "As things stand, more firms than not do use A-Level and degree classification for screening and most will want a 2.1 and AAB."
Gascoyne added that "many law firms look at academic criterion as a minimum entrance". He urged candidates not to mistake the minimum grade benchmark as a guaranteed acceptance and explained that "the minimum entrance is when your application gets looked at".
Begum agreed but stressed that candidates should "shop around a bit" which Hedley explored further. He said that firms take different approaches and shared his story that despite one of his A-Levels being an 'E', he still trained at magic circle firm Clifford Chance. His advice is to research what law firms want: "Most law firms are transparent about what they want from their trainees and it invariably comes down to competencies, skills and attributes."
6. Possible alternatives?
One attendee asked the panel the following question: Are candidates who took an A-Level alternative i.e. a college course at a disadvantage?
Gascoyne responded that law firms ask for "A-Level or equivalent" qualifications and that BTEC results count as an equivalent. "As long as the results transfer to UCAS points that are above the minimum criteria then it is fine," he said.
7. Backgrounds in other industries
"Career changers have an edge if they can demonstrate that they have transferable skills from their previous work experience," said Hutton.
Is there a particular industry that law firms find most attractive? the panel were asked. For Hedley, his background in tech was invaluable for his career as a tech lawyer, but he stressed that "it won't necessarily be the case that someone coming from a particular industry will want or enjoy being a lawyer in that industry". Hedley added that he doesn't believe he got hired because of his technical background, but rather due to the skills he picked up during his career that can be beneficial in the life of a lawyer: negotiating, conducting himself in an office and dealing with difficult people, for example.
Begum advised that career changers use their previous career experience to shortlist target firms: "Try match your industry experience with a particular practice area or sector the firm focuses on."
8. Vacation schemes
Completing vacation schemes when you are employed full-time can be tricky. Begum and Hutton took the view that committed candidates should save up their annual leave for this eventuality. "It's easy to start playing the blame game and say, 'the City is inaccessible' but you have to think to yourself 'how badly do I want this?'" said Begum.
Hedley added that from his experience, firms find it plausible to say, "I haven't done any vacation schemes because I'm working, studying and I have a baby".
9. What to do now?
"Securing a job is as competitive as ever so applicants should find good ways to set themselves apart, either through pro bono clinics or virtual internships," advised Hutton. She further recommended that those waiting to do the Solicitors Qualifying Exam (SQE) should "crack on as firms will be accepting these qualifications for many years to come".
For career changers that are struggling to secure a training contract, Begum advised considering alternative paths into law such as apprenticeships or finding employment as a paralegal and working your way up.
About Legal Cheek Careers posts.