ULaw's Suzanne Hutton draws on her experience as a solicitor and careers coach, ahead of her virtual appearance at tomorrow's event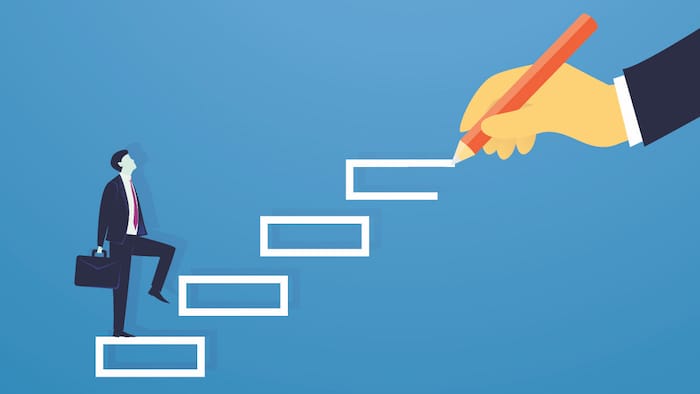 PhD holders, RAF pilots and NHS cardiologists — individuals from all walks of life have graced The University of Law's (ULaw) books in their quest to convert to law.
Supporting them on their journeys is Suzanne Hutton, family solicitor and ULaw careers consultant. Here she shares four steps prospective career changers can take to make the successful transition into a career in law.
1. Be creative in how you source opportunities — even under lockdown
Latecomers to law will undoubtedly have a wealth of work experience on their CV. But if you're looking to make the leap into law it's a good idea to gain legal experience — whether that's through volunteering, internships or sending out speculative CVs.
Hutton advises getting broad exposure across different practice areas if only to rule these out as potential career paths. So don't just set your sights on commercial law, she says, consider getting experience in family law, for example, and if after that you find yourself still gravitating towards commercial law, that could be a good talking point during interviews.
If you're able to fit work experience in and around your current employment, whether part-time or full-time, as well as study for the law conversion course, that demonstrates drive and commitment, says Hutton, which is what recruiters look for.
Networking in the traditional sense is an "old-fashioned concept" under the current set of circumstances — shaking hands and 'schmoozing' have been swapped in place of virtual meets and webinars. Hutton, who will be speaking at Legal Cheek and ULaw's annual 'How to get into law as a career changer' event, one of a few open exclusively to career changers, another being 'Re-Start' by Shearman & Sterling, who also feature on tomorrow's panel, points out that opportunities haven't diminished in any way — the format has simply changed and most (including tomorrow's event) are now being delivered online.

Hutton herself is a career changer having joined ULaw last year after a first career as a solicitor specialising in divorce and children law. The careers coach also supervises students in ULaw's pro bono Family Law Advice Clinic where she provides free family law advice to the public to further the students' understanding of law, procedure and client care. She tells me the service rapidly moved online amid the coronavirus crisis meaning students and solicitors can continue their efforts remotely.
ULaw's COVID-19 response goes further. It announced this month a £750,000 scholarship fund to support individuals whose job security has been impacted by the coronavirus and want to re-train.
The university's careers and employability service has been augmented online: careers advice is delivered over the phone and by email, and mock interviews are conducted via Zoom. "We're running a far more agile service with the aim of responding promptly as and when our students need advice — the thank you emails the team has received in recent weeks are testament to the service!" explains Hutton.
If you're stuck and unsure where to start ULaw's StEP programme is an online resource that outlines the ten steps applicants should take in pursuing a career in law and beyond.
2. Sell your story
With their transferable skills, experience and contacts career changers might be a safe bet for risk-averse legal employers. But don't expect to ride on this alone. It's imperative that they address the first question a recruiter is likely to ask upon reviewing their application: 'why does this person want to switch careers?'
This shouldn't be difficult to do. In Hutton's experience career changers can respond with conviction: "they're often more mature, a bit more worldly and have a strong sense of what they're getting into," she says. After all, they'll be making a considerable time and cost investment, and could be leaving a respectable and quite lucrative career behind. So be honest and explain exactly why you're jumping ship: whether that's because you've become disillusioned with your current profession, progressed as far as you can or just want to try something different.
If you have on-the-job experience and an impressive track record of delivering results the spotlight is likely to be less so on your academic grades. "It's more about the unique set of experiences you can bring to the table and targeting appropriate firms," explains Hutton.
3. Trade on what you know
Some sound advice Hutton shares with readers is to trade on your skills and industry experience when selecting which firms to apply to. "It's a natural route in," she adds.
For example, a career changer with extensive experience in the banking and finance industry might be advised to apply to a law firm that is ranked top tier for this type of work. It could be a compelling pitch to a law firm if you're coming to them with an understanding of what their clients want and their commercial needs, she says.
In the case where a candidate with a science background, for example, wants to move into a different field, Hutton's advice is to shortlist firms that have strengths in your field (e.g. life sciences) but also a complementary presence in the area you wish to move into. This combo will enable you to trade on your existing skillset but also avoid "pigeonholing" yourself by stating that you have an interest in another area of law.
Hutton advises mature applicants think carefully about their preferred practice area in the context of the post COVID-19 world. Some counter-cyclical practice areas such as litigation, restructuring and insolvency, are likely to see a surge, much like the last major financial recession in 2008. So don't hold off switching careers for the fear that legal work is likely to diminish. "There's always a risk changing careers. The legal profession is robust — law firms will bounce back from the period of financial decline," says Hutton.
4. Realise no setback is insurmountable
There are some hurdles career switchers may face when transferring to law.
The fierce competition for a finite number of training contracts pits career changers against university students who might by default be favoured by certain firms. It is imperative to be realistic when targeting law firms as some, she concedes, do prefer to recruit "fresh young talent they can mould from scratch" but not all do, and others value the maturity and experience of older candidates.
Another concern is that some law firms recruit exclusively from their vacation schemes meaning career changers may have to take around two weeks' leave to complete them. On this Hutton says: "where there's a will, there's a way and serious candidates should think to save their annual leave for that eventuality". Plus it's not a problem specific to career changers — law students at the start of their careers may experience clashes with classes, exams or work, she says.
Interestingly, Hutton observes that having been in the same place of work for a long period of time individuals may become "institutionalised". They're likely to be out of their comfort zone getting to grips with the workings of a completely new sector. "An individual working in the public sector for many years may struggle to adapt to the pressurised environment of private practice — it could come as a culture shock," she says. It's why getting work experience and doing your firm and sector research is so important, Hutton stresses.
There is the perception that career changers may be difficult to manage and unable to integrate within a firm. After all, they might be going from a relatively senior position at their current organisation to bottom of the hierarchy as a trainee. Hutton thinks this is a generalisation. "Taking on any new employee is always a risk until they're doing the job," she says, adding that it's the preserve of the law firm to suss out the candidate at the interview stage and see whether they fit the firm's culture.
And don't take rejection as a personal slight — it's part of the process and serves as material to reflect on what to do differently next time. Hutton, who tells me she received her training contract offer on her fourth interview attempt, uses her own experiences to connect with candidates and point them in the right direction.
Suzanne Hutton will be speaking alongside lawyers from Shearman & Sterling, Irwin Mitchell and 2 Temple Gardens at 'How to get into law as a career changer', a virtual event taking place tomorrow, on Wednesday 27 May. You can apply for one of the final few (and free) places to attend.
About Legal Cheek Careers posts.