ULaw pro-vice chancellor Peter Crisp provides a big picture overview and draws parallels between the 2008 financial and coronavirus crises, ahead of his virtual appearance at 'What COVID-19 means for future lawyers'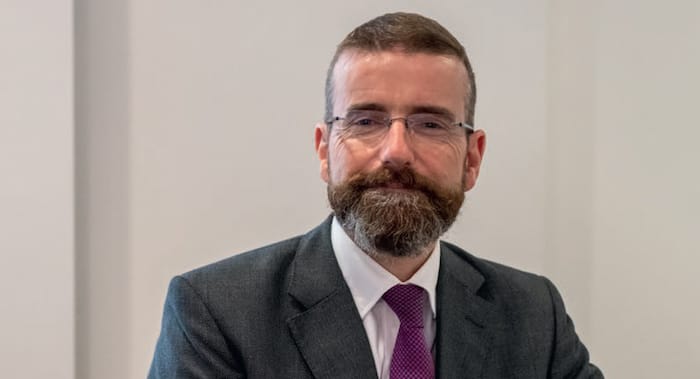 It's not an easy time to make the move from student to solicitor. The COVID-19 crisis has shrouded future lawyers' planning in uncertainty.
With vacation schemes and other work experience programmes postponed, rescheduled, and in some instances, cancelled, it's easy to understand the concern that is being felt by some students.
I spoke with The University of Law's (ULaw) Pro-Vice Chancellor External, Peter Crisp, who drew upon his extensive experience in both practice and professional education, to share with our readers his advice on what the current pandemic means for future lawyers, ahead of his virtual appearance at the first in our series of 'Staying Set for Success' student events.
Parallels between the 2008 financial and COVID-19 crises
The extent to which the world bounces back from the period of financial decline can be predicated from history.
Drawing parallels with the 2008 financial crash, Crisp observed that the world has recovered from periods of crises before and will do so again. He envisions law firms having to look again at the work that they do and the way in which they do it, impacting lawyers and the future workforce.
But law is a client-driven industry. The future of legal services is likely to be shaped around dramatically changing client needs. Lawyers will need to understand their clients' changing vision and circumstances to tailor their advice and support accordingly and deliver flexible commercial solutions, forecasts Crisp, whether that's in an online environment or face-to-face meeting once the lockdown is lifted.
The pandemic could bring about change to law firms' training contract recruitment processes. Following the 2008 financial crash, a number of law firms offered their incoming trainees cash incentives to defer their training contracts for a year. In 2020, we have already begun to see some law firms delay their training contract start dates. It's still early days and Crisp thinks that most law firms are holding their nerve for the time being. However, he advises future joiners to adopt a positive mindset and view any potential delays as an opportunity to upskill.
The emergence of a 'new normal'
The lockdown has forced those who can to work remotely, and the legal workforce has adapted well to the changes. Wide-scale agile working — once a progressive trend limited to forward-thinking law firms — could be a lasting cultural change that outlives the pandemic.
The new commercial reality could radically alter what it means to work as a lawyer at a global law firm. Online platforms such as Zoom, Skype and Collaborate, allow for professional interactions and the sharing of information and ideas in a seamless way that many people had previously thought either desirable or even possible. There will now be numerous instances where a lawyer will have never met their client face-to-face.
"It's fascinating to see how quickly the profession has become accustomed to virtual communication. This won't necessarily replace face-to-face client relationships but shows that the profession is agile and able to support and work with clients in new ways," reflects Crisp.
He adds that this is part of being an 'O-Shaped Lawyer': well-rounded lawyers of the future that are not only technically adept but can adopt an emotionally intelligent approach to interact with and understand their clients and their clients' needs and goals. These adaptive behaviours and qualities were important before the crisis struck but have come to the fore as it's unlikely lawyers will be meeting face-to-face with their clients for the time being, says Crisp.
What does this mean for students?
For students aspiring to become lawyers at a time of uncertainty but also opportunity it's important that they grasp the implications of COVID-19 for the commercial world.
"I predict a standard training contract interview question will be: 'How did you personally respond to the COVID-19 crisis, and what new skills did you acquire as a result?'," says Crisp. With more free time on their hands, students should use the opportunity to upskill, for example, by volunteering or working pro bono, virtually, for legal charities, he suggests. There are many webinars and virtual networking events to get involved in too, and alongside Crisp, tomorrow's 'What COVID-19 means for future lawyers' event features a panel of experts from Pinsent Masons, Willkie Farr and the Solicitors Regulation Authority.
We've seen a number of vacation schemes go virtual in recent weeks and Crisp thinks it's "perfectly possible" to do a vacation scheme online. "Opportunities for students to impress future employers have not diminished in any way — they've simply changed," he adds.
If future solicitors' career planning is thrown up in the air, Crisp, who crossed over to ULaw after two decades at the helm of BPP Law School, urges they remain resilient, realistic and flexible, particularly in relation to considering alternative routes to qualification such as a solicitor apprenticeship. The former chancery barrister's advice to prospective pupillage applicants is to "hold on" (last month we reported that 30% of chambers are considering shelving their pupillage recruitment plans for the next two years). "Don't lose sight of your dream and ambition, be flexible and be patient, because opportunities will return."
If there's a positive to come out of this devastating pandemic it's the way communities have come together to support one another. It's imperative that students seek help, whether that's from their peers, their networks or future law school provider. So while teaching and exams have moved online at ULaw, its mental health and wellbeing, careers and employability services, have also been augmented online. The latter offers CV workshops, mock interview practice, webinars and virtual one-to-one careers advice, all online. "ULaw students have embraced use of these virtual services especially since their assessment centres have already moved online," Crisp reveals.
It's almost certain the economy will plunge into a recession, and so I ask Crisp whether training contract candidates should focus their applications on counter-cyclical practice areas such as litigation and insolvency?
"I think it's important that students don't lose sight of their ambition — state what your passion is and explain why — I wouldn't want students to lose that authenticity. They then need to explain that given the COVID-19 crisis they understand the need for flexibility and why they're open to considering a related practice area. It'd be wrong for students to not be upfront about where their passion lies but temper that with the reality and pragmatism the current crisis requires."
Peter Crisp will be speaking at 'What COVID-19 means for future lawyers — with Pinsent Masons, Willkie Farr and the SRA', a virtual student event taking place tomorrow, on Tuesday 12 May. You can apply to attend the event, which is free, now.
About Legal Cheek Careers posts.