'Your first job may not be your dream job but it could be a step you need to take to achieve your ambitions', says ULaw campus manager Margaret Matthews, ahead of tonight's 'Secrets to Success' event in Reading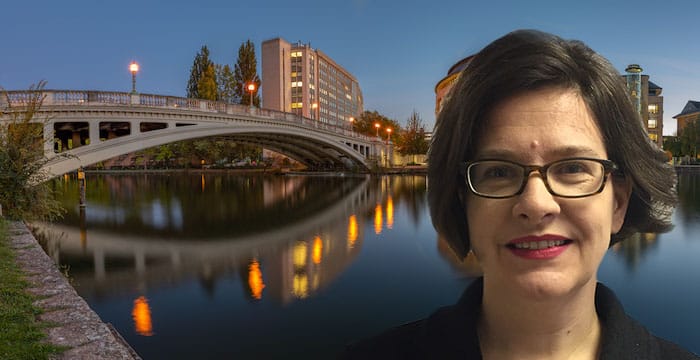 "Be prepared to be flexible, be open to different career avenues and keep an open mind," is The University of Law's Reading campus manager Margaret Matthews' advice to students currently eyeing up vacation schemes and training contracts.
Matthews, a former commercial litigator, says many students set their sights on "quite niche" practice areas, such as intellectual property, but may have to "feel their way" there by working in other areas first.
"Your first job may not be your dream job but it could be a step you need to take to achieve your ambitions," she says. "If you work as a paralegal, for example, it means you are an attractive and known proposition to that law firm when training contracts become available." It's also true that many lawyers found out which practice area they most enjoyed only after they started working in it.
On the other hand, of course, students shouldn't compromise too much. "Don't think you have to go for what's available rather than what you want, if you apply for something you're not interested in, you're likely to be found out," says Matthews. "Be open, but also remember there's no point trying to fit a square peg in a round hole. It simply won't work."
Areas of practice rise and fall in terms of popularity among students. "There was a time when everyone seemed to want to be an environmental lawyer," she reflects. "Currently, a lot of students are very passionate about personal injury, particularly clinical negligence, which is also quite a niche area. Immigration, a relatively discrete area of law, is another popular area among students at the moment." The way students perceive the role of an immigration lawyer may have changed due to Brexit, Matthews observes. "Where they may have thought predominantly about immigration practice in terms of legal aid work, they now think commercial clients from the EU, so the discussion around Brexit has to some extent broadened the base on immigration work for them."
In terms of commercial awareness, lawtech is a hot topic. "The students of today are the custodians of the future, and it is absolutely key to embrace the technologies that assist the work lawyers do," she says. The Brexit aftermath is, of course, another major issue, and will continue to cause uncertainty until more is revealed about the negotiations and potential outcomes.
Matthew's advice for applicants is that they do their research on a firm before applying and avoid temptation to copy and paste. "They should understand what work is important to the firm and tailor their cover letter accordingly. Showing a genuine interest in the firm is important. If that means making four, not 40, applications then so be it — they will have a better chance with those four." She recommends that applicants ask for work shadowing opportunities as well as more formal vacation schemes, as a way to find out more about the firm and demonstrate a genuine interest. "Above all, firms want someone who is adaptable, personable, enthusiastic and works well in a team. These are the key qualities firms are looking for in candidates."
Matthews studied history at Royal Holloway, University of London, before completing her Graduate Diploma in Law (GDL) and Legal Practice Course (LPC) at the College of Law (now The University of Law) in York. She trained at Eversheds before relocating to London, where she practised as a commercial litigation associate at Fladgate. Her work covered a broad range of litigation — breach of contract, negligence, white collar crime and debt recovery.
She left private practice after seven years to work at ULaw, initially at the Bloomsbury campus before moving to her current role in Reading last year. ULaw has a symbiotic relationship with Reading University, where Reading runs the undergraduate law degree course and ULaw provides the postgraduate course. The pairing works well, with both universities gaining from the other, particularly when it comes to joint events. Matthews explains that those doing the academic course gain from ULaw's practice-focused events, while those on the ULaw LPC enjoy the more academia-focused Reading university events. A prime example is the recent Reading University 'Women in Law' celebration of 100 years of women lawyers, which everyone enjoyed.
On Reading, Matthew says: "It's an exciting place to be a lawyer. It's close to both London and the tech world of the Thames corridor, with companies such as Microsoft, Vodafone and Panasonic based here. As well as private practice, there are a lot of in-house opportunities in the area, in tech companies, local government or utilities such as Thames Water. It offers the advantage of interesting, high value work with big London-based commercial clients alongside the chance to have a better work-life balance with shorter commutes and more affordable property prices. This combination makes Reading an attractive prospect."
Hear from a panel of lawyers and legal education experts from Osborne Clarke, Shoosmiths, Hardwicke and ULaw, at tonight's 'Secrets to Success' event in Reading. You can apply to attend the event, which is free, now.
About Legal Cheek Careers posts.