The City Law School Head of Department for Postgraduate and Professional Programmes, James Catchpole, breaks down the university's approach to the new training regime, highlighting a focus on small group teaching that enables it to get to know the students as individuals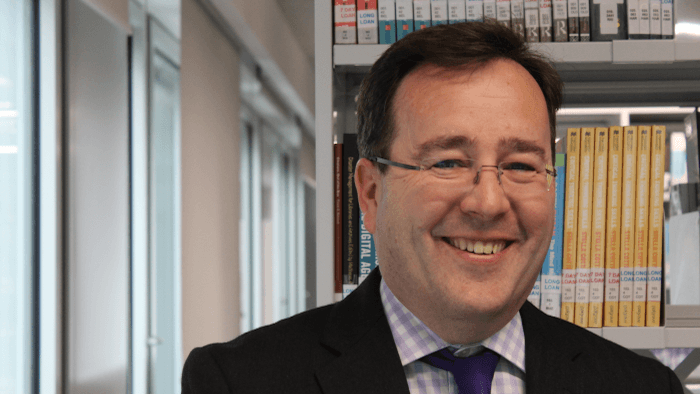 Later this year in September, The City Law School, within City, University of London, will launch its Solicitors Qualifying Exam (SQE) preparation course, the Solicitors' Practice Programme (SPP).
"We took our time designing the programme and gave it a lot of thought in order to make sure the students come first," reveals James Catchpole, The City Law School's Head of Department for Postgraduate and Professional Programmes. This involved developing the SPP in consultation with law firms and employers, to make sure that what we put students through is going to remain relevant and ensure they hit the ground running when they enter the workplace."
Serving mid-sized and boutique City law firms is a core focus for Catchpole and The City Law School. "We want to identify firms which we can build close relationships with, as well as with the students, to best serve their needs," he tells me when we speak. Expect, then, to see The City Law School convert many of its current relationships with employers to formal arrangements in the coming years.
The City Law School will be among the first Legal Practice Course (LPC) providers to go "fully SQE-based" from September. Catchpole explains that it was a clear and conscious decision to completely withdraw from the LPC market. The aim is to provide clarity for students, many of whom are confused by the multitude of options that the introduction of the SQE has brought with it, and to ensure that The City Law School's SQE course is delivered to the highest standards. "We are giving it our full attention: the focus for both our team and the students is solely on the SQE preparation," he says.
Teaching students in small groups is something The City Law School has valued, and will remain at the core of its SQE offering going forward. "This [small group teaching] allows us to get to know our students as individuals, and we can guide and advise them more effectively than many alternative providers. The SPP Teaching Team is a close knit-community of experienced tutors, all of whom are ex-practitioners, who really care about their students' career success," he explains.
Alongside the learning support on the SPP, The City Law School offers students the "full university package", which includes the provision of pastoral care and access to careers advice, which is again strongly guided by employer input. Catchpole is quick to emphasise just how important well-rounded support is for students at this time, against the aftermath of the pandemic alongside the introduction of the SQE, which has made it even trickier for law students to navigate.
The SPP will be delivered at The City Law School's new flash base at Northampton Square, where it has joined up with the University's other academic programmes. "It's fantastic to be together with everyone in one great building and there's a real buzz to the place," Catchpole says. And, all of City's professional programmes have now returned to full-time face-to-face teaching, much to Catchpole's delight. This provision is, of course, alongside blended learning delivery to give students maximum flexibility in their learning.
Another exciting aspect of The City Law School's offering is its newly-revamped Community Legal Advice Centre, which runs various clinics throughout the week and works closely with a number of partner firms. Opportunities to work in the Community Legal Advice Centre are open to all students and some of this experience can be signed off and banked towards their period of Qualifying Work Experience (QWE) required under the SQE regime.
Additionally, Catchpole believes that its core value, and why the clinic proves so popular among The City Law School's student community, is that it provides the opportunity to see first-hand what a legal career can entail. "Many of the clinics we run have a real-life impact and this is where students can see what their careers could do," Catchpole adds.
A former City lawyer himself, Catchpole was part of the first-ever LPC cohort. He went on to specialise in privacy and data protection law before moving on to design professional courses at a number of other top law schools. So, what advice does Catchpole offer for those about to commence their SQE studies?
"Do your research as to where you want to do your SQE preparation," he says, adding: "You are embarking on a course which is going to be a lot more important than your degree, and the seriousness of the course goes up a notch (or three). You'll need to be comfortable with the learning provision you're going to get and the environment you'll be working in to ensure that you're going to be adequately supported and not get lost along the way."
He also advises aspiring lawyers to understand and appreciate the SQE is not going to be easy. "Be prepared to give it all you have, because the SQE is going to require a different level of engagement and higher level of performance to succeed."
James Catchpole will be speaking at LegalEdCon 2023, Legal Cheek's annual future of legal education and training conference, which takes place in-person on Thursday 18 May at Kings Place, London. Second Release tickets are available to purchase.
About Legal Cheek Careers posts.