James Catchpole, Associate Dean (Postgraduate and Professional Degree Programmes) and Director of the Legal Practice Course, in The City Law School, is thinking creatively about changes to solicitor and barrister training, ahead of his virtual appearance at LegalEdCon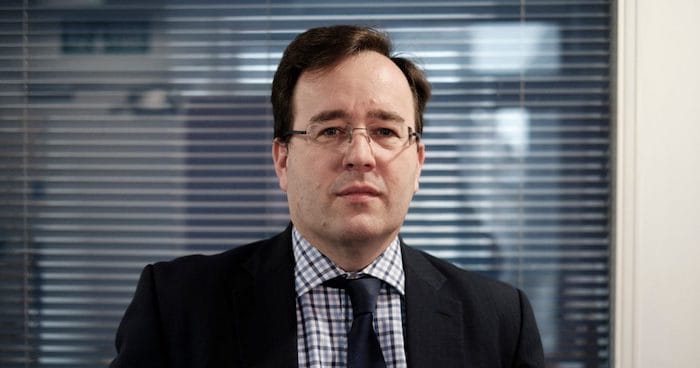 The City Law School, within City, University of London, stands out as being the only law school to cover all aspects of legal training — offering the LLB, GE LLB, GDL LLM, Bar Vocational Studies, LPC, CPD and solicitor apprenticeship qualification.
This breadth "puts us in a strong position when preparing for the sweeping changes set to take place in solicitor and barrister training", says James Catchpole, The City Law School's Director of Legal Practice.
Catchpole's strategy is to proceed with care and attention to quality. "We are not going to rush into the SQE [Solicitors Qualifying Exam] market. We will enter it only once we have the required quality product. We are not willing to put a product in front of students that will not allow them to succeed," he explains.
But Catchpole senses a gap in the market that suits the School's depth of academic law talent. "Our academics are eminent experts in their field who write textbooks and practitioner guides. This means you can put a salad bar in front of employers and say, 'if you want a niche area of law, we can include it'."
Expect to see developing partnerships, then, between The City Law School and law firms. "We currently don't have specific arrangements with different firms but firms seek out our students because they know we [City] do a good job and our students are ready for the workplace," continues Catchpole, adding: "However, we are seeking to look to serve boutique and mid-sized law firms in the future as we are well-placed to meet their needs", he adds.
While the solicitors' branch of the profession loudly debates the replacement of the Legal Practice Course (LPC) with the new, more flexible, and centrally assessed SQE, barristers have been rather more quiet about the changes taking place at the bar. But with the Bar Professional Training Course (BPTC) about to be replaced with a barrister training regime that also offers a good deal more options to students, there is plenty to discuss.
As the bar training big cheese, with the biggest course in the country, how has The City Law School been preparing? "The new Bar Vocational Studies Course is a mixture of blended learning which our School offers both full-time and part-time," explains Catchpole. "We are not re-versioning previous bar courses. We are putting students at the heart of our approach." The manual-writers for the bar course, who include many leading practising barristers, are now writing the course, he adds.
The current legal education shake-up suits Catchpole, who sees this as an opportunity to draw on his years of experience as a curriculum and course designer.
The former City lawyer at Masons (now Pinsent Masons), has been a jet-setting course designer at universities in countries as far and wide, and has also led teams at his law school's competitors, the University of Law (ULaw) and Queen Mary, University of London.
This background has informed Catchpole's "student-first" approach at City. "The combination of experiences has granted me access to what a student cohort needs and what tools serve them best," he says. He acknowledges that legal education providers, as a business, can lose sight of the needs of the customer — the student. He emphasises that The City Law School focuses on their duty to serve and ensure that students are in the best and the strongest position to progress to the next stage of their legal careers.
What Catchpole has never faced before has been a disruption on the scale of the coronavirus pandemic. "COVID-19 has brought a phenomenal change to the working world; and legal practice will see changes," he forecasts. "Lawyers will question their commute and questions will be asked about the costs of international travel."
Catchpole adds that this could be at a significant cost to legal professionals' ability to balance work and life. "If lawyers work from home, they're blurring the lines between the office and home — lawyers take the office home with them." This could mean that lawyers might be expected to be more available to their clients than ever before.
What about the changes to legal education brought about by the pandemic? Catchpole believes that post COVID-19 there will be a greater move towards blended learning. Touching on how the SQE may look post-pandemic, he describes the different impact it will have on SQE1 and SQE2.
"There won't be much difference to SQE1, which could even be done under lockdown provided there is a facility to invigilate the exam online via proctoring software, but it would still be challenging to do so on the vast scale that is required. But SQE2 could look different if society's embrace of video-conferencing proves to be a permanent shift," he suggests.
Whatever the format, "SQE 2 needs to be done in an environment that has the integrity and rigour that the legal profession requires".
For students pursuing a training contract at this uncertain time, Catchpole encourages flexibility and persistence. "Don't be blinkered! Don't have the mindset that you must go to 'X' firm. Be objective and be realistic. Be strategic: will that firm be genuinely interested in you?".
He adds: "Look at the criteria to ensure you meet it. Find the right employer for you, the employer — one that will give your application the best deserving attention. Invest your time, effort, emotions and energy submitting a strong application to that employer, rather than submitting it to someone who is likely to automatically reject it altogether."
Catchpole further stresses that "law firms are not the only place for lawyers to work" — citing in-house legal departments, charities, NGOs and government departments as alternatives for students looking for experience and to qualify as solicitors and barristers. With The City Law School's ties to the London business community and plans for integrating them into its new SQE options, the institution is well-placed to help students into these roles.
James Catchpole will be speaking at LegalEdCon 2020, a virtual event, on Thursday 14 May. Final release tickets are available to purchase.
About Legal Cheek Careers posts.