Lawyers from BARBRI, BCLP, Gowling WLG, Ropes & Gray and Squire Patton Boggs share their wisdom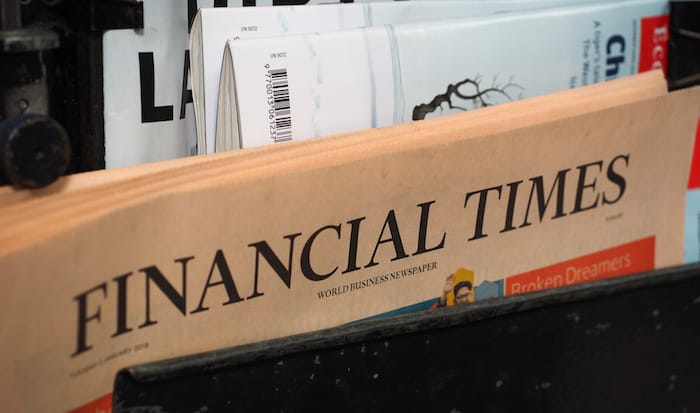 From the global economy to politics and tech; from changes to legal training to the mindset needed to get ahead in corporate law, the speakers at 'Commercial Awareness Question Time London' had it covered. We've pulled out their best bits below.
---
Speakers
Victoria Cromwell, director of UK programmes at BARBRI
Mark Richards, partner and co-leader of energy, environment and infrastructure at Bryan Cave Leighton Paisner
Michael Luckman, intellectual property partner at Gowling WLG
Phil Sanderson, co-chair of the global private equity transactions group at Ropes & Gray
David Regan, director, labour & employment practice, at Squire Patton Boggs
---
The global economy
The global economy is spluttering, despite rock bottom interest rates and government monetary stimulus. But for now it continues to expand, as it has done more or less since the 2008 global financial crisis. During this time, some sectors, such as private equity, have performed notably well. Ropes & Gray's Phil Sanderson, the co-chair of the global private equity transactions group at his firm, has been at the heart of the action, acting on some mega deals over the last few years.
His clients include high profile finance players including Silverfleet Capital, Axcel, Duke Street Capital and Epiris, who he has helped acquire a host of businesses in the tech, travel and manufacturing industries, among other sectors. Sanderson noted that "deals keep being done", despite growing political uncertainty in major Western economies. Indeed, he noted that events like Brexit "can actually be a driver to get things over the line" before the next deadline imposed by politicians.

Gowling WLG partner Michael Luckman told the audience that he is "planning for slow growth rather than a recession". The other speakers agreed, emphasising the importance of law firms "keeping an eye on the horizon" for the impact of any major events on their clients.
There was also an agreement that when a recession eventually comes, as it inevitably will, law firms shouldn't be knee-jerk in their responses. Mark Richards has seen first-hand the way that recessions and subsequent hiring decisions have affected his business over the years. He recalled:
"During the Dotcom boom and bust there was a reduction in training contracts which created a long-term problem for law firms not being able to hire at a certain level successfully both organically and laterally. When business picked up again, solicitors were essentially able to name a price as they were so sought after by law firms."
Cromwell added that any short-term reduction in training contracts that might occur in the future may be mitigated by the introduction of the SQE, whose more flexible structure should give students alternative routes to qualification.
A move towards populist politics and policies
With the UK General Election and next year's election in the US, it didn't take long for the conversation to turn to the effects of Labour's renationalisation plans and the US Democratic Party candidates' plans to shake up Silicon Valley.
What skills do you need to succeed in a global law firm?

Be 'passionate' about your work, says Bryan Cave Leighton Paisner Graduates partner Mark Richards. 'The alarm clock will go off, it will go off early, and if you're not enjoying what you're doing, you're going to find it really difficult.' ⏰ #lccareers

Posted by Legal Cheek on Friday, January 17, 2020
The message from the speakers was that however things play out, there will be opportunities for lawyers. For example, while the economic consequences of a Corbyn-led government in the UK could have been negative, a programme of renationalisation would have generated a huge amount of legal work — with new deals to be negotiated, old ones unpicked and litigation possibly arising as a result. Richards explained: "I see a lot of work for lawyers as investors will be very disgruntled if the state takes back industries under market value."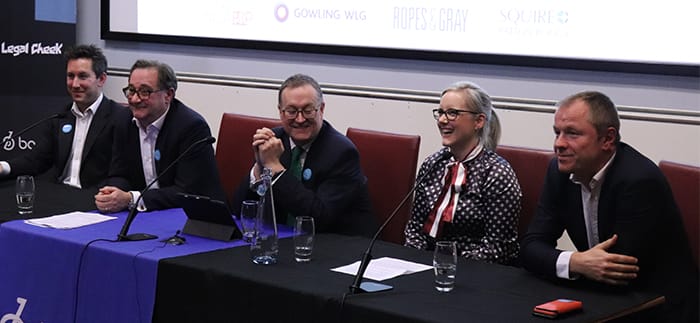 Looking across the Atlantic, Sanderson highlighted the policies of presidential contender Elizabeth Warren as "particularly interesting" as they seek to "solve some of the big issues of today, such as concentrated wealth". Even if President Trump wins a second term, such thinking is bound to have an effect amid concerns about growing inequality. Sanderson continued: "The work that you will be looking at in ten years time, and the law that you will be focusing on, will probably be very different to the work I've been doing."
The SQE
The new Solicitors Qualifying Exam (SQE), which will gradually replace the Legal Practice Course (LPC) from 2021, is the biggest change to legal education in a generation, and reflects the increasingly flexible structures of the legal profession. This process began with the 2007 Legal Services Act, which saw rules scrapped that prevented non-lawyers from becoming partners in law firms and allowed outside investment into firms, paving the way for the recent flurry of stock market listings we have seen in the legal sector. In such an environment, where law firms are treated more than ever like conventional businesses, it makes sense to have more fluid training requirements — of the type that govern accountancy firms, for example.
What skills do you need to succeed in a global law firm?

An ability to see the 'bigger picture' is vital for junior lawyers working in global law firms, says Victoria Cromwell, director of UK programmes at BARBRI. 'It's very dangerous to work in a silo and focus on your little piece of the enormous jigsaw' ?? #lccareers

Posted by Legal Cheek on Wednesday, January 15, 2020
Enter the SQE, which will allow students to work for law firms or potentially in law clinics and flexibly study towards qualifying as a solicitor at the same time. The SQE does this by effectively splitting the old LPC into two parts, with part one focusing on functioning legal knowledge, and part two on practical skills. Cromwell anticipates that most students will complete part one before joining law firms, and then do part two on the job. She warned that the multiple-choice exam format of part one "isn't as easy as it sounds", with four possible "distractors" making it very hard to correctly answer without full knowledge of the underlying legal principle. This mirrors the format of the New York State bar exam, for which BARBRI has been offering prep courses for decades. Cromwell added that the SQE aspires to "increase access" by providing alternative routes to qualification outside of the traditional two year training contract model, "hopefully preventing the current bottleneck" to qualification and that it will be great for paralegals who can bank their hours towards qualifying as solicitors.
Legal tech
The speakers agreed that it was important for law firms to keep on top of the latest technology and use it where possible to boost the efficiency of their processes. But they also warned about the dangers of relying on talk about tech as a marketing strategy when there is not real follow-through within the organisation.
As Squire Patton Boggs director David Regan put it: "If you're using tech just to be an early adopter or just to look good, that's not a good enough reason. Make sure you're using it effectively."
After a period of law firm investment in new AI tools and other hot technology, Luckman suggested that the focus now was set to move to embedding these tools within firms while looking at the efficiency of existing processes. Much of this challenge, he added, involves "people-led project and process management" rather than further innovation through technology.
The right mindset
Much of getting ahead in law involves having the right mindset to develop as a lawyer and take advantage of the opportunities that present themselves. Developing this mindset is a commercial awareness issue in that it requires students to understand the role of lawyers within the wider corporate ecosystem, in particular their position as trusted advisers to clients. That means being on had to help and understanding their clients' businesses.
On how to succeed in a global law firm, Luckman kicked the advice off with: "Be resilient. You get out what you put in so graft hard so that you can learn and develop."
"Be curious. Find out what you don't know and keep asking questions," Regan added.
Richards emphasised that "passion is important" because "when the alarm goes off early in the morning, you need to want to go in. You need to enjoy it."
Cromwell — who worked as a solicitor for two magic circle firms before moving into legal education — advised: "Be prepared to adjust your plan as your career develops, stay open minded."
Sanderson ended the discussion with a reminder of the importance to "understand that everyone is different" and called on firms to not "box anyone in". He recalled that as a junior lawyer he had kept his passion burning during the "boring stuff" by "understanding the processes and why you're following them so that you start to grasp the bigger picture".