Experts from BPP University Law School, Dentons, Foot Anstey and Knights plc discuss the varying approaches to QWE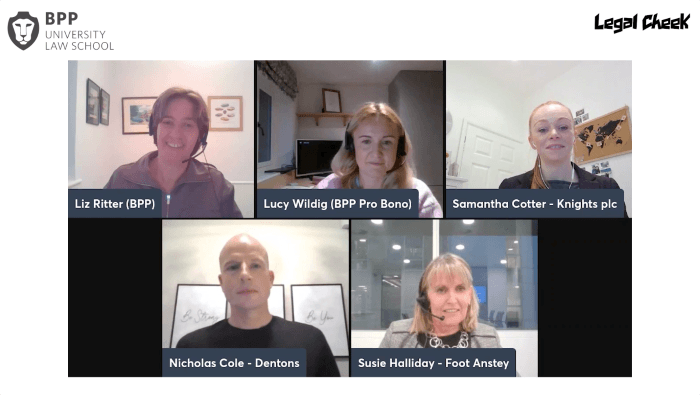 Here is the full video for the second in the series of Legal Cheek's SQE events with BPP University Law School.
The recent virtual event featured:
• Nicholas Cole, head of resourcing at Dentons
• Susie Halliday, executive director of learning and development at Foot Anstey
• Samantha Cotter, HR projects manager at Knights plc
• Lucy Wildig, director of the pro bono centre at BPP University Law School
• Liz Ritter, former solicitor at Clifford Chance and head of business development at BPP
• The event was chaired by Legal Cheek editor, Tom Connelly
The speakers explored the varying approaches to qualifying work experience (QWE) as firms move towards the SQE and how students can start using QWE to help them become solicitors. Also up for discussion were the skills law firms value in future lawyers and the qualities that firms expect students to be developing before they join.

Legal Cheek will be running 'The SQE series' with BPP University Law School over the next few months. The video of each session will be made available one month after each virtual event.
About Legal Cheek Careers posts.