BPP's Jonny Hurst explains the nuts and bolts of the new training regime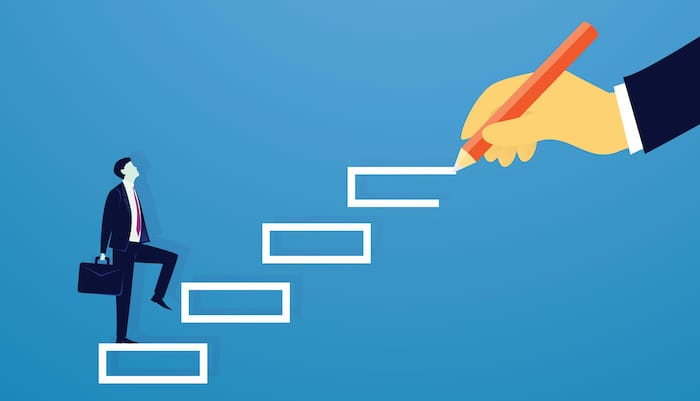 The route to qualify as a solicitor in England and Wales is changing under the Solicitors Qualifying Examination (SQE). Future solicitors are no longer required to complete a training contract and will now need to acquire two years of qualifying work experience (QWE), in addition to passing two centralised exams.
It is important for students to understand what QWE means at an early stage of their professional journey. Here, BPP's Head of Outreach and Student Recruitment, Jonny Hurst, explains the nuts and bolts of the new training regime.
1. The differences between training under the LPC/SQE
First, it is important to draw a distinction between training under the Legal Practice Course (LPC) regime and the SQE.
Under the LPC route to qualification, which will be phased out by 2032, future solicitors are required to complete "a period of recognised training" (often known as a training contract) at one legal employer (typically a law firm). They will then rotate through different practice areas, known as 'seats', with each lasting around six months and at least one of these involving contentious work.
However, under the SQE, candidates can accumulate QWE with up to four legal employers; which can be acquired at a law firm, an in-house team, law centre or other legal service provider. The Solicitors Regulation Authority (SRA) does not require any seat rotation and there is no minimum or maximum prescribed length for each placement. Further, the SRA does not require a trainee to undertake any contentious work.
Hurst notes that while most mid-tier to large law firms are likely, at least initially, to continue the traditional seat rotation system under the SQE pathway, others, like Kennedys, are taking the opportunity to innovate and allow trainees to complete their QWE in a single department, thereby enabling them to accelerate their expertise in the practice area they wish to specialise.
2. A more flexible route to solicitor qualification
The SQE route offers greater flexibility in that QWE can be acquired before, during or after the SQE assessments. It is "less structured and less linear" than the traditional route which typically requires professional exams to be completed prior to commencing a training contract.
As there is no prescribed order in which candidates need to undertake the SQE and their QWE, Hurst believes that a range of models will emerge and the one individual candidates prefer will depend on the opportunities they have and their personal preference. "Some may want to get their education out of the way, pass their professional examinations and then enter the world of work (as per the LPC), while others may wish to work as paralegals either before they start the SQE or alongside their studies. The latter two approaches may well prove popular as a way to finance their studies, as well as improving a candidate's understanding of legal practice, thereby enhancing their prospects of securing further QWE and a better role on qualification."
3. What counts as QWE?
The starting point for what counts as QWE is the SRA's guidance. The SRA explains that QWE "must be in roles providing legal services that offer a candidate the opportunity to develop some (or all) of the competences needed to practise as a solicitor".
So while a trainee may not always be doing the work of a 'day one solicitor', "for QWE to 'count', it's important that the legal work is both substantive and substantial and is not reduced to a simple series of admin tasks", explains Hurst. The SRA has said that a common sense approach needs to be applied when determining what a full-time QWE trainee's workload looks like, so former City lawyer Hurst believes that around four to four and a half days per week spent fee-earning and training should suffice, which wouldn't be dissimilar to what many trainees experience at present. After all, all practitioners undertake some basic housekeeping and admin tasks during a regular working week.
Ultimately, he says, it will be down to the SRA to assess whether what has been signed off by a supervising solicitor or compliance officer is sufficient to count as QWE.
4. Picking QWE placements
Before students go about selecting their QWE placement(s), they should ask themselves what type of lawyer they want to be and at which type of firm, advises Hurst.
An aspiring corporate lawyer's QWE journey, for example, should look very different to that of a legal aid paralegal hoping to be retained at their specialist firm.
A trainee with a "breadth and depth" of QWE in one or two organisations is likely to be more attractive to future employers than one who has pieced together what Hurst coins a "QWE portfolio" at a more random set of three or four legal employers. He further advises candidates not to look for the "easiest" or "quickest" route to qualification. "Even if you have already acquired, say, six months QWE as a paralegal elsewhere, you should still expect to be required to complete a full two years of QWE at most leading law firms."
What's more, the help your law school's careers service can offer is not to be underestimated. BPP's, for example, is staffed with experienced, specialist law careers experts who guide and help students to become "as versatile and employable as possible".
"If you have a specific goal in mind, our careers advisers should be able to guide you as to the best way(s) you can accrue your QWE to become the type of solicitor you wish to be," adds Hurst.
5. How should candidates record their QWE?
Traditionally, a trainee's development and training would be overseen by a senior member of the firm, and in larger firms, by a whole team across the whole of the two years. "However, when a trainee builds their own portfolio QWE at multiple employers, the only person who has oversight of your overall development is you, which is a weakness of the new regime," comments Hurst.
There is no prescriptive way to record QWE, but it will be good practice, according to Hurst, for candidates to continually record and monitor the work they do by completing, as they go along, the SRA's QWE template. This should mean the job is mostly done by the time candidates request internal sign-off and seek to register their QWE with the SRA. Keeping track of your experience like this will also help when applying for newly qualified (NQ) solicitor roles.
6. All work and no pay?
Whilst the SQE route has sought to promote an 'earn whilst you learn' route to qualification, there are salary implications to consider. In mid-tier to large law firms, there is no reason to expect trainee salaries to change simply because of the introduction of QWE. However, there is no requirement for employers to pay trainees for QWE, leading some groups to claim this could lead to 'exploitation' in other parts of the profession. Hurst fears that "some trainees are tempted to work for little or no reward, just to get qualified, particularly if they have, say, already accrued QWE by way of a QWE portfolio at three employers and only have a few more months to complete in order to qualify".
The Junior Lawyers Division, which represents the interests of current and future junior lawyers, is calling on the SRA to build in a mandatory minimum salary for trainees.
7. New emerging roles
There is no doubt that QWE will be easier to acquire than a traditional training contract, and so if candidates pass the SQE, it will be easier for them to qualify as a solicitor. However, there are concerns that the new training regime will create a larger pool of qualified solicitors, and a number of them may find it difficult to progress their careers into the NQ roles they aspire to after completing their QWE.
Whilst Hurst recognises that there are likely to be more qualified solicitors as a result of the changes, he expects the market will evolve and that some of them will progress into new and emerging roles, such as that of the legal technologist, who can "be an important interface between fee-earning and IT teams leveraging legal tech to design new processes and systems of work to make firms more efficient and profitable".
Want to find out more about QWE and what it means for students hoping to secure training contracts under the new SQE regime? Legal Cheek is partnering with BPP, Dentons, Foot Anstey and Knights plc for a virtual student event tomorrow (Thursday 9 December). You can apply to attend the event, which is free, now.
About Legal Cheek Careers posts.