ULaw Director of Employability John Watkins talks career change, pro bono opportunities and building resilience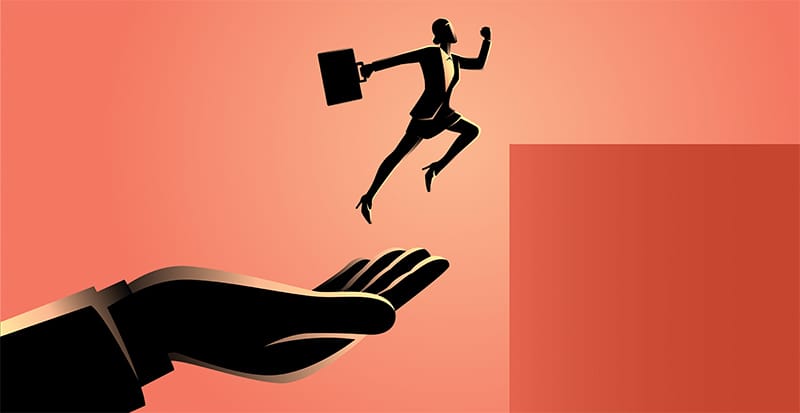 Contemplating a career in law might be scary for a number of reasons — the high level of competition, the daunting prospect of making a career change or tackling commercial awareness.
Before starting a career in higher education, John Watkins worked as a sports commentator at the BBC and as a practising accountant, now serving as The University of Law's Director of Employability. Ahead of his appearance at this afternoon's event, he sat down with Legal Cheek Careers to speak about the employability support and opportunities at ULaw and his advice for those facing application season.
Can you tell us a little bit about your role as the Director of Employability at ULaw?
My role is really about leading and motivating a high-performance team. I have more than 50 careers and pro bono colleagues across the country who are committed to supporting the development and progression of students who have high hopes and expectations. Every student matters and every student is different – this makes the provision challenging and ever evolving but the rewards are enormous. There is nothing better than an appreciative student, particularly when they take pleasure in sharing a successful outcome with us.

In your experience, what are two things students keen to enter the legal market can do to differentiate themselves, given the high level of competition?
There are lots of things that students can do but which two they choose comes down to their interests, preferences and time. We offer a wide range of Pro Bono opportunities, we have a fantastic mentoring scheme, we run a rapidly growing Commercial Awareness Challenge, we put on workshops on a wide range of professional development topics. Then there are the opportunities outside of ULaw – paid work, volunteering, local community projects, sports, hobbies, travel.
The challenge is to wrap up what you choose to do in the 'story of you'. Personally, I would encourage at least one of the two to be a new challenge, outside the comfort zone and bringing you into contact with different people.
You worked in sports reporting and accounting before moving over to a career in employability. What advice do you have for fellow career changers who are anxious about switching over to a completely different market?
There are complexities but at its heart it is about having the required technical skills and the wider employability skills. The former requires learning and development – sometimes a lot, as is certainly the case with law, but with time and effort they can be acquired.
The latter are transferable and sometimes play out to the advantage of a career changer. In an accountancy environment I brought the ability to public speak from my sports broadcasting background. Everyone at the BBC could do it and wanted to put themselves forward. In accountancy, very few were keen and often only my hand went up when volunteers were sought!
What is a common mistake you've seen students make when it comes to early career decisions, and how can they avoid this?
I tend not to think of them as mistakes. Everything we do has upsides and if there are negatives then you learn from them for the future. I don't ever thing a student is wrong to pursue an area. I may not agree and they may change tack but they must make that call and they will be wiser for the experience.
In 2023, I feel increasingly committed to ensuring students think about their personal future as well as their professional. The two are intertwined but often priority is given to the career. At a recent ULaw Open Day I noted that the following day was my 27th Wedding Anniversary and that this was my proudest achievement. A spontaneous round of applause rang out which I think suggested it struck a chord.
When candidates have to complete case studies or presentations as part of their application process, what tips do you have for how they can recall and incorporate commercial awareness into these?
There are no easy wins with commercial awareness. It comes with time and effort. I have mock interviewed students and asked them about a recent topical issue. Many have done their homework and can talk about the issue and what has been happening. The ones that stand out reflect on events 18 months earlier which they can see as having eventually led to what happened yesterday. They will cross-refer other examples and show their commercial awareness by simply displaying their knowledge.
This is the motivation behind ULaw's Commercial Awareness Challenge – all participants have access to Watson's Daily for free for the duration of their time in the competition. Don't tell them this, but the whole structure of the event is designed to keep them in the competition because the longer they are, the more they will keep on digesting the daily bulletins.
What aspect of ULaw's employability support do you think is a particularly stand-out feature?
The employability support is carefully designed to equip students with what they need, based upon our experience and what employers tell us. It isn't a one size fits all, but there is something for everyone and we hope that as many as possible access the right mix.
If I had to pick one out for special comment, though, it would be our Pro Bono provision. ULaw is celebrating 25 years of Pro Bono in 2023/24 and the current offering is so varied and flexible, reflecting what modern students need. The support provided changes lives and shapes the lawyers of the future into professionals who care and understand the commitment to those in need.
What advice to you have for students to deal with anxiety and overwhelm during the application process?
Talk to my colleagues in the Employability Service (or access their university provision). They understand and they have seen so many people who feel anxious and overwhelmed. They can and do help. Part of our job is to build confidence, to develop resilience and put things into perspective.
I am immensely proud over the last few years to have taken back messages from students to educate employers on what their future employees are looking for. I hope that I have influenced some to think more seriously about issues that matter – diversity, the climate and well-being. It is comforting to hear more and more talk about supporting every member of staff with their mental health, not just offering help to those who are struggling. This should mean that workplaces, whilst tough, are better equipped to cater for the needs of their employees to the benefit of all parties.
If you could explore any other career, what would it be and why?
Using my own advice above I'd try something completely different – meteorology for example. I have a slight fixation with the weather, derived perhaps from being Chair of a Village Cricket Club. My eyes have been opened to the climate agenda and it is fascinating to see how different parts of the world are affected. As with all the jobs that I have done to date, though, I'd like to do more than just understand what is going on; I'd like to try to make a difference.
ULaw's John Watkins will be speaking at 'The Big Commercial Awareness Themes of 2023-24 — with DWF, Goodwin Procter, Gowling WLG, Lewis Silkin, Squire Patton Boggs and ULaw', a virtual student event taking place today. Apply now to attend.
About Legal Cheek Careers posts.