With COP26 underway Gowling WLG partner Ben Stansfield reflects on his career journey to date and considers some of the developments at the forefront of planning and environmental law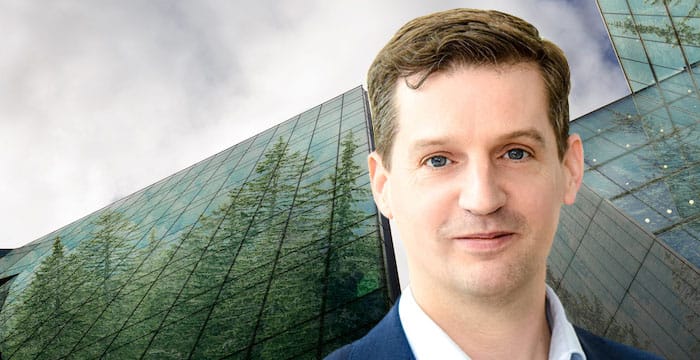 Despite enduring a number of interviews while studying law with French at Kent University, Ben Stansfield was unable to secure that highly sought-after training contract offer.
He then went on to complete the Legal Practice Course at Nottingham Law School and spent a year working as a paralegal at magic circle firm Slaughter and May. "That's what sparked my interest in the environment", Stansfield tells me when we speak. Major revisions to the Environmental Protection Act 1990 were coming into force in these early stages of Stansfield's career, and it felt to him like a new and exciting area of law that was going to undergo huge growth and touch every business within every sector in every country.
Coming out of this experience with a newfound confidence and as a completely different candidate, Stansfield secured a training contract with another magic circle firm, Clifford Chance, in 2001. He remained there for 12 years, working his way up to senior associate, before making the move to Stephenson Harwood where he became partner. Now, as a partner in Gowling WLG's London office, Stansfield emphasises it is the tangible nature of the work that he does in planning and environmental law which makes it appeal to him. This was in contrast to his experience in banking and structured finance seats, where, he admits, "I never quite knew what was going on!".
More and more sectors are becoming alive to changing environmental concerns, and this contributes to the vast variety of work that Stansfield does on a day-to-day basis.
"The amazing thing about planning and environmental law, compared to every other department that City law firms have, is that you have public law, private law and criminal law within it, and you do a mix of litigation, transactional and regulatory work. I can't think of any other department that offers that."
Recent examples of his work include a case in the High Court and a public inquiry, advising on nuclear regulation, and negotiating specialist aspects of a share purchase agreement for a client buying a business that has contaminated sites in need of remediation.
So, what does Stansfield consider to be the key developments at the forefront of planning law? He highlights that as agile working arrangements become the norm in the post-Covid era, there needs to be greater flexibility in the way that physical spaces are used. He tells me that we are likely to see commercial buildings repurposed for residential use, or incorporating new uses like boutique gyms, micro-schools or even for warehousing/storage. These adjustments also extend to planning of the home. "We may start to use our homes differently as we work from home regularly — configuring our homes so that we can have an office in the day and a nice lounge in the evening or at the weekend."
On the environmental side, with COP26 underway, Stansfield encourages students not only to consider a net-zero future, but also the environmental needs beyond this stage. "We are talking about getting to carbon cuts of 78% of 1990 levels by 2035" and "if all goes well, by 2050, we will have achieved net-zero." Therefore, for Stansfield, the next generation of environmental lawyers need to have the preservation of our current habitats and reforestation on their radar as the long-term objective in this area.
Providing further guidance for budding environmental lawyers looking to follow in his footsteps, Stansfield advises students to be flexible. "It is a competitive area that doesn't take many newly qualified lawyers each year. It might be that if you want to work in the environmental sphere, you might consider becoming a project finance lawyer and get involved with green, low-carbon projects." Stansfield further encourages students who might not see themselves as "M&A heroes or finance superstars", but have a more niche interest, to believe in themselves and follow their passion for sustainability.
Ben Stansfield will be speaking at 'The Big Commercial Awareness Themes of 2021-22 — with Gowling WLG, Irwin Mitchell, Ropes & Gray and ULaw', a virtual student event taking place today (Monday 1 November). You can apply for one of the final few (and free) places to attend the event.
About Legal Cheek Careers posts.