Ahead of a lawtech special edition of our popular 'Secrets to Success' student events series, Michael O'Donoghue, a senior associate at Hogan Lovells, discusses his day job and the firm's tech strategy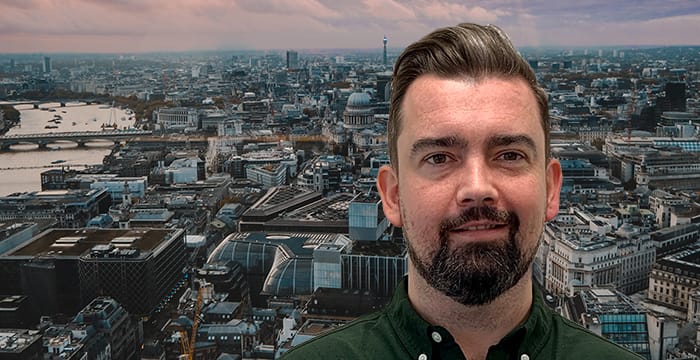 Michael O'Donoghue is a senior associate in Hogan Lovells' financial services litigation team. His day job involves representing major financial institutions and ultra high-net-worth individuals in litigation and under investigation by regulators both in the UK and overseas.
Prior to his foray into law O'Donoghue studied economics and business with Eastern European studies at UCL, with a spell abroad studying in the Czech Republic. It's an unusual course choice for the eventual lawyer but one that played to his strengths — "the degree was a mix of maths, economics and politics which I have a geeky fascination with", he quips.
O'Donoghue didn't initially set out to become a lawyer. The plan was to become a derivatives trader upon graduating, but after a few placements at various banks he found himself drawn to disputes — when things go wrong in the financial markets — which is where the law and litigation come into play.
He proceeded to juggle part-time study — the Graduate Diploma in Law (GDL) and Legal Practice Course (LPC) — for the next two years with working as a paralegal at Linklaters, Freshfields and Simmons & Simmons to get a feel for whether he made the right career move. He enjoyed his time at Simmons, split between the City outfit's London headquarters and with a client in Saudi Arabia, and accepted a training contract offer with the firm beginning in 2011.
The budding litigator then carefully selected his seat choices (project finance, capital markets, banking and financial litigation, including a secondment to RBS in the bank's global restructuring group) to complement his chosen career path, something he recommends trainees-to-be do — "display your interest early on and be guided by your seniors" — he advises.
The born and bred Londoner further advises students to seize every opportunity, particularly secondments, as they "give you valuable insight into how your client operates". Soon after qualifying in financial litigation at Simmons, O'Donoghue spent a good chunk of time on secondment to Barclays in the bank's litigation team, followed by another secondment to the Financial Conduct Authority's enforcement team.
Three years later he joined global law firm Hogan Lovells. His decision to move was based largely on wanting a greater split between contentious regulatory matters and litigation, two key strands to the role. Once there he completed a further three-month secondment at Hogan Lovells' Johannesburg office in South Africa.
A self-confessed technophile, O'Donoghue, who will be speaking at a lawtech special edition of our popular 'Secrets to Success' student events series, held at the University of Law's City of London Moorgate campus, is actively involved in tech initiatives at Hogan Lovells. Just last week, for example, both he and a colleague, Scott Baxter, hosted a "legal tech fest" at the firm for employees. This enabled the firm's lawyers and business support staff to tinker with the latest products on the market and network with external tech providers. He also helps host hackathons across Hogan Lovells' London teams to trial products and determine their suitability.
Indeed, Hogan Lovells is bustling with innovation. When I broach the subject, O'Donoghue reels off a list of tech tools that have driven significant efficiencies in his practice area. For example, software tool Relativity can, among other things, gather all the emails in a selected thread and display them coherently which is useful, O'Donoghue says, for disclosure exercises, and in turn reducing costs and timings. Meanwhile, Veritone can transcribe audio recordings in a matter of minutes, helping litigators "pick out the suspicious discussions" using a swift keyword search rather than having to listen to an entire recording.
He forecasts further developments in the years ahead: "I'd like to see more lawyers challenging legal technology — a lot of people throw around legal tech jargon without any real understanding behind the different tools and processes. The truth of the matter is our clients are very much alive to legal tech which, in turn, means it has become central to the day to day role of a lawyer — it's built into practically every new business pitch, for example, and they want to know which tools we're using and how these will produce time and cost efficiencies, reduction in legal spend and profitable results for them. I hope to see lawyers across every department having such conversations with clients because that, in my experience, is what truly drives innovation. I know there is still a bit of fear that automation will 'wipe out' lawyers but that's not the case — we are instructed for the advice, the technical expertise and experience we bring to a client's matter which lawtech cannot necessarily replicate or replace. Legal technology allows lawyers to focus on the more important strategic and technical elements of a case, by reducing time spent on the more repetitive and routine tasks."
Readers piqued by O'Donoghue's life as a litigator will be interested to know the five skills he believes are essential to the role. They are the ability to solve complex commercial problems, demonstrating a high-level of attention to detail ("often the difference between winning and losing a case"), keeping a level head when things hit high pressure, showing enthusiasm and getting stuck into a task, and lastly, being a "straight-talker".
He adds: "Take a step back and think about how you can differentiate yourself. Whether that's through your expertise and experience or something new you can bring to the table. The City is crying out for diversity of talent and it's up to you to discover your pull factor and present that."
Michael O'Donoghue will be speaking alongside lawyers from Ashurst, BT's in-house legal team, Pinsent Masons and Radcliffe Chambers, and a legal education tech expert from the University of Law at tomorrow evening's 'Secrets to Success' event, a lawtech special edition of our popular student careers and commercial awareness events series. The event is fully booked but you can apply to be added to the waiting list.