For Professor Andrew Francis the SQE is just one part of a much bigger story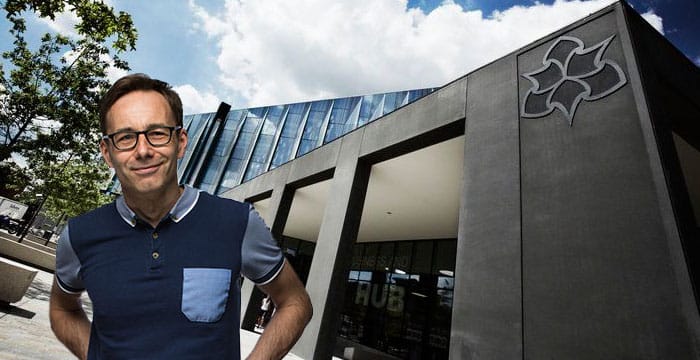 With the incoming Solicitors Qualifying Examination (SQE) setting a new path to qualification, an opportunity exists for law schools to reflect on their role in training tomorrow's lawyers. For Professor Andrew Francis, Head of Manchester Law School, the new landscape lays down a striking challenge for law schools.
He explains: "All universities have to tell a story about the relationship between their degree programmes and graduate level employment — and the existence of a qualifying law degree allows law schools to tell a pretty simple story. The post-SQE landscape changes that."
A market may well emerge for combined SQE-LLB courses. However, although few universities are likely to fully incorporate SQE training into undergraduate degrees, all institutions have the scope to develop their offers to ensure that their students are well-equipped for a competitive job market. Manchester Law School's new undergraduate degree is part of its response.
But the replacement of the Legal Practice Course (LPC) is just one of a number of issues on Francis' radar. "The SQE is not the sole consideration or concern in how a law school moves forward," he says.
Rather, continues Francis, who previously headed Keele University's Law School before joining the University of Leeds as a Professor of Law, and who has published extensively on the regulation and organisation of the legal profession, the SQE provides a moment for law schools to step back and look at the bigger picture. He continues:
"It's a chance for all law schools to evaluate what high quality education looks like from first principles. It's about designing a law degree that's not simply focused on legal services, but on developing creative, analytical, resilient and ethically responsible graduates who will make meaningful contributions to the world. So, it's important to contextualise the academic study of law to reflect not only how the nature of legal practice is changing, but wider professional services and other sectors as well."
At the heart of those changes is legal technology. It's an area in which the UK is emerging as a global leader, with a recent report by TheCityUK showing that UK lawtech start-ups account for almost half (44%) of all lawtech startups in the whole of the EU, with investment soaring from just £2.5 million in 2016 to £62 million last year. The researchers also found that much of this investment is being directed outside London, with the creation of an "extensive network of regional tech labs across the country".
Manchester is an important centre in this respect — a position dating back earlier than the recent lawtech boom. Its large community of personal injury law firms became leaders in legal work automation partly in response to the Jackson civil litigation reforms of the previous decade, which demanded more for less from lawyers, and led to a wave of efficiencies sweeping through this sector of the profession.
This expertise was part of the attraction to global megafirms Freshfields, Bryan Cave Leighton Paisner and Latham & Watkins, as they opened tech-led offices in Manchester over the last few years, focusing on among other things artificial intelligence derived document review. Meanwhile, large international and national firms with a longstanding Manchester presence like Pinsent Masons, DWF and Squire Patton Boggs have drawn upon Manchester's strength in lawtech to ramp up their focus on innovation. Manchester Law School graduates are an important source of potential recruits for all these outfits and these alumni help inform the curriculum developments that keep its academic, vocational and research programmes relevant.
This is an important factor in Francis' strategy. What type of lawyer do these firms want? Francis explains his starting point: "Traditionally, a lawyer would have a demarcated area of expertise clearly distinct from accountancy, management consultancy or technology engineering," he explains. But the advance of technology, and the liberalising effect of the Legal Services Act 2007, means that "these historically secure boundaries have blurred over the past decade". He continues: "in addition, you may see more portfolio careers, with people moving between industries — working more as a lawyer at one point and a project manager at another."
Francis says: "As a law school community, we are really well placed to respond to these challenges. We have extensive practitioner expertise with deep connections to the profession, pedagogic innovation including in areas of technology and research strength in fields including sports, equalities law and legal services. Crucially, we do this in a large interdisciplinary institution with global connections."
Part of Manchester Law School's response is an undergraduate law degree within which cross-disciplinary expertise will be prominent. Final year law students will also work on projects drawing on Manchester Metropolitan University's other areas of expertise — including computer science, business, creative arts and sports, offering students opportunities to develop skills and experience in cross-disciplinary collaboration. Projects available in other parts of the curriculum can be overseen by local industry experts, who offer their insights and support students in developing their understanding of how new disciplines may be integrated within law firms and their abilities to critically evaluate the impact of this changing legal service landscape.
Francis stresses the importance of connecting the University's vibrant student and graduate population with Manchester's cross-disciplinary professional communities — from its legal services sector to the city's burgeoning tech hub, taking in creative industries and sport. "We don't sit on the outside. We are deeply connected to the City's communities and recognise that, as a law school, we have got to have a clear sense of what's happening in the world around us to ensure that legal education is fit for purpose. As a large institution we're able to build these partnerships through legal education, business engagement and research. Manchester provides the platform for us to deliver the school's ambition and realise our students' aspirations," he says.
Alongside the quality of universities, law firms and businesses in Manchester, add into the mix the city's industrial revolution-steeped history of innovation and the strong 'Manchester does things differently' vibe, and you have got an exciting scene developing — hence Legal Cheek's decision to launch the northern version of its LegalEdCon in the city. Francis is speaking at the event, which takes place tomorrow at The Lowry in Salford Quays, alongside lawyers from some of the aforementioned firms.
"It's a really ambitious city: it's creative, it's entrepreneurial, it has a really global outlook — all attributes that many successful lawyers have," Francis adds. "And as a law school, we share that ambition."
Professor Andrew Francis, Head of Manchester Law School, will be speaking at LegalEdCon North in Manchester on 30 January 2020.
About Legal Cheek Careers posts.