Bates Wells' partner Karli Hiscock looks at some of the opportunities and challenges facing the real estate sector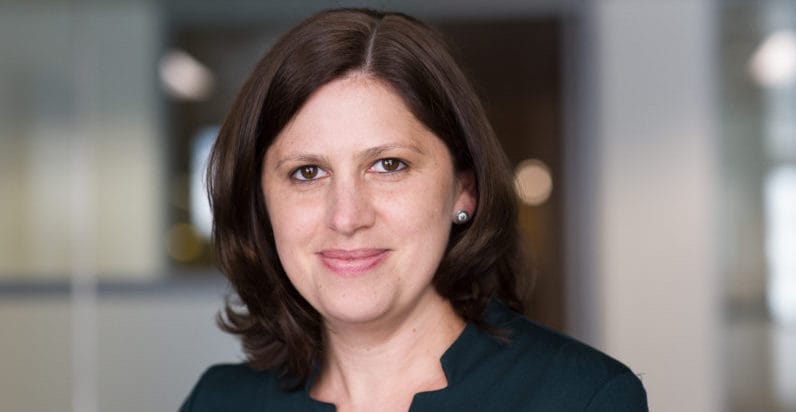 Karli Hiscock, a partner in the real estate group at City law firm Bates Wells, has built a busy and varied legal career around the UK's commercial property market. She sat down with Legal Cheek Careers to discuss the opportunities and challenges facing the real estate sector as well as offer some words of advice for those seeking to follow in her footsteps.
Before the demand for eco-friendly offices, many organisations' attitudes to office space were design-led and focused on creating a welcoming environment, Hiscock explains. Any positive impact on the environment was considered an added benefit rather than a necessity.
But around five years ago a shift happened, says Hiscock – one which gained momentum after Covid-19 heralded a new era of remote working. "Since the pandemic, companies have the added issue of attracting people back to the office," she says. "Meanwhile, studies were showing that a positive work environment increases productivity, maintains retention, attracts talent and improves well-being."
Another driver of change was a great business-focus on environmental factors in part due to the rise of ESG (environmental, social and corporate governance).  "For example, some organisations have ESG criteria as part of their objectives, so they will look for ways to make sure that they have a positive impact, including occupying space with lower carbon emissions," she says. "Other organisations where it's not part of their core purpose are now reporting carbon emissions because their employees and other stakeholders are demanding that they do the right thing for the environment."
This demand for greener offices is not without its challenges. "There's a lot of amazing, beautiful old buildings in London but they are not going to be your optimum peak performance buildings," Hiscock explains. The way around this is to retrofit – adding newer, more energy efficient materials, for example — but that can be time-consuming and expensive. "There's a real debate around it and it's difficult in planning law terms. For non-listed buildings, the question has to be asked, is it more beneficial for them to be knocked down and new, environmentally friendly buildings put in their place?" An issue being navigated in the Courts at the moment.
As the first UK law firm to become a B Corp, a certification given to businesses that meet high standards of social and environmental performance, transparency and accountability, Bates Wells has first-hand experience when it comes to transitioning to a more eco-friendly office. "We're a tenant, not a freeholder, so we don't have complete control over our building. However our amazing facilities team worked collaboratively with the landlord's facilities team and agents to reduce carbon emissions," she says.
"As a B Corp we're committed to reducing harm to the environment, so we need to have an environmentally sustainable building," she continues. "And when we're advising clients on sustainability, we can use ourselves as a case study and say, 'this is what we've done, learn from our mistakes, learn from what we didn't do so well at the start and what we're doing well'."
Hiscock's journey into law started in the penultimate year of secondary school when she landed a work experience placement at a local law firm. "I can't say that I always wanted to be a solicitor because at that age I wouldn't have known what that really meant. I would see programmes on TV, but I didn't know anyone in law so I didn't have anything real to base it on," she reflects.
The two-week placement turned out to be a game-changer: "I found it really interesting. I loved the dynamic of the different practice areas and the work that I was able to get involved with". After going back to spend more time with the firm during the summer holidays, Hiscock felt confident that law was the right path and went on to study it as an undergraduate at Cardiff University, where she remained for the Legal Practice Course.
The advent of hybrid working and WFH had a huge impact on the need for office spaces, but how does this look now the pandemic is firmly in our rear-view mirror? "If there's anything we've learned from the pandemic in terms of workforce, it's that we can be (and should be) more flexible," says Hiscock. "It's taught us that we can literally work from anywhere so as a result we're advising lots of clients around getting out of their office leases, reconfiguring their office space, rent concessions and negotiating with their landlords for greater flexibility. We're helping them take ownership of their own framework so it's really about the right place for the right task and embracing flexibility."
"Most clients are identifying the need for an office somewhere, even if it's not five days a week," she says. "They often need a touch point where they all come together, for some organisations that's just hiring space on an ad hoc basis. But many have retained offices and are using them in a different way, which could be subletting, sharing or perhaps giving back a little bit of space to the landlord."
"We're seeing more collaborative working because you can work effectively and quietly get your head down anywhere," she continues. "If people have a good work space at home,  when they come into the office, they may ask,  why would we bother? Especially if you've got a commute as well. Collaborative working is what people come in for."
 Hiscock's interest in commercial property transactions started during her training contract at Carter Lemon Camerons. The firm's senior partner became a mentor to her and introduced her to the area. "He really encouraged me. He's written all sorts of technical material , but he just makes it all really commercial."
In 2014, Hiscock joined Bates Wells as a senior associate, making partner four years later. "They were on my radar for a long time as a bit of a different firm," she recalls. "We pride ourselves on being non-hierarchical. From day one I didn't feel that there was an awkwardness going to speak to someone who was clearly very senior in the business."
To be a good real estate lawyer you need to be able to see the bigger picture she says. "Property law does not change that often, we're working with pretty old legislation. Clients do not want to know about those Acts, they just want to know that we understand the law and that we're protecting them. We always have to have our eye on the end goal and spot any issues early on."
What advice would she give to students interested in real estate law? "Get work experience," she says whilst acknowledging that this has become incredibly competitive in recent years. If, for whatever reason, you're finding that hard to get then don't give up, she says. "Use online resources and webinars, go to networking events, try to meet other lawyers and get as much exposure as possible to what it's really like, day to day."
Meet Bates Wells at Legal Cheek's Virtual Law Fair on 10 October (2-5pm). Sign up now
About Legal Cheek Careers posts.