Ahead of tomorrow's event, 'Inside Track: How to make it as a City lawyer', Mayer Brown senior associate Sarah Rochelle explains what commercial awareness really means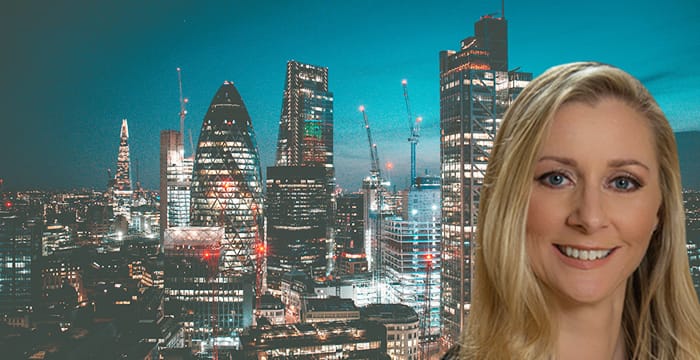 As a senior associate in Mayer Brown's real estate team, Sarah Rochelle is a very busy person. Last week, when she wasn't helping to prepare material for a client pitch, attending meetings with clients, working on a number of transactions and attending the firm's summer party, Rochelle was darting between vac scheme meet-and-greets, initiatives aimed at tackling obstacles facing female lawyers, and, of course, talking to the Legal Cheek Careers team ahead of tomorrow's panel event, 'Inside Track: How to make it as a City lawyer'. "And this is a quiet week," Rochelle says, checking her calendar.
As a real estate lawyer, Rochelle oversees several property projects at once, many of which have international investors located in varying time zones. Much to her enjoyment, these deals often involve landmarks visible from the City's skyline — Mayer Brown, for example, acts for the owners of The Shard, and advised on the purchase of the so-called 'Walkie-Talkie' and the sale of the 'Cheesegrater' buildings.
Despite dealing with very bricks-and-mortar matters day-to-day, Rochelle began by studying English literature. Knowing she would later convert to law, the then University of Exeter undergrad chose to study something she "really enjoyed". Still, her undergrad experience reading and distilling large volumes into simple points proved useful to the document-heavy tasks of a transactional lawyer.
After completing the Graduate Diploma in Law (GDL) and Legal Practice Course (LPC) at BPP University Law School, Rochelle began a training contract at Jeffrey Green Russell (now Ince Gordon Dadds), then a medium-sized firm based in London's West End. Rotating between the firm's litigation, corporate and real estate teams, the budding trainee was soon drawn to transactional over contentious work.
Rochelle makes the observation that in litigation the parties enter it with opposite objectives. By contrast, parties to a transaction usually begin with the same goal: closing the deal. Plus, litigation can be a long game, as Rochelle explains:
"In some cases, litigation can go on for years — you could be working on fewer matters, but they'll go on for some time. Whereas most transactional matters will have a shorter time frame."
Rochelle qualified into real estate which, although the sector was still reeling from the financial crisis that had rocked the economy, was in line with her previous real estate paralegalling experience after law school.
Shortly after qualifying, Rochelle moved to international mega-firm Dentons. After Dentons, Rochelle moved to global outfit Herbert Smith Freehills (HSF) before finally arriving at Mayer Brown last year. Although not far in terms of physical distance — with the firms all situated in the London's City district — each move amounted to a sizeable career jump matched by exposure to increasingly large-scale projects. At Dentons, Rochelle was put on secondment to multinational hospitality company, Hilton. At HSF, she worked on the Thames Tideway tunnel, better known as London's 'super-sewer', which, in 2015, was the largest infrastructure project in Europe.
Much to her enjoyment, Mayer Brown's close-knit office culture offers lawyers more hands-on responsibility in managing incoming trainees and working on the firm's social mobility initiatives. Rochelle has also experienced first-hand how team size impacts your work. The firm's smaller trainee intake and condensed team size means greater opportunities for talented lawyers to be seen.
Involved in the firm's vacation scheme interview process, one question Rochelle often puts to candidates is: "What is commercial awareness and how do you stay commercially aware?" According to Rochelle:
"Here we're testing not only awareness of current deals, transactions and issues in the business world, but also an understanding of the business environment and the operational grid under which business is conducted on a daily basis. A successful lawyer must be able to put into perspective how their legal advice will affect the workings of commerce around the world in general and for their client in particular. The flexibility to adapt commercial acumen is key to the success of a City lawyer at a top firm."
For any aspiring City lawyer hoping to impress, expand your research beyond the obvious. "At the moment, you can tell people have brushed upon on Brexit as they think they'll be quizzed on this," Rochelle reveals. Despite its anticipated impact that Brexit may have on the UK's markets, there are other news items which may have an impact on the economy too. She points to HS2 as an example.
Sarah Rochelle will be speaking alongside lawyers from Baker McKenzie, Hogan Lovells, PRIME (Linklaters) and BPP University Law School at 'Inside Track: How to become a City lawyer', tomorrow (Wednesday 10 July) at BPP University Law School in Holborn, central London. You can apply to attend the event, which is our final London event before the end of July training contract deadline, now.