Experts from magic circle firms share their career journeys and advice to students interested in pursuing similar paths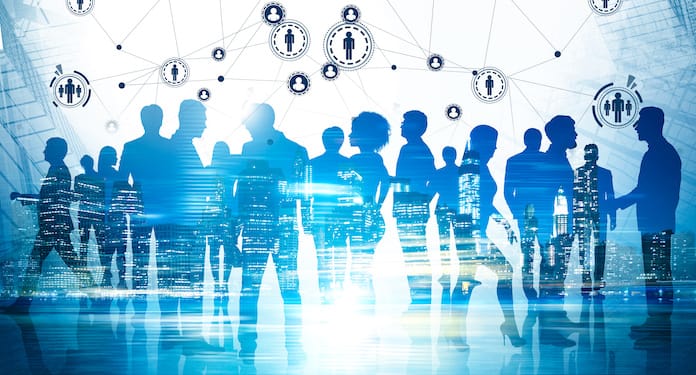 Legal Cheek's latest Secrets to Success virtual event, held in partnership with The University of Law (ULaw), saw four speakers share their differing paths into a career in legal tech to an audience of nearly 450 aspiring solicitors.
The speakers
• Brenna Speiser, senior manager of Allen & Overy legal tech hub, Fuse
• Adam Hunter, associate in the TMT team at Clifford Chance
• Emma Walton, knowledge and innovation manager at Slaughter and May
• Simon George, senior executive manager and director of ULaw's Tech Research Academy (ULTRA)
Brenna Speiser began her career as a lawyer in Allen & Overy's derivatives group. After four and a half years in the team, Speiser decided to move in-house. She spent six years at Goldman Sachs, and it was through working with businesses that sought to promote efficiency and innovation within the services they provide, as well as working alongside operations specialists, engineers and technologists, that Speiser uncovered her interest in legal tech.
November 2021 saw Speiser return to Allen & Overy to work as senior manager of the firm's legal tech hub, Fuse. "I have really enjoyed getting to know more about A&O," she said. "I work closely with our lawyers, as well as the engineering, marketing and business development teams", added Speiser, highlighting the varied nature of work in the legal tech space.
Fellow magic circle panellist Emma Walton revealed that she too started her career as a fee-earner in private practice. Walton's interest in legal tech was piqued at an early stage in her career, from her involvement in various legal tech projects during her training contract. Ultimately Walton qualified into the employee incentives team but "once I was qualified, I was itching to work on more legal tech projects, but I wasn't able to find the time amongst all the transactions I was working on", she explained. This prompted her to search for jobs that would allow her to get involved in innovation and legal tech which led Walton to her current position as knowledge and innovation manager at Slaughter and May.
Similar to Speiser, Walton noted that her role carries with it a varied workload. "I absolutely love it," she said. "It's a mix of traditional knowledge management; legal tech to help streamline processes and improve the client experience; as well as broader innovation projects such as looking at our ways of working and redesigning the office."
In contrast to his magic circle counterparts, Clifford Chance's Adam Hunter founded a tech start-up in the final year of his law degree at Bristol University. "I built an AI chatbot which got me interested in the intersection between law, innovation and technology", he shared, noting that it was this venture into tech that set him on the path to becoming a tech lawyer.
With this newfound passion Hunter joined Clifford Chance's IGNITE programme, a training contract specifically designed for those interested in legal tech. During his training contract Hunter worked alongside the firm's legal tech specialists and clients to build legal tech products, as well as helping teams within the firm to streamline processes and boost efficiency. Now an associate in the telecommunications, media and technology (TMT) group, Hunter spends much of his time handling data privacy, cybersecurity and technology matters for Clifford Chance's global clients.
"I've always been a 'techie'", said ULaw senior executive manager Simon George, who appeared on the panel alongside Speiser, Walton and Hunter. And so becoming a member of ULaw's Legal Tech Research Academy (ULTRA) was a natural fit for the former solicitor. George explained that ULTRA looks at how firms are using legal tech and in turn how students need to be engaging with it before embarking on a legal career. George and the rest of the ULTRA team have designed a variety of courses aimed at providing aspiring tech lawyers with the baseline knowledge. These range from additional elements to existing offerings to creating dedicated legal courses such as ULaw's MSc in Legal Technology.
Under the new Solicitors Qualifying Exam (SQE), George noted how there is no requirement for aspiring solicitors to study legal tech — "this doesn't seem a sensible way to approach legal tech — the biggest thing to hit the legal profession in 20 years", he said. In the absence of any required study on this, George emphasised that students should ensure their SQE prep course delves into tech to develop a solid grounding in the topic. ULaw's SQE Plus content aims to ensure future solicitors are "practice-ready".
Reflecting on his experience in legal education, George revealed that students frequently ask if coding is a key skill required of a legal tech lawyer. Addressing this common misconception George highlighted that the highly specialised skill of coding is not one that can be learnt on a three-week crash course, for example. He went on to explain that it is not about being a skilled coder, instead the importance lies in being able to understand the language of technology. "If you can speak the language and are able to communicate and bridge the gap between the lawyers and the tech specialists, you will be an asset to a law firm," he said.
The speakers' career journeys and advice made it clear to the audience of aspiring solicitors that a background in legal tech is not necessary to become a legal tech lawyer. What was apparent, however, was the passion the speakers shared for all things tech and innovation and their drive to increase efficiencies both for clients and within law firms themselves.
About Legal Cheek Careers posts.