Prominent figures from the world of law came together, virtually, to discuss how the impact of coronavirus and an increasing reliance on tech will shape the future of legal education and training, Sophie Currie reports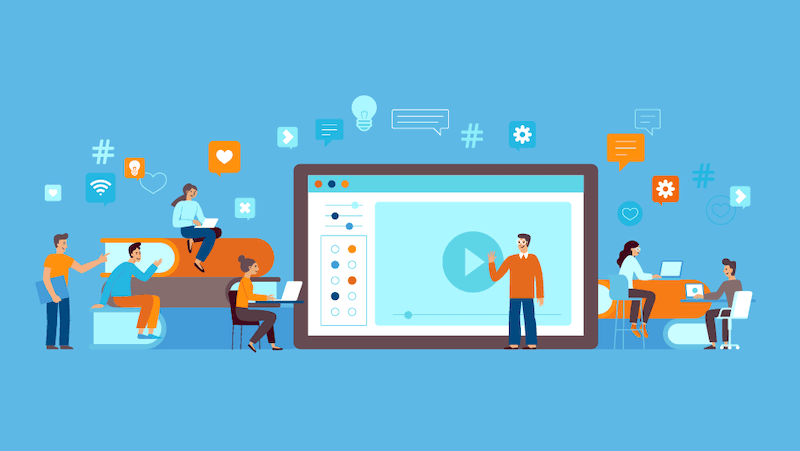 LegalEdCon London 2020 returned on Thursday 14 May, virtually, to adapt to the unprecedented circumstances brought by COVID-19.
One thing the pandemic has shown is the importance of technology to keep businesses and their people connected. Over 600 delegates from across the country and beyond tuned in from their homes last month to Legal Cheek's annual conference to gather insights into the future of legal education and training.
LegalEdCon featured sessions on areas including diversity, inclusion and social mobility; online learning; the latest Solicitors Qualifying Exam (SQE) developments; the new bar course; and a closing keynote. A key theme that emerged was how the coronavirus and our increasing reliance on tech will have a lasting impact on these areas.
The morning session focused on legal training, and more specifically, what the trainee of the 2020s will look like. The speakers (view the full speaker roster) agreed that future lawyers must understand the relevance of tech in the workplace, but also display commercial awareness and have an understanding of black letter law. They said, however, that interpersonal skills will continue to remain the most important for aspiring lawyers. Kate Gaskell, director of transformation at LexisNexis, one of the speakers on the panel, summed up by stating that "law is still a human business as its core".
Our first #LegalEdCon session is underway ? 350 delegates are hearing from 6 speakers present a picture of the trainee of the 2020s pic.twitter.com/5Fblg71k76

— Legal Cheek (@legalcheek) May 14, 2020
During the second conference session which focused on diversity and inclusion, the speakers acknowledged that remote-working policies ramped up in response to COVID-19 could bring benefits to firms' trainee recruitment processes. With home-working and remote methods of assessment, such as virtual assessment centres, likely to stay in place for the time being, it was acknowledged that employers could potentially recruit on a far wider scale than they do currently, and perhaps globally.
The speakers, which included Mayer Brown's UK managing partner, Sally Davies, and Clifford Chance's global head of inclusion, Tiernan Brady, encouraged delegates, who primarily consisted of graduate recruitment and learning & development teams, to harness the benefits a diverse workforce can bring in terms of skills and experience.
Tech is revolutionising the way students learn. Sharing their viewpoints on online learning were prominent figures from leading law schools during sessions three and five.
Into 'Session 3 — Reimagining Online Learning Part I' now, and senior figures from law schools @UniversityofLaw, @BPPGroup, @barbri and @collegalpract are sharing insights into innovative course delivery using live demos! ? #LegalEdCon pic.twitter.com/d4MKmIiOm2

— Legal Cheek (@legalcheek) May 14, 2020
Peter Crisp, pro vice chancellor external at The University of Law (ULaw), said that it is the responsibility of law schools to create well-rounded lawyers of the future with "smarts and hearts". This is part of being an 'O-Shaped Lawyer' — lawyers that are not only technically adept but can adopt an emotionally intelligent approach to interact with and understand their client's needs and goals.
He further suggested that there are four pillars of online learning: community, flexibility, technology and quality. "ULaw has developed socially immersive learning experiences… the mode of online learning has already been reimagined by ULaw through developing student-centric online education," he said, adding that the pandemic has provided an opportunity for students and teachers to experience online learning perhaps for the first time.
The biggest challenge he said educators will face is reimagining online assessment. Further, Crisp predicted that online learning will continue to play an increasingly significant role in the future of legal education, with possibilities for an augmented blended approach (online as well as face-to-face teaching).
BPP University Law School's director of new programmes, Jo-Anne Pugh, and head of learning innovation, Tom Pieroni, explained how the law school is using technology to support online learning. "We have redesigned our programmes to reconcile them with the wider skillsets that are demanded by future legal practice," Pugh said.
The duo outlined BPP's 'contextualised' approach to teaching in which students will be prepared to pass exams through personalised and adaptive learning processes. "BPP students will engage in virtual practice environments that are based around realistic case studies in a digital platform that mimics an intranet or case-management system typically found in a law firm or chambers. This gives students the opportunity to undertake the types of activities they will be expected to do in practice and to consolidate and apply their knowledge," explained Pieroni.
BARBRI's vice president of instruction and online education, Samuel Farkas, said that "the COVID-19 outbreak has provided for what some have coined the great experiment of online learning". Farkas, who was joined on the virtual stage by BARBRI's director of UK programmes, Victoria Cromwell, observed that online learning is often considered to be secondary to face-to-face teaching. This misconception is unfounded. Farkas explained: "Online learning is as effective, if not more effective, for adult learners."
Tuning into @barbri's demo during Session 3 — @vickscromwell (in London) and Sam Farkas (in Florida!) are sharing insights into the effectiveness of online learning ? #LegalEdCon pic.twitter.com/3vIqR8KA4E

— Legal Cheek (@legalcheek) May 14, 2020
He went on to distinguish between 'emergency' remote teaching brought by necessity during the coronavirus pandemic with effective and established online learning processes. The latter uses a systematic development approach to achieve specialised learning outcomes, he said.
BARBRI's online learning approach is designed with the outcomes in mind. Through creating immersive and contextually relevant content BARBRI engages its students using a 'lean-forward' learning approach. They are also regularly assessed and are provided customised learner paths.
Neville Carter, chief executive officer of The College of Law Australia, observed that course delivery has shifted online for the most part in recent years, and outlined the law school's approach to tech. "We're often asked, 'what are the particular technologies used to deliver our programmes?' I always say, well we call them teachers… skilled teachers make the difference. The content and communication and technologies around them are important, as well as student interaction, but we build the technology around the teachers as they are essential to the outcome."
"Technology was a hot topic prior to the COVID-19 crisis but is now more relevant than ever," confirmed Christopher O'Connor, head of segment marketing at LexisNexis. He outlined the 'macro-trends' of online learning for the future:
"In the short-term, the impact of the coronavirus can be seen with universities moving teaching and exams online. In the medium-term, the pandemic will also hugely impact universities and their finances… I think some students will be asking for partial tuition fee refunds, which will put pressure on universities. This will be used as an opportunity to shape the university sector, with opportunity to move more online. It is very likely we will see a pivot away from research to teaching in the long-term. I suspect law will be something of a safe haven for universities, however, with students favouring vocational courses, yet, online learning could transform education."
Matthew J. Homewood, head of department at Nottingham Law School, demonstrated how the use of educational technologies, and in particular predictive analytics, can be used in conjunction with a dedicated personal tutor system to provide outstanding pastoral and academic student support. Fellow panellist Dr Steven Truxal, associate dean at The City Law School, shared his experience developing an online international business LLM for the law school.
Meanwhile, Jonathan Schwarz, barrister at Temple Tax Chambers and programme director of the Online International Tax Law LLM at King's College London, said that "the adoption of the latest in teaching technology is perhaps the best solution for the international challenges we currently face". Schwarz added that online learning is "a stimulating opportunity" enabling students to learn at their own pace and in their own time.
Thought-provoking insights shared on online learning by speakers from @NLS_NTU, @LexisNexisUK, @CityLawSchool and @KCL_Law in the afternoon second half of 'Reimagining Online Learning' #LegalEdCon ? pic.twitter.com/sP4FuvAGLk

— Legal Cheek (@legalcheek) May 14, 2020
It will be interesting to see how the future of education will change with the recognition of how technology can be used to support students, whether through online learning or a blended approach.
The SQE will be introduced in the post COVID-19 world.
During the headline centrepiece debate, 'The SQE as a blank canvas', the Solicitors Regulation Authority's (SRA) education and training chief, Julie Brannan, emphasised that there will be no delay to the new solicitor super-exam which is due to come into force next autumn. While her team is working remotely, "we are very much on target for the 2021 introduction", she said.
LC founder and publisher @AlexAldridgeUK has just kicked off the centrepiece SQE debate at #LegalEdCon — really looking forward to hearing how the new super-exam can be rolled out at a time of upheaval from senior figures including SQE co-creator Julie Brannan ? pic.twitter.com/3wnIK4f22V

— Legal Cheek (@legalcheek) May 14, 2020
In her talk Brannan said that the SRA has reviewed the pilot for the second stage of the SQE assessment which took place in December. It is now considering the final design for SQE2, which examines candidates' practical skills. "The fundamental question for the SRA is whether candidates will be permitted to choose the legal context in which those skills are assessed, or whether the qualification will be a single, broad qualification as a uniform exam," she said. The results of the SQE2 pilot were published on Friday, with the SRA releasing its blueprint for the new route to solicitor qualification yesterday. The final design is subject to approval from the Legal Services Board.
Liz Ritter, head of business development at BPP, said that the most effective student learning experience will integrate knowledge with practical skills. The SQE serves as a blank canvas to educators not least because it has no fixed curriculum beyond the requirement that students are prepared to pass the centrally set exams. Ritter added that BPP's SQE prep course will be filled with experiential and collaborative learning, plus exposure to practice to develop a wide range of skills, all supported by the use of technology. Dr Giles Proctor, the chief executive officer of The College of Legal Practice, said during his talk that use of technology will be central to the SQE, and so students should be comfortable using it.
ULaw's national SQE programme director, Jill Howell-Williams, explained the law school's SQE approach. ULaw has developed a student-centric mobile app 'IPAS', which will track student scores, identify their strengths and weaknesses, and encourage them to prepare for the two-part assessment. ULaw is also utilising new technology to teach students how to be prepared for the new world of work that will exist after COVID-19, she said.
Continuing on this theme, James Catchpole, associate dean at The City Law School, said "one key thing we've learnt today so far is that there is going to be a lot of change in the future and the SQE is just one microcosm of that". During his talk, Chris Howard, the director of professional legal education at The Dickson Poon School of Law, King's College London, emphasised the importance for students to adapt to such change.
Another fantastic mix of speakers for the second part of 'SQE as a Blank Canvas' at #LegalEdCon ? "One key thing we've learnt today so far is that there is going to be a lot of change in the future and the SQE is just one microcosm of that," says @CityLawSchool's James Catchpole pic.twitter.com/HiDix5giw0

— Legal Cheek (@legalcheek) May 14, 2020
BARBRI's managing director, Sarah Hutchinson, explained that the legal education provider's role is to find flexible pathways to the SQE and help students to effectively prepare for the stage they are at. "BARBRI does the heavy lifting for the students to maximise their chance of success," she said.
Jenny Chapman, the executive dean of Nottingham Law School, considered how aspects of SQE1 preparation could be integrated into the undergraduate curriculum, and explained that optional modules giving students this opportunity have been developed as part of Nottingham Law School's LLB curriculum.
Changes to education and training aren't limited to the solicitor profession — the bar training regime is set to be overhauled. Eight key bar figures shared their respective takes on the upcoming changes to the Bar Professional Training Course (BPTC) and discussed how the new bar course can be rolled out at a time of upheaval.
Great line-up at the #LegalEdCon Bar session pic.twitter.com/VYh7pnNzxm

— Legal Cheek (@legalcheek) May 14, 2020
Kicking off the session was Hardwicke property law barrister Andy Creer, who gave an overview of how the Bar Standards Board's proposals will impact chambers.
ULaw's Jacqui Cheltenham, national programme director, addressed how technology will be used in its new Bar Practice Course, while BPP's Mark Keith, lead designer, and Ishan Kolhatkar, director of group education technologies, discussed preparing the digital barrister of the future through online teaching, learning and assessment.
James Lee, vice-dean for education at The Dickson Poon School of Law, King's College London, talked about the university's validation agreement with the Inns of Court College of Advocacy (ICCA) to help launch the ICCA's new two-part bar course.
The City Law School's assistant dean Peter Hungerford-Welch touched on the BSB's four key principles (accessibility, affordability, flexibility, and maintaining high standards) in the context of producing bar training that is both practical and academically rigorous.
Ian Fox, principal lecturer and course leader at Nottingham Law School outlined the law school's plans for the phasing out of the BPTC in place of a more flexible bar course including, for their LLM Barristers Training Course, the provision of a compulsory module covering key topics such as expert evidence, vulnerable witnesses, negotiation, mediation and trial advocacy.
The University of Oxford's Professor Rebecca Williams delivered the closing keynote at LegalEdCon.
Now Dan Kayne, founder of the 'O-Shaped Lawyer' and GC at @networkrail has taken to the (virtual) stage to interview Rebecca! pic.twitter.com/atlaXMPG56

— Legal Cheek (@legalcheek) May 14, 2020
Williams, who was joined by colleagues Václav Janeček and Professor Ewart Keep, revealed the initial findings of a new research project focused on the interplay between technology and legal education, and the resulting impact on the training of future lawyers.
She said that while the numbers of law students appear to be healthy, law as an academic discipline still lags behind more technical fields in attracting students.
"Until now, there has been no single subject to rival law as an undergraduate degree for aspiring lawyers. In the future, computer science-related fields may provide such a rival," she added.
Williams explained that the talent pool is growing larger, since law firms have already begun hiring employees from non-law backgrounds. This is why core legal skills remain central to succeeding in law and as such, aspiring lawyers should have a strong understanding of black letter law.
Shortly after the talks concluded, the speakers and delegates took part in virtual networking over drinks in 14 interactive Expo booths on all aspects of legal education as well as live yoga and a cookery school.
…And that's a wrap! ?? Thank you to all 500 #LegalEdCon delegates that tuned in throughout the day. Now for some virtual networking over drinks in 13 special Expo booths ? #VirtualLegalCheek pic.twitter.com/9NurQGZ1UZ

— Legal Cheek (@legalcheek) May 14, 2020
The author is a law student at Liverpool John Moores University and a Legal Cheek Campus Ambassador.