Last month's Manchester conference marked the beginning of some important conversations centering around the SQE, Sophie Currie reports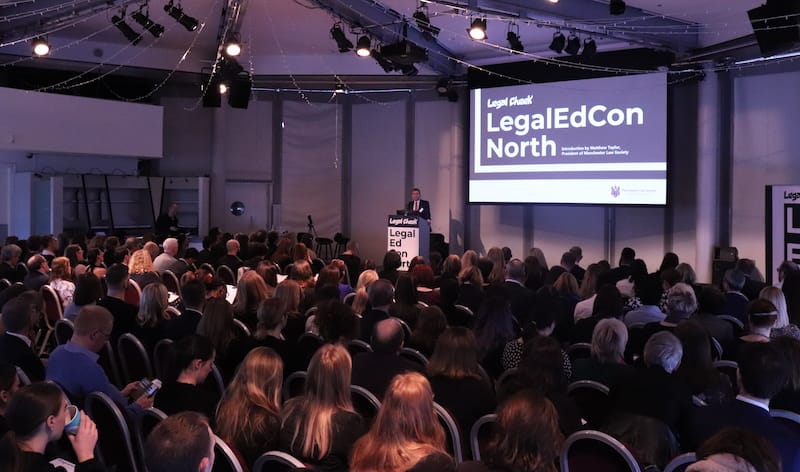 Last month saw the return of Legal Cheek's highly-anticipated LegalEdCon, this time, at the picturesque Lowry building, a stunning venue in Media City, Manchester.
This conference, was the first to be held in the North, in association with Manchester Law Society, and attracted delegates from across the country to network with speakers within the legal profession, ranging from apprentices and law firm representatives to law school academics.
LegalEdCon North marked the beginning of some important conversations regarding the much-awaited Solicitors Qualifying Exam (SQE), that is due to replace the Legal Practice Course (LPC) next year.
From 8:30am, the Quays Bar of the Lowry quickly filled with over 200 delegates, who were served freshly brewed coffee and pastries whilst they eagerly anticipated the day ahead.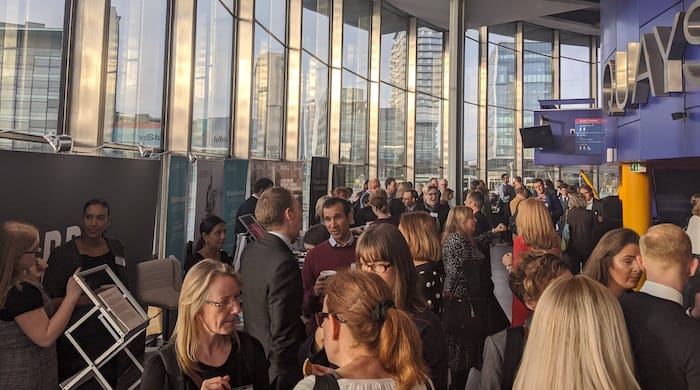 The event successfully provided a platform for discussions, exploring exciting topics that are due to affect the future of education and training in the legal climate, such as the model and delivery of the SQE, the rise of legal tech and how it ought to be better embedded into the education system, the importance of maintaining good mental health for aspiring lawyers and the ever-growing popularity of apprenticeships.
New pathways: legal apprenticeships and the SQE
Following a welcome introduction by Matthew Taylor, president of Manchester Law Society, the opening session provided various viewpoints on the value of apprenticeships from the perspectives of employers, educators and the apprentices themselves. The session explored the intersection between the SQE and apprenticeships, while highlighting the value and diversity apprentices bring to the profession.
The University of Law (ULaw)'s head of apprenticeships Ceri Evans emphasised her passion for apprenticeships, explaining that they allow aspiring lawyers to "develop skills that recently qualified lawyers do not have". Evans acknowledged the connection between the SQE and apprenticeships — "the SQE will change routes taken by law firms" — and in particular how "commercial firms are keen to switch to the SQE". She encouraged law firms to recognise this valuable opportunity, suggesting recruitment will change as individuals are also being trained into the culture of the firm. Evans concluded that the legal profession is now taking apprenticeships seriously and urged firms who pay into the pot (those with a wage bill of over £3 million) to take advantage of the scheme but also encouraged non-levy firms to take advantage of the estimated £400 million underspend in the levy pot to train solicitor and graduate apprentices.
Also providing another legal educator's perspective was the head of legal apprenticeships at BPP University Law School, Bruce Humphrey, who similarly promoted apprenticeships, in that they produce "different types of skills to bring to the industry". They are becoming increasingly popular, providing the opportunity to earn whilst you learn. He said that apprenticeships produce "internally well-connected and deeply committed lawyers" and that employers are now keen to view the SQE insofar as knowing how they can support apprentices. He described the intersection between the SQE and apprenticeships as a "win-win scenario" for employers and apprentices alike, and in acknowledging cultural change in the near future, stated that employers will be able to diversify their workforce by making use of the levy.
The director of legal training at Fletchers, Stephen Threlfall, offered an employer's perspective on apprenticeships. He discussed why his firm employs apprentices, explaining that it is an annual part of their recruitment programme due to the related benefits. "The accumulation of knowledge, the understanding of the case management system, the flexibility for the individual and the firm, and the diversity of understanding and experience" are all key benefits of apprenticeships. Threlfall commented that "apprentices are in no way inferior… they are established and integral members who know themselves and the groundwork… supporting them is in no way different to supporting junior lawyers."
A trio of solicitor apprentices also shared their experiences. BBC solicitor apprentice Georgie Yates described how her journey provided her with the necessary skills to prepare her for the industry which inspired confidence in her abilities. Eversheds Sutherland legal technologist and solicitor apprentice Kurtis Windrow, explained that his journey through the six-year course is "worth the end-goal". His apprentice role has morphed into one of a legal technologist; suggesting the opportunities that apprenticeships can provide. Finally, Bryan Cave Leighton Paisner solicitor apprentice Megan Capper, posited three main benefits to apprenticeships: the gaining of experience; the building of confidence and the achievement of a degree whilst working. Additionally, she highlighted the lack of financial burden and how apprenticeships can bring diversity to firms.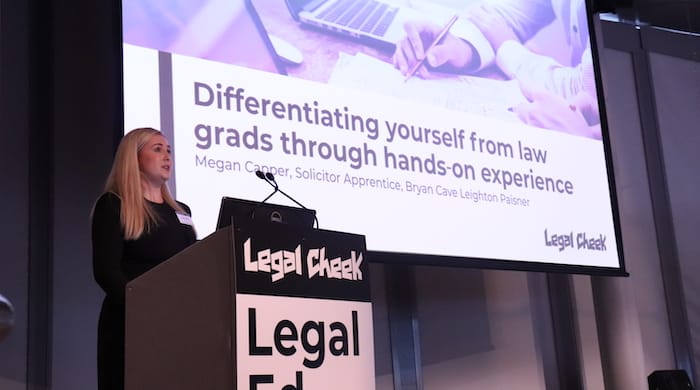 It was evident from the first session that apprenticeships are regarded as an "attractive alternative" for both aspiring lawyers and employers. The future of apprenticeships looks both promising and increasingly valuable with education providers able to offer more guidance on the intersection between apprenticeships and the SQE.
Embedding legal tech into legal education and training
Tech is a hot topic within law. The panel provided their insights in relation to the significance of legal tech and how it can be embedded into education to prepare aspiring lawyers for the future.
The head of segment and product marketing at LexisNexis, Chris O'Connor, said that while the ability to code is a useful skill that may set students apart, "the ability [for trainees and junior lawyers] to carry out core legal research is vital and initially much more important than learning to code". As we heard previously O'Connor thinks it's imperative students advance their legal research skills before they even consider learning how to code. However, with the ever-increasing significance of technology and the impact it's having on the industry, O'Connor said aspiring lawyers "must be open to learning". The role of legal tech for LexisNexis is cutting-edge: using AI to improve search tools and bring legal context more efficiently. Students should therefore get to grips early on in their careers with such technology, he advised.
Claire McGourlay, professor of legal education at the University of Manchester, described how the university is embedding legal tech into its curriculum, through partnering with firms such as DWF and Freshfields and the partnering between its law and computer science departments to develop and evaluate new technology. She highlighted that research in this sector has formed new workshops and online courses which are available to all students. Further, legal tech and access to justice modules have been added to the curriculum. McGourlay concluded: "the university tries to create hybrid lawyers. Collaboration with the industry and students is key in order to equip them for the world of work".
Next up was Isabel Parker, chief innovation officer at Freshfields, who observed that, "one school of thought is that lawyers will soon be replaced by online robots, another is that that is irrelevant". In considering the significance of technology, she claimed, "this is not about lawyers learning to code… what clients want has hardly changed — they want lawyers to understand their business". She continued: "As law firms are only at the cusp of understanding this revolutionary change, lawyers' priorities ought to be better serving clients by having a base knowledge and an awareness". It could be suggested that technological advancements should not be regarded as a threat, but as tools to better serve clients. Parker summarised that educators have a duty to equip students with a baseline knowledge of legal tech and advised students to question universities on their digital transformation strategies.
Stephanie Barrett, head of eDiscovery at Herbert Smith Freehills, added: "Understanding tech is understanding how to serve clients, save money and to provide efficiency". Barrett agreed with Parker in that lawyers should have "a baseline knowledge", and whilst acknowledging that clients do things differently and have different ways of communicating, she suggested that lawyers should develop transferable skills to serve different clients. "Hybrid lawyers are the future of the profession," she told delegates.
The emeritus professor of law at the University of Dundee, Stuart Cross, said during his talk that the aim of the university was to focus on context, awareness and choice. He explained how the LLB programme featured legal tech in core modules during the first year of study and how a blended module is available during the second. He said this has been "more successful than anticipated… opportunities should be included gradually in education, not to produce mini-coders, but to equip lawyers of the future with basic knowledge".
Next the director of the Ulster Centre for Legal Innovation, Mark Potkewitz, said "skillsets are always changing and developing, and educational programmes have a responsibility to provide students with those skills". He continued: "The tech used now may not be the tech used in years to come… students do not need to be expert coders but have a base knowledge to apply those skills in the future."
Finally, Professor Scott Slorach, director of learning and teaching at University of York Law School, explained that from an educator's perspective, "there is a need for a more holistic style of curriculum to put legal tech into context".
In summary, the developing of traditional skills is more important than developing an advanced knowledge of legal tech. It is relevant to students and junior lawyers insofar as they understand the basics to better serve clients. There is no need for universities to develop 'mini-tech experts', and it is widely anticipated how legal tech will feature in the SQE.
Although the general view was that legal tech will, in the long-term, transform the legal market, being open and flexible is more important for adaptability in the short-term until the market has settled.
In addition, there was much debate as to whether the North, particularly Manchester, is ahead of London in relation to legal tech. Whilst it was agreed that technological awareness "forms in pockets", could this evidence a move towards a northern powerhouse?
The session chair Alex Aldridge summarised by saying: "Students need exposure to legal tech to prepare them for the industry, and it ought to be included in education, however it is not necessary for universities to go overboard".
The SQE: Reimagining qualifying as a lawyer — part one
After lunch there was a great opportunity to network with delegates from across the profession. In particular, F-LEX held an exclusive networking lunch for leaders of the UK's top law firm hubs, which saw Olivia Balson, director of Freshfields' global centre in Manchester, explain the challenges and opportunities of setting up a hub. This was a great way to get people engaged before moving into the afternoon session which was focused on the SQE.
Victoria Cromwell, the director of UK programmes at BARBRI, opened the session by stating "the SQE1 exam format is a very different exam to any previously faced by aspiring solicitors and it requires specialist exam preparation with multiple opportunities to practice multiple-choice questions and complete mock exams. BARBRI has over 50 years' experience of preparing students for such exams." Dr Giles Proctor, the CEO of The College of Legal Practice, put forward three propositions. First, he considered whether legal education as we know it is lagging and said, "we are at the cusp of a digital revolution… business sectors are responding to change, and so legal providers must play catch-up while educators must also bring students up to speed". Second, "young people are comfortable with technology… and there is a preference among students to receive personalised training and support". Finally, he considered the need for a new training model, "learning should be more flexible and personal… it is necessary to remove barriers to get into education and the profession… developing conversations between parties would contribute to a new model".
Professor Andrew Francis, head of Manchester Law School, made clear the need for law students to develop a much wider understanding of the demands of the contemporary market, beyond the regulatory minimum assessed by the SQE. He highlighted, for example, the growing importance of cross-disciplinary expertise in professional services, and suggested that legal education needs a response; "yes — a rigorous academic legal education — but one that reflects the changing context." He concluded by drawing on recent research on millennial lawyers, and urged firms and the SRA to be mindful of the "cliff-edge nature of qualification" experienced by current trainees. He maintained an optimistic view of the relationship between legal education and the profession, and reminded everyone that the SQE is "just one part of a bigger picture of change and disruption".
The session was brought to a close with the much-anticipated words of Julie Brannan, education and training chief at the Solicitors Regulation Authority (SRA). She noted that northern firms are "well-placed to take advantage of the SQE" with Manchester being the largest legal hub in the UK outside London. We now also have a better idea of what the SQE will look like, as it is due to start in 2021. SQE1 will consist of 360 multiple-choice questions. The questions will be based on broad subject matter, covering core legal modules, giving students approximately 1.8 minutes to answer each question. Brannan said this model will produce "resilient future lawyers".
SQE2 leaves a lot to be desired but a pilot was held in December last year in which 167 candidates took part. The findings are due to be released between June-July. There are currently 27 organisations on the list of SQE providers which shows the legal education and training market is moving fast. In relation to the future, Brannan stated, "the SQE is only one part of the puzzle… other factors such as legal tech, business skills, etc. will shape the future".
The SQE: Reimagining qualifying as a lawyer — part two
After a short break, the second part of the session commenced. Matthew J. Homewood, head of department and associate professor at Nottingham Law School, pondered how providers will respond to the SQE. He said that the SQE will "see a wider range of provision available to students, giving greater choice and greater flexibility than ever before". He went on to say that "providers of legal education need to ensure excellent teaching, first-rate facilities, outstanding support and unique and varied opportunities in delivering flexible courses which offer a personalised experience with exposure to, and use of legal technology to enhance the learning and teaching experience".
Tim Hillier, associate head of Leicester De Montfort Law School emphasised the importance of reflecting on "how far we have come" in response to the SQE. He pointed out that many of the claims made about the SQE had previously been made in relation to both the LPC and its forerunner the Law Society Finals. He considered whether specialising within the LPC led to a decrease in standards but clarified that the Law Society confirmed this was not the case.
Clare Collins, DWF's head of learning and development, concluded the session by emphasising that a "one-size-fits-all training contract curriculum is non-existent". She explained the reason for this is because it is not always possible to say what the legal profession should be. Further, she opined that "curriculums should broaden skills and sound, deep legal knowledge, which can be enriched during the completion of qualifying work experience and seat rotations with clients since this will help to produce well-rounded lawyers". Collins then used a metaphor to advise students: "The SQE is akin to learning how to drive. You truly 'learn to lawyer' once you pass the test."
Breakout sessions
Mental health and wellbeing in law
This afternoon breakout session focused on how law firms and educators can better provide support to junior lawyers. Elizabeth Rimmer, chief executive of lawyer support charity LawCare, emphasised the importance for all lawyers to "thrive not survive" and explained that critical mindsets and constant stressful work environments "create the perfect storm for young lawyers" whose "minds are their greatest assets" so good mental health is vital.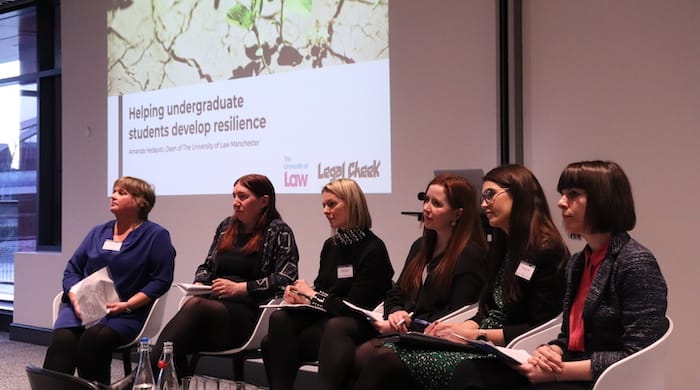 Dr Emma Jones, senior law lecturer at the University of Sheffield, said "mental health problems often stem from the culture rather than the individual". She interestingly suggested that, "although this can sometimes be positive, individuals are often focused on resilience, which leads to the expectation of them to be superheroes". Dr Libby Artingstall, forensic psychiatrist at Team Mental Health highlighted that young lawyers suffer from 'leaveism' (the inability to disconnect from work), and that this contributes to burnout. She suggested that educators should be informed about mental health awareness training, and stressed the importance of sleep, stress-management and emotional intellect.
Dr Kryss Macleod, LLB programme director at Manchester Law School, Kayleigh Leonie, City solicitor and author of the Law Society's Guidance on Supporting Wellbeing in the Workplace, and the dean of The University of Law in Manchester, Amanda Hedayati, all discussed the importance of building resilience in both work and study. Hedayati added that self-awareness and reflection are important for individuals since this allows them to access the support and resources they need.
Diversity and inclusion: access to the legal profession
Running concurrently to the mental health and wellbeing session was another breakout session zoning in on access to the legal profession. In a fireside chat chaired by Michelle Garlick, a partner at Weightmans, the panellists drew upon their respective journeys into law, and how their firms promote diversity and inclusion.
Adam Hattersley, an executive member of the Junior Lawyers Division (JLD) and associate at Fieldfisher, flagged the JLD's report on social mobility and how barriers faced by those from lower socioeconomic (LSE) backgrounds continue to hinder their ability to progress within a firm. Matthew Flanagan, chair of the Manchester Young Solicitors Group and solicitor at Knights, told the audience about a networking scheme the group has in place with Manchester Metropolitan University that connects students that don't have a contact in law with its members all of whom are qualified lawyers.
Shez Anjum, chair of the Manchester Trainee Solicitors Group, was also on the panel. In a short talk titled 'How I made it this far' Anjum reflected on his journey into law from a working class and BAME (Black, Asian and Minority Ethnic) background.
Justice First Fellow and solicitor at Merseyside Law Centre, Siobhán Taylor-Ward, spoke alongside Garlick, Hattersley, Flanagan and Anjum. Her talk centred on legal aid, and more specifically, the Justice First Fellowship which supports the next generation of social justice lawyers.
Closing keynote
Former executive director for policy at the SRA and co-creator of the SQE, Crispin Passmore, delivered the closing keynote of the day. "The SQE is just one of the drivers for change.. it is a plain canvas for educators, students and law firms alike," he said in his speech. He also stressed no further delays to the SQE which is due to come into force in autumn 2021.
A drinks reception followed shortly afterwards. Wine glasses in hand, looking out onto the beautiful sunset reflecting from the water outside, guests chatted among themselves, reflecting on what had been a jam-packed day.
I thought all of the discussions at LegalEdCon North shared the common theme of 'opportunity'. The burgeoning apprenticeship route, the role of legal tech and the SQE all provide a positive and promising future for employers, students and education providers alike.
The author is a law student at Liverpool John Moores University and a Legal Cheek Campus Ambassador.
LegalEdCon London takes place on Thursday 14 May at Kings Place, London. Early Bird tickets are on sale until 28 February.
Watch Chrissie Wolfe's vlog review of LegalEdCon North