Linklaters associate Bam Thomas reflects on City law's efforts to improve ethnic and racial diversity across its workforces, ahead of her appearance at next week's Legal Cheek in-person student event at the firm's London HQ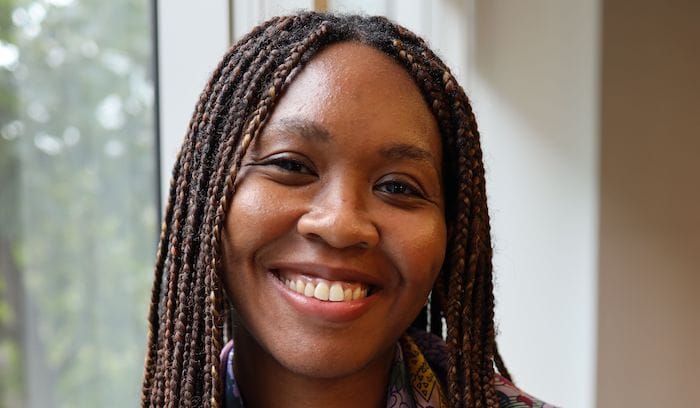 "There are no overnight fixes when it comes to diversity," explains Bam Thomas, an associate in the litigation, arbitration & investigations team at Magic Circle law firm Linklaters. "It takes decades of commitment to put in place a culture where all minorities, including Black people, can rise to senior positions in a firm."
Having completed a bachelor's degree in international and European law at the University of Sheffield, Thomas was attracted to the broad range of big clients and interesting cases that commercial law could offer. Today, as a litigation associate, her work involves handling matters where commercial relationships have broken down, such as those between companies and regulators, as well as judicial review claims against government bodies.
"Overall it has been really good," remarks Thomas when asked about her experience of practising law as a Black solicitor in the City. Although there aren't many, "there is a real sense of community among Black lawyers, both within Linklaters and generally in London", she explains.
According to Thomas, one of the biggest challenges of coming from an under-represented background is not having enough role models to look up to. "While it's getting better at the junior and mid-levels, there is still a lack of representation at the partnership level," she says. "It can feel quite daunting ascending to a level that people from similar backgrounds have yet to reach. Fortunately, I have the support of my colleagues and the wider firm."
"I also sit on the firm's Black Diversity Council which is responsible for holding the firm accountable for its Race Action Plan — a commitment and pledge to improve the representation of Black and under-represented minority ethnic lawyers and staff across all levels of the firm," Thomas explains. "We provide insight and advice on issues that are of concern to the Black community."
As a part of its wider commitment to ethnic diversity, Linklaters has set aspirational diversity targets under which it aims to have 35% ethnic minority trainees in the UK, including 10% Black trainees, each year. Other ways in which the Magic Circle player is supporting Black aspiring lawyers is through its Get Ahead programme, a tailored series for candidates from Black and other underrepresented minority ethnic backgrounds which is currently open for applications. The firm also partners with the Black Solicitors Network on its Grassroots Programme, a bespoke and intensive programme supporting Black undergraduates studying at Manchester, Manchester Metropolitan, Bristol and Salford universities in the pursuit of a career in law.
In 2021, Linklaters became one of the first major law firms to adopt the Halo code, which "explicitly protects employees who come to work with natural hair and protective hairstyles associated with their racial, ethnic, and cultural identities".
During our conversation, Thomas also spoke highly of Linklaters' reverse mentoring programme, an initiative that allows young lawyers to share their insights with the firm's senior staff.
"The partner I was mentoring was from a non-UK office," says Thomas. "This provided us the opportunity to have long chats about the differences in race and ethnicity considerations between his country and the UK. We'd meet once a month and he'd often ask my opinion on ethnicity and disability initiatives that his office was thinking of implementing." She also finds the initiative to be a great opportunity for young lawyers to network and build confidence in interacting with partners.
When asked whether she is happy with the progress City law firms have made on diversity, Thomas was hopeful yet pragmatic. "A lot of good progress has been made over the last few years but we have to remember that the catalyst for change was the horrific murder of George Floyd." Firms must be "proactive rather than reactive" when it comes to diversity, Thomas says. "It is easier to recruit people from diverse backgrounds but to allow them to thrive and have lengthy careers is the real challenge that we must focus on."
Thomas, who qualified in 2021 having joined the firm as trainee in 2019, is also dyslexic. One way she has managed this at work is by being transparent with her teammates, explaining: "I find it helpful to be honest with my colleagues about my disability. This allows them to divide tasks in a way that is accommodative of my condition."
Thomas sees strength in her dyslexia too. "It does make things harder but having dyslexia means that my brain processes information in a way that is different to the majority of people," she says. "That can sometimes be an advantage."
Being at a major global firm like Linklaters means Thomas is able to access different types of support. For example, one way in which the firm ensures that her needs are accommodated is by the provision of text-to-speech and speech-to-text software that has helped improve her efficiency.
When asked about careers advice for Black aspiring lawyers, Thomas highlights the importance of 'being yourself'. "Sometimes students may have a tendency to assimilate and that is very understandable. But I would say that coming from a different background is more of an advantage and students should embrace that," she says.
Bam Thomas will be speaking at next week's in-person event, 'An evening with Black lawyers at Linklaters' on Tuesday 2 May. This event is now fully booked.
Follow Linklaters on Instagram!
About Legal Cheek Careers posts.