Ahead of 'How tech is changing finance, retail and the law' with Womble Bond Dickinson in Southampton on Thursday, we caught up with one of the firm's top commercial property partners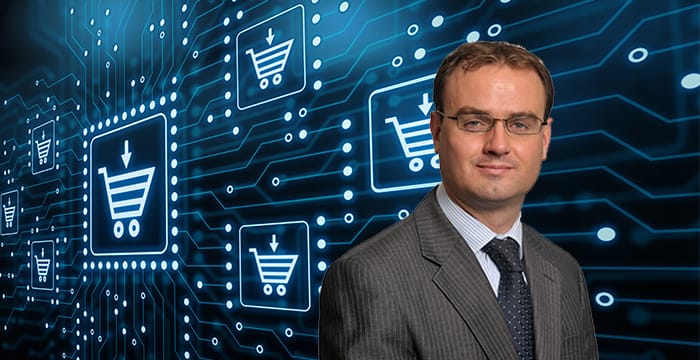 Advising mega retail outfit New Look on the acquisition and disposal of its numerous chains, handling the roll-out of Decathlon stores nationwide and managing the extensive portfolios of major retail players Specsavers, Footlocker and GAP are just some of the things Alistair Walton, a partner in Womble Bond Dickinson's retail property team, is involved in.
"It's a very pragmatic arena. I enjoy the transactional nature, to be out and about collaborating with a large retailer and seeing the tangible result of them opening a new store — it has a great buzz to it," says Walton, who joined Womble Bond Dickinson (or Bond Pearce as it was then) just over ten years ago.
It's an industry he has seen transform. Technology is infiltrating the high street and online retailer Amazon is spearheading the revolution. The Amazon-ificication of supermarket chain Whole Foods and the launch of Amazon's virtual 'dressing room' app are just a few ways the global e-commerce giant has disrupted the market. We've seen household names Toys "R" Us and Maplin take a hit and collapse into administration as a result. What does commercial property partner Walton make of the high street's upheaval? It's a "natural adjustment", he says, and there are a myriad reasons why.
Changes to consumers' shopping habits is one reason. Trips to big retail parks and shopping centres such as Westfield are now considered to be "days out" with shoppers tying in a trip to the cinema or restaurant rather than spending the day shopping. Consumers are likely to turn to Amazon or other online retailers for a "quick fix" rather than head to the old high street; something which has been aided greatly by their quick delivery services, as well as the convenience of being able to shop whenever, wherever. This contrasts with bricks and mortar stores that have opening and closing hour restrictions.
New Look is one of the firm's major retail clients. Last November, the high street heavyweight announced it was closing 85 stores. Walton, who advises the company, explains some of the reasons behind the cull. An unstable economic climate caused by Brexit and the devaluation of the pound, high business rates and stock choice not always aligned with its core demographic, all go some way in explaining the need for a restructure.
But it's not all doom and gloom. The launch of Amazon Go, an artificial intelligence-powered US chain of check-out free grocery stores, shows the online retail movement has come full-circle to join the high street again. "It's an interesting development," says Walton, "watch this space."
Walton has been practising in the South East for the last 15 years of his career. In those years he has seen the southern legal market develop significantly. There have been many new regional entrants into the Southampton market as well as consolidation and mergers between some of the smaller law firms. "What we have seen from law firms is that Southampton is a legal market worth investing in," he adds.
It's not just law firms. Many big corporates have set up bases in the region. DIY supply store B&Q, who is one of the firm's major clients, is headquartered in nearby Eastleigh. Good location and transport links seem to be a huge contributing factor. Womble Bond Dickinson's Oceana House southern base, for example, is a short journey from the region's airport and mainline train station. Plus, it's just over an hour by train to London.
Walton's work often takes him to the capital. He helped to acquire head office studio space for shopping channel QVC, UK and has acted on several flagship stores on London's busy Oxford Street for many of the firm's national retailers. How does the legal scene in Southampton compare to that in London? On this, Walton says: "London is a demanding environment to practise as a lawyer. The law firms there pay a great deal but demand you put the hours in by way of return. We do a lot of City-quality work, and a lot of the partners in the property team were former City lawyers, but we maintain a regional work/life balance."
Exeter law grad Walton has plenty of tips for students interested in this coveted area of law, more of which he'll share at Thursday's 'How tech is changing finance, retail and the law' event. But for now he leaves readers with this nugget of advice:
"What makes a good lawyer in this area of law is to combine both legal expertise with commercial acumen and a genuine understanding of the sector they work in. Lawyers operate in a service sector and in which clients have vast choice. What will differentiate you and help develop your practice is if you are able to deliver to the client an excellent service and go that extra mile for the client whenever they may need it."
Alistair Walton will be speaking alongside other Womble Bond Dickinson lawyers at Thursday's 'How tech is changing finance, retail and the law' event. You can apply to attend the event, which is free, now.