Solicitors join legal education experts to discuss the opportunities available for TC hunters in the North East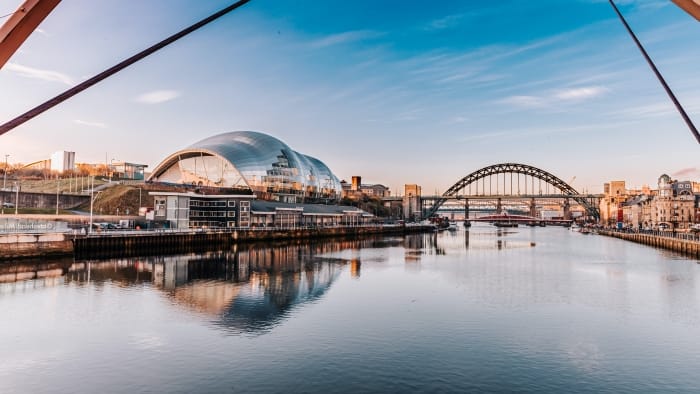 In the latest instalment of Legal Cheek and The University of Law's (ULaw) Secrets to Success event series, student attendees were given the opportunity to hear in-depth insights about working as a lawyer in Newcastle.
On the panel were: Kiran Radhakrishnan, commercial director and head of the Newcastle Hub at Norton Rose Fulbright; Lyudmil Stoyanov, solicitor specialising in commercial disputes and regulatory work at Womble Bond Dickinson; Matthew Tomlinson, ULaw Leeds and Sheffield campus dean; Kevin Maloney, partner in the banking and restructuring team, leading the graduate recruitment programme at Muckle LLP; and Chris Fletcher, undergraduate degree programme director at Newcastle University.
The topics of conversation centred on life as a lawyer and the nature of legal work in Newcastle, as well as the post-pandemic recovery and future working practices. The panel also shared general careers advice.
The Newcastle legal scene
The panel first considered what they thought makes Newcastle (and the North East) stand out as an attractive location in which to pursue a legal career.
ULaw's Matthew Tomlinson explained that a recent, widening inclination towards "nearshoring", whereby businesses in the South are relocating to the North, has been to the overall benefit of the North East. This is a trend strongly projected to continue — providing graduates wanting to pursue a career in law with plenty of opportunities. Muckle's Kevin Maloney added that the diverse mix of law firms in the provincial city provides trainees with quality work and, crucially, responsibility. "As trainees, you get that personal responsibility earlier than at larger firms", he said, adding:
"There has been a huge change in the type of clients, and sectors have evolved. The North East is increasingly a focus point for technology and life sciences, energy and offshore. There is a range of work in M&A, banking and real estate too."
Similarly, Newcastle University's Chris Fletcher observed that the quality of work has improved over the last ten years, adding that increased investment and government initiative are helping to, by implication, "level up" the North East. "Now, we can service some of the big industries and clients just as well as in London," said Fletcher. "Big investment is coming to Teesside, and the government is moving some of its offices there too."
There are further signs of Newcastle's rising status as a legal hub: ULaw recently entered a training partnership with Newcastle University. As part of the tie-up, legal education giant ULaw will deliver a range of law courses, including prep for the new Solicitors Qualifying Exam (SQE), from the Russell Group uni's campus.
New ways of working
The panel were asked whether, in their opinion, provision of training to trainees during the pandemic had been successful given the lack of opportunity for face-to-face contact.
Maloney admitted that some degree of adaptation had taken place in overseeing the progress of trainees: while they had been supervised and conducted the same work, everything had been done remotely. He described the "intangible benefit" gained by trainees from working in one collective space, suggesting that the opportunity to "learn by osmosis" has disappeared. Yet, he elaborated, Muckle has been conscious to ensure that it continues to engage trainees, despite fears that remote working would ingrain an "out of sight, out of mind" mentality.
Indeed, the difficulty of building relationships and learning on the job was a theme Kiran Radhakrishnan elaborated upon when describing his recollections of the last year or so at Norton Rose Fulbright.
"While everyone has adapted admirably, it's not quite the same experience," Radhakrishnan remarked. "So much of starting a career is based around building relationships and learning alongside colleagues. We've had several Zoom events, but it's not quite the same. I was talking to a member of the team recently, they'd just closed a huge deal, with all of the adrenaline and excitement that brings, and then just closed the laptop and that was that. Nothing could really be done to celebrate as a team! Those are the types of experiences that it's worth being in the office for."
From an academic perspective, Fletcher suggested that the application of technology to assist learning "has worked fantastically", providing students with much-wanted flexibility now that teaching and resources are, for the most part, accessible online. But the caveat remains that relationship building in a remote setting doesn't come easily: "you can't replicate the conversation, or the reading of body language, especially for first years," she said.
And what of plans relating to the post-Covid working environment?
Radhakrishnan explained that Norton Rose Fulbright aims to have "the best of both worlds", providing the ability for staff to work from both the office and home, given the flexibility that comes with this. Flexibility it seems, may be key across the industry — avoiding a "one size fits all" policy, in acknowledgement that there is something to be said for having whole teams present together when situations require and, in particular from a junior's perspective, "learning by osmosis in the room".
Careers advice
Finally, the panel shared some words of advice for students about to embark on those all-important training contract applications.
Womble Bond Dickinson's Lyudmil Stoyanov stressed the importance of nuance. He said:
"The most important thing is to make each application personal to the firm that you are applying to. Do not use a template application. Tailor each one, think about what kind of clients and cases the teams are involved in. Where does that firm present itself as being in five years' time? Focus on why that firm, and where you fit into that."
Maloney proposed that applications should articulate the reasons why an individual would want to work for the firm. "We're looking for people that can try to distil why they are motivated to work here," he said. "Speak to as many people as you can and do as much research as you can."
Fletcher, meanwhile, urged confidence, encouraging potential applicants to be clear about the skills that they can offer. She added that having legal work experience won't necessarily "put you at the top of the pile" but does, of course, help. What matters most is leveraging the work experience you do have and explaining how the skills you gained match up with those sought after by firms.
Matt Tomlinson, campus dean for @UniversityofLaw Leeds and Sheffield, on how to get creative and make your CV stand out from the crowd #LCCareers pic.twitter.com/RumBiKq9Zh

— Legal Cheek (@legalcheek) June 30, 2021
About Legal Cheek Careers posts.