Ahead of her appearance at LegalEdCon next month, Jo-Anne Pugh, Dean of BPP University Law School, looks at how the SQE is opening doors to a new wave of talent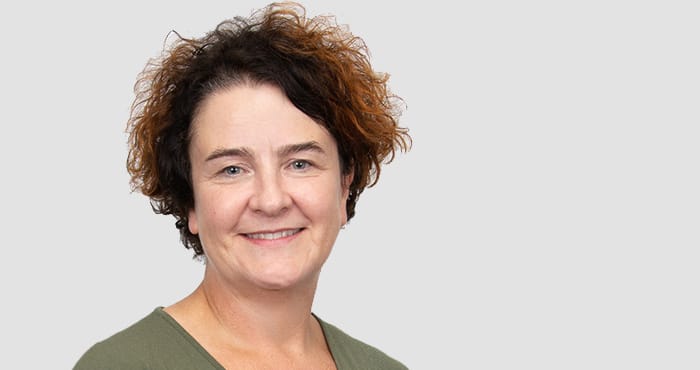 BPP University's Law School's transition to the Solicitors Qualifying Exam (SQE) pathway has so far yielded impressive results, with their most recent SQE1 cohort achieving an average pass rate of 73.2% across all cohorts compared to a national pass rate of 51%.
Before becoming Dean, Pugh was the Law School's Director of Programme Design and Development. She explains that the SQE courses she helped create are based on the idea that to succeed through over five hours of multiple-choice-questions (MCQs) in SQE1, students must deeply understand the principles of the legal concepts being examined.
"I don't think you can just cram it all in and regurgitate it, because a question will trip you up at that point," explains Pugh. Instead, BPP's SQE courses take an immersive approach, using case studies to bring concepts to life and enable students to develop skills through tasks like writing a client letter or drafting or amending a contract clause. "If you apply learning in working scenarios, it goes into your long-term memory. If you just try and remember facts, but don't fully understand them, you're more likely to make a mistake when it comes to a high-stakes question," says Pugh.
There has been much discourse around SQE pass rates with many quick to point out that, under the assessment's predecessor, the Legal Practice Course (LPC), the success rate among City-sponsored students had typically been above 95%. But does that mean that the SQE is more difficult than the LPC? Pugh diplomatically answers that it comes down to learning styles. "The SQE is made up of two parts: the multiple-choice papers of SQE1 and the skills assessments of SQE2. What we're seeing is that for some students, the first part of the assessment is a real challenge." While it's perhaps still too early to say exactly why, some have suggested the sheer breadth of knowledge tested and the length and nature of the multiple-choice assessment may play a factor.
So, for those who are good at MCQs, and have excellent memory recall, SQE1 may well be good news. The other side of that coin is that being good at those things, doesn't necessarily equate to being a good lawyer.
"There are a range of people who will struggle with that type of assessment but who would make good lawyers," says Pugh. But the reality is if they can't pass the MCQs, they can't qualify. In contrast, whilst you still needed to be good at MCQs and have the ability to recall and apply the relevant law, there was a little more light and shade within the outgoing LPC assessment regime."
BPP works with the City Consortium (a group of six leading, global law firms) to provide a complete SQE journey, which includes a 'Plus Programme' of business, finance, legal technology and professional behaviours. "We've worked very closely with the City Consortium firms to design and deliver an engaging and exciting programme that gets students ready for day one in the office," Pugh tells us. "The consortium has put an enormous amount of effort into this. We've got partners, associates and business professionals recording video spotlights which bring the learning to life, which I think students on the course really benefit from."
As well as the City Consortium, BPP partners with a wide range of firms and other employers across the whole of the country. Across the sector, there is a desire to focus not just on knowledge, but also on the commercial, digital and people skills that you need for success in a legal career. "The SQE has opened up a dialogue about what is the right training for people now entering the profession, and through partnering with the O Shaped Lawyer Group we can introduce students to a much wider set of client-focused and people-centric skills and competencies within our education programmes."
Pugh summarises this new way of thinking: "It's not just about pouring knowledge into people and hoping that they survive in the profession," she says. "Because as we know, the profession is one that's going through dramatic change and we need to make sure we attract the best talent from all sorts of places and develop and retain that talent."
Another change heralded by the SQE regime was the introduction of Qualifying Work Experience (QWE), a more flexible approach that enables students to complete their two years of on-the-job training with up to four legal employers. "QWE is a huge opportunity because the bottleneck of becoming a qualified solicitor used to be getting that elusive training contract," explains Pugh.
To help students work towards qualification, BPP is offering a number of opportunities for students to complete a six-month full-time QWE placement with its own pro bono team. This sees them provide welfare advice under the supervision of a qualified solicitor or work on one of the law school's specific client projects. "BPP's Pro Bono Centre has been hugely successful", Pugh reports, "and we feel that we're doing a public good by offering this experience."
BPP is also known for its well-established training course for solicitor apprenticeships. "We have a number of students who choose to go on that journey after their A-Levels so that they don't incur the debt of going to university," Pugh explains.
BPP's solicitor apprenticeship programme builds on flexibility early on so that students can start with a two-year paralegal qualification before deciding whether to continue on to the third year of the six-year apprenticeship. "We've got all sorts of anecdotal feedback from firms saying our apprentices are way ahead of the trainee population because they know the firm," reports Pugh.
The growing number of apprenticeships available both for school leavers and graduates appears to reflect a wider set of changes in legal education. "I used to meet a lot of students who couldn't really afford to self-fund the LPC and felt their only option was to apply to all the big commercial firms because they were the only ones that would sponsor them," explains Pugh. "I could tell they probably would have preferred to work in a different type of legal services sector. What the SQE has done is encourage small firms, niche practices, in-house legal teams, and law centres, to start to embrace apprenticeships and train their own talent."
Jo-Anne Pugh will be speaking at LegalEdCon 2023, Legal Cheek's annual future of legal education and training conference, which takes place in-person on Thursday 18 May at Kings Place, London. Second Release tickets are available to purchase until Wednesday 26 April at 5pm.
About Legal Cheek Careers posts.