Legal Cheek Careers speaks to Marcos Eleftheriou, senior associate at Irwin Mitchell, about the challenging nature of his work and why it requires excellent communication skills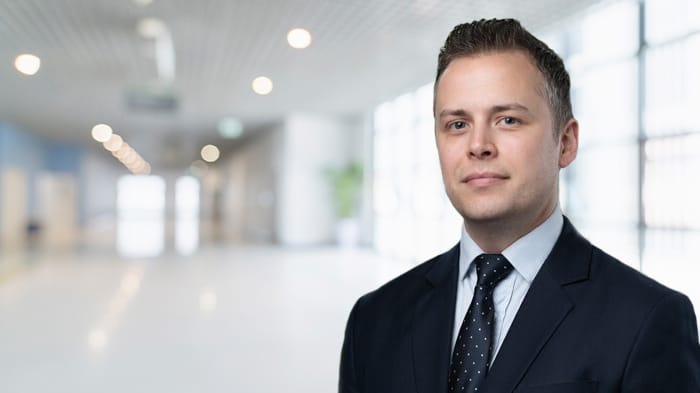 "One of the best things about practising medical law is that your clients come from various walks of life," says Marcos Eleftheriou, senior associate in the medical negligence team at Irwin Mitchell. "Having a wide range of clients really pushes me to fully use my communication and people management skills."
It has not been a conventional career path for Marcos. Coming out of university and having attended a number of vacation schemes, the medical law expert admits he initially struggled to find a practice area that genuinely inspired him. His drive lead him to apply for a paralegal role in the serious injury team at Irwin Mitchell's Birmingham office, which eventually landed him a training contract at the firm.
Marcos' work revolves around looking after and protecting the interests of people who have suffered as a result of some form of medical error, such as a misdiagnosis or mistake during surgery. "I pursue cases against both the NHS and private doctors or surgeons who have made negligent mistakes in their work."
Interestingly, Marcos has developed several specialisms within his already niche practice area. One of these is cosmetic surgery. "I became interested in this field about eight or nine years ago as people were increasingly undergoing these types of operations. From a career development perspective, I thought it would be helpful to gain expertise in this area," he says. "As an example, I have represented clients who are suffering because of mistakes made during operations like breast augmentation or rhinoplasty."
Cases relating to cancer is another area where Marcos has extensive experience. Here, he pursues damages for clients who've suffered from a delay in diagnosis of the disease. Cases here can involve different scenarios, as Marcos explains: "Sometimes patients with the early signs of cancer are not treated in a timely or correct manner. The symptoms get worse and there are cases where the disease becomes incurable or requires more intrusive life-changing procedures like radiotherapy." Expanding on his involvement as a lawyer in these often sensitive cases, Marcos says: "Our primary argument is often that late diagnosis has rendered the disease incurable."
When asked whether seeing such human suffering on a daily basis takes its toll, Marcos tells us: "Yes is the only answer!" He does, however, gain a sense of determination to work hard and secure a better future for his clients. "When a client who is suffering comes to you in crisis mode, I find motivation within that to help them," he says. "I look three to four years down the line when the client's future is secure and they have the care and support they need. Having a positive impact on someone's life in this way is highly rewarding. That is what I work for."
Dealing with such sensitive issues requires excellent communication and people skills. "You often need to read the signs of when a client is struggling emotionally or mentally," Marcos remarks. "I often deal with distressed family members who find it difficult to talk about the situation. Since their participation is crucial, lawyers need to be empathetic in the approach they take."
Organisational skills are also crucial. "Courts are incredibly strict about deadlines," says Marcos. "Ultimately, missing deadlines can be a huge problem so planning and organisation are crucial skills, as well as having the empathy to deal with clients in very sensitive and critical situations."
With the application season in full swing, Marcos shares with us his advice for aspiring solicitors seeking to follow in his footsteps. "Keep an open mind about what areas of law interest you," he explains. "Universities may guide you towards certain areas of law. I'd advise students to explore their own interests and get as much experience across as many areas of law as they can. It is only then possible to make an informed choice about your career. Follow the path that inspires you the most."
Marcos Eleftheriou will speaking at 'The Big Commercial Awareness Themes of 2022-23 — with Clifford Chance, Gowling WLG, Irwin Mitchell, Orrick and ULaw', a virtual student event taking place tomorrow (Tuesday, 29 November). You can apply to attend the event, which is free, now.