Application and interview advice courtesy of solicitors from Burges Salmon, Osborne Clarke and RPC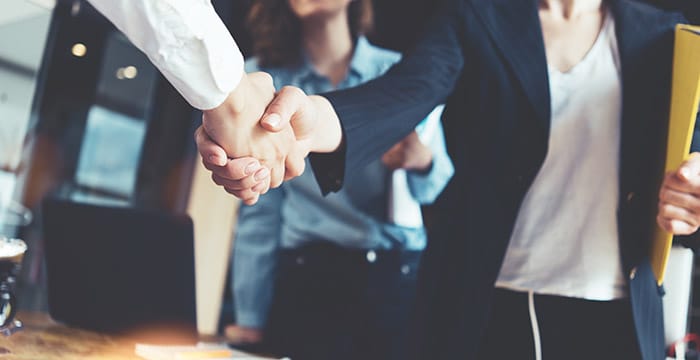 At the Bristol leg of Legal Cheek and The University of Law's (ULaw) student careers and commercial awareness 'Secrets to Success' series, a panel of experts gathered to share their top tips.
They were: Burges Salmon banking partner Rachael Ruane; Osborne Clarke commercial partner Will Robertson; RPC senior associate specialising in professional indemnity Simy Khanna; and ULaw Bristol dean Zoe King.
From fears about the rise of lawtech and its apparent threat to jobs, confusion on how to show "authenticity" in applications for training contracts, and not knowing how to decide what type of lawyer to be — these are all common concerns for a student looking into the legal world. Thankfully, our panel of experts tackled these issues head on.
1. Discover what type of lawyer you are
Ever suspected that asset finance might be a little dry? Well Rachael Ruane doesn't agree. In fact, the Burges Salmon partner said it can even be "electrifying".
"It's real time, with real people, and with international flavour," she said, regaling the panel with examples from her own career. At one point shortly after she started work, she had Air Lingus staff and air traffic control all calling her up with urgent requests as they waited on finance documents to go through.
There are three broad categories of lawyers: disputes lawyers, transactional lawyers, and advisory lawyers, and discovering which type of lawyer you are is the key to a happy and successful career.
Solicitor turned ULaw Bristol campus dean Zoe King said that it was crucial to keep an open mind whatever your initial preconceptions might be. For example, even if you do not enjoy land law on the Graduate Diploma in Law (GDL) you may find that you enjoy real estate in practice as it offers increased client contact and scope for more responsibility — of seeing matters through from start to finish.
RPC's Simy Khanna agreed that finding the right fit was the key to fulfilling your potential. "You'll know quickly which one you'll fall into," she said. After her third seat at Pinsent Curtis (now Pinsent Masons), she found her perfect match in litigation. It makes the most of her passion for arguing and negotiating, she said, and has the added benefit of spending time in court. Upon discovering that she was a disputes lawyer, she made the move to RPC to specialise in professional negligence, where she is defending claims against lawyers.
2. Rejection is a part of a lawyer's life
Rejection is a feeling familiar to all aspiring lawyers who navigate the perilous path of training contract applications. Osborne Clarke's Will Robertson delivered the news that rejection continues even after you join a firm. Lawyers may lose clients and projects, as well as people in their team, he said. Everyone wants to succeed but those who do the best are those who can take setbacks, then learn the lesson and bounce back quickly.
King added: "Getting feedback is key, use rejection as a way to develop."
Ruane reassured the audience of 50 law students and graduates that getting onto vacation schemes can be even harder than getting the coveted training contract. Many students take on multiple vacation schemes, meaning that competition is even harder for the rest. "Keep going, and do not despair" is the only approach, she encouraged.
How can you overcome vacation scheme rejection?

Zoe King, dean of The University of Law's Bristol and Exeter campuses, explains how university careers services play a key role in supporting students through the vac scheme and TC application process #LCCareers

Posted by Legal Cheek on Tuesday, 17 March 2020
3. Make the most of any experience to broaden your commercial awareness
King advised students to engage with their careers service at university. "Use the practice interviews, and get a second pair of eyes to look over your CV — identify where the gaps are, and plan early to fill those gaps," she advised.
Even successful lawyers sometimes get off to a dispiriting start. King said that her first interview when she was 19 years old was a disaster because she got some unexpected questions. Engaging with the careers service and Legal Cheek events would have made her much better prepared, she said.
4. Be yourself
It can seem an almost impossible task to display the "personality" that law firms always seem to ask for in training contract applications, spliced in among the serious commercial law questions, but the panel said there are ways to strike the right balance in your application.
Ruane suggested keeping the two areas as separate as possible. It was important to choose the right moment to display your personality and not to try to force it into specific business-focused questions.
Firms are not looking for someone "ready to go as a trainee lawyer", said Robertson, they are making an investment in a person. They want to see an awareness of legal and business issues, but it is important not to underestimate the personal stuff.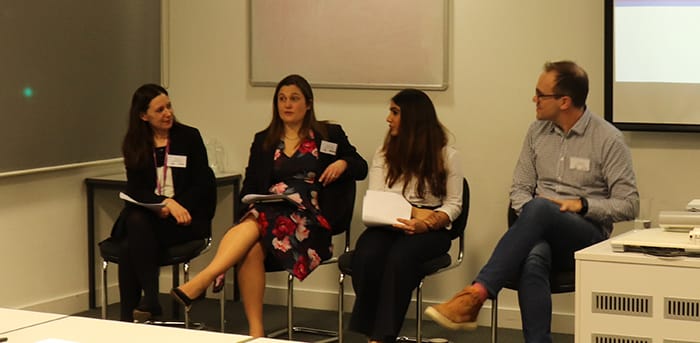 Firms want "someone who can flourish to become a great person to have in the team", he continued. It is important to be yourself, and law firms are now understanding diversity and the value of having different personality types represented among their staff.
During the training contract Khanna stressed the importance of being personable: "Be warm, smile a lot. Those that did well as trainees were hard-working and keen, and fitted in well."
5. Lawtech
Ruane offered some perspective on the recent focus on lawtech, explaining that it isn't exactly new. She said that computers on desks and the introduction of various programs have all made lawyers' lives a lot easier. She offered some reassurance, saying that the stage at which there will be shedding of lawyers, as legal tech takes over jobs, is still a long way off.
We are still "a way away from smart contracts which are truly smart", she said. Complicated legal agreements are only now starting to get automated but will only ever be as clever as the people that program them.
Khanna highlighted some of the issues of legal tech in litigation — "if it goes wrong, who is responsible? Technicians or lawyers?" Khanna further explained that there are potential confidentiality issues, as well as training issues stemming from the increased use of tech.
Lawtech will enhance, and not dent, the experience of lawyers, was Robertson's summary. He maintained it would increase collaboration between lawyers. A client with a panel of two or three firms will now benefit from them being able to work together, with more visibility on costs. "Law firms are starting to understand where we can make improvements on what we do." he said.
There was consensus among the panel that lawtech will ease the administrative burden for lawyers, and increase efficiency. It will speed up admin-heavy processes such as the uploading of invoices, making both clients and lawyers' lives easier.
King suggested that students join commercial awareness, lawtech or coding clubs at The University of Law, and sign-up to events such as lawtech talks and hackathons, while Ruane explained that some law firms are teaching trainees to get up-to-speed with tech. To prepare for this brave new world students could take training classes.
About Legal Cheek Careers posts.