Gateley corporate trainee Harriet Price discusses her path into law and life at the firm's London office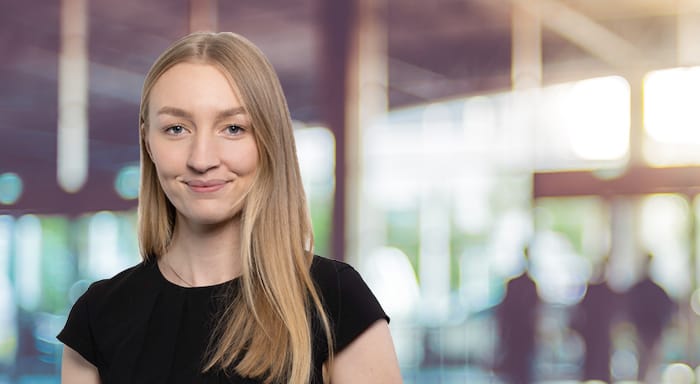 There are many different ways to get a training contract. Harriet Price, a third seat trainee at Gateley, tells us how she secured hers.
Price always knew she wanted to pursue law. "I always had a strong sense of justice as a child," she laughs. Despite this early sense of calling, Price, like many well-rounded trainees, set on a less traditional route into the profession. The first generation in her family to attend university, she studied history and politics at the University of Manchester before taking the leap and completing her Graduate Diploma in Law (GDL) at the University of Law (ULaw).
Many students seek a training contract before studying their conversion and qualifying courses, but Price chose to reverse the process and get these qualifications under her belt first. "I did lots of work experience," she recalls. "I started out shadowing a legal adviser at Croydon Magistrates' Court when I was in Year 10. Then at college, I started applying to law firms for work experience."
This proactive, self-starting approach paid off when she applied for a mentoring scheme during her GDL. "I didn't have anyone in my family that was a lawyer. So I applied for a mentoring scheme at ULaw, and they matched me up with an associate solicitor from Gateley," she says. Following a positive mentee experience and after speaking to another Gateley employee at a careers fair she put in an application for their Manchester office. "I got all the way to the final interview of the vacation scheme but didn't get the training contract," she recounts. Unphased, Price took the Legal Practice Course (LPC) and reapplied successfully, a year later.
With the training contract secured during her LPC, Price planned to fill some of the two years before starting by paralegalling and then travelling. Unfortunately, that was when Covid hit and her plans had to change. "Covid meant there weren't many paralegal roles becoming available where they didn't want years of experience, so I became a regulations enforcement officer for a year with a water company," she says. "It was specialised work but very interesting to look at the legal side of that industry," she adds.
Despite completing most of her studies in the north of England, Price chose to return south for her LPC and training contract. "My family are in the south," she explains. "I enjoyed my time up north but I moved down to live at home whilst studying the LPC to try to save some money." She made a smart move by supplementing her LPC with an MSc in Law and Business Management which concluded with achieving a distinction in her thesis specialising in initial public offerings (IPOs). "I found learning about the life cycle of a business really interesting and improved my commercial awareness which is particularly helpful when working in corporate," she explains.
Price is currently completing a seat in corporate where she explains "trainees get involved in a great deal of varying work from research to drafting. The workload can change quickly so you need to be well organised and have good time management". Despite the fast pace, Price explains that the level of client exposure at Gateley is a constant, "with supervision obviously!"
In general, the work/life balance at Gateley sounds quite reasonable for a London office. "Our balance seems to be pretty good, if you're busy and you've got work to do, then you just crack on and complete it. If you've finished everything that needs to be done, and no further help is needed, then you can leave at 5:30pm."
Finally, what advice does Price have for students and graduates interested in becoming lawyers? "Get hands-on early," she advises. "There's a lot of opportunities out there but it's often hard to get, joining a mentoring scheme or similar can really help." And "do your due diligence; apply to firms that fit your personality as much as you fit their culture and where you can genuinely see yourself working long term."
Gateley's Zum Mohammed will be running a session called 'IPOs and listed law firms' at the Legal Cheek Winter Virtual Vacation Scheme 2022, taking place from Monday 5 December until Friday 9 December 2022. You can apply to attend the scheme, which is free, now.
About Legal Cheek Careers posts.