BPP's Head of Outreach Jonny Hurst lists the key considerations for students electing between the two solicitor qualification routes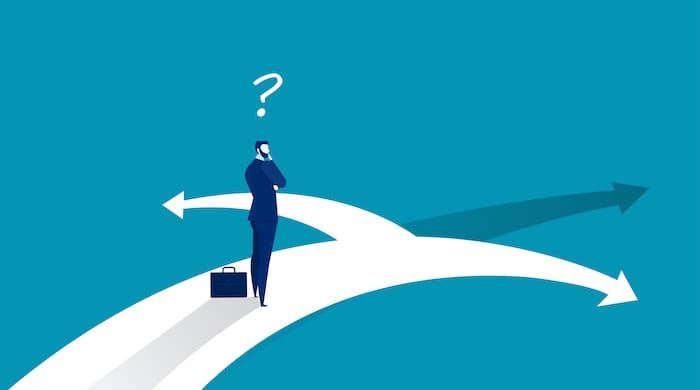 Many aspiring lawyers will still be torn between the new Solicitors Qualifying Exam (SQE) and its predecessor, the Legal Practice Course (LPC), as both courses are on offer for the next few years.
We caught up with BPP University Law School's Head of Outreach and former City lawyer, Jonny Hurst, ahead of his appearance at next week's 'SQE v LPC: which route is best for me?' event to help you navigate the legal education market and choose a course best suited to you.
What are some of the key factors for students to consider when choosing between the SQE and LPC?
If you started your law journey before 1 January 2022 (e.g. started your LLB or law conversion course by that date), you can choose between the LPC and SQE pathways. Two of the first factors to ask yourself is, "Where are you now on your law journey" and "What type of lawyer do you aspire to be?" If you have been a paralegal for several years, the SQE will usually be preferred as you may have already accrued your two years' qualifying work experience (QWE) — in which case, the only major hurdle to get over is the SQE assessments.
Equally, now that the market is tipping towards the SQE, with most leading law firms starting their trainees on SQE pathways this year and next, if you aspire to work in such firms, the SQE is probably the best option. However, if you have secured a training contract in a small or high street firm, it is more likely that the firm will be happy to leave it to you to decide which pathway to take. Such candidates might prefer the LPC route because of the higher pass rate, the less onerous assessment regime and the ability to study elective modules as an integral part of the LPC programme.
SQE prep courses vary from short refresher courses to more comprehensive Master's-level programmes. How should students choose a suitable course?
Again, it depends on your starting point. A career paralegal or a lawyer already qualified in another jurisdiction who is looking to cross-qualify, will look at the SQE purely as a hurdle to overcome in order to qualify as a solicitor in England & Wales. They are likely to be more comfortable with a shorter, self-study test-prep course which does no more than train you to pass the SQE.
In contrast, most recent graduates with little (if any) practical experience, will appreciate and benefit from longer, more in-depth SQE diploma and Master's programmes. The additional content will better prepare students for both the recruitment process and practice because these programmes go well beyond the narrow scope of the SQE, with a number of Master's programmes including modules which resemble the LPC electives. In addition, most students prefer a face-to-face or blended learning experience, partly because of what else you can learn simply by sitting in a live classroom alongside your peers.
Furthermore, SQE Master's programmes are eligible for Student Loan finance (£11,836 in 2022-23), whereas test prep courses are not. This is particularly important as candidates not only have to finance the course they take, they also need to pay for the SQE assessments themselves, the cost of which currently totals £4,115.
As more law firms commit to the SQE, where does this leave the LPC? Can (and should) students still do it?
The LPC is still a very respected qualification — perhaps more so than the SQE which is still finding its feet. However, with the market tipping toward the SQE in 2023, it will become increasingly harder to find a traditional training contract, particularly at a large firm. There are, however, examples where I would still recommend a student to do the LPC after I have had a 10-15 minute conversation with them, like the student who has a training contract offer from a high street firm that has no preference of the pathway you choose. But the one thing candidates who are still seriously looking at the LPC as an option need to factor into the equation is the situation where you pass the LPC but can't secure a traditional training contract. There will still be a pathway to qualify as a solicitor for such candidates, but that will mean having to pass SQE2 and complete two years of QWE.
BPP runs a successful training programme for solicitor apprentices which incorporates the SQE. What are some of the advantages of doing a solicitor apprenticeship?
We run a six-year Solicitor Apprenticeship programme. Our learners join a law firm, typically after their A-Levels and are given day-release one day per week to devote to their studies. During this period, they will work towards and complete an LLB as well as completing the SQE assessments. They don't have to complete any QWE because the experience of working in a law firm during that six-year period is considered equivalent experience. The most obvious benefit of this route is that you're 'earning whilst you're learning', which means there's no student debt because the firm pays your study fees and SQE exam fees.
The above apprenticeships shouldn't be confused with Graduate Apprenticeships which are becoming a popular alternative to traditional training contracts and QWE. LLB and law conversion course graduates work for around 2½ years for the firm/legal employer on a structured programme, during which they also complete the SQE assessments.
What careers support does BPP offer to future solicitors?
Our Careers Team has a range of experience: they include former graduate recruiters from law firms, others are expert law careers advisers and some have been practitioners. They will provide each student with tailored advice on drafting CVs, covering letters and law firm applications, as well as building a strategy to secure the opportunities and roles you are looking for. This advice is bespoke in each case and will be based on your own personal circumstances, because each student's experience, strengths and career aspirations will be unique to them. There are also opportunities for mock interviews with feedback, as well as workshops and employer talks which give our students significant insight into the decisions they need to take. In addition, there are many opportunities to secure practical work experience under the supervision of a qualified solicitor by working on one or more of our projects for our award-winning Pro-Bono Centre, with five, six-month QWE placements also available.
As a former City lawyer, what advice can you share with aspiring lawyers currently navigating the training contract application process?
Three words: "Do your research". And then another four "Don't follow the herd". Researching law firms, the huge range of practice areas and the various types of legal careers should involve a significant investment of your time, if you do it properly. Treat your future career as the module your professors don't write into your timetable by allocating an afternoon or morning per week throughout your studies. Yes, even if you are a first year! Treating your career development like another module will mean you give it the importance it deserves and it will significantly improve your prospects in the recruitment process over time. More importantly, it is likely to mean you end up in a place that you enjoy and thrive in, rather than one which you're less sure about.
Following your friends into big name firms might be what you want as well, but just because you might be able to secure such a role, and whilst it may be prestigious and the financial prospects are attractive, it doesn't mean that it's the best role for you. Be honest with yourself before you follow the herd in the City as there are many rewarding jobs outside corporate and commercial law.
Jonny Hurst will be speaking at next week's virtual student event, 'SQE v LPC: which route is best for me?', alongside Kathleen O'Reilly, BPP Bristol head of law and former solicitor. You can apply to attend the event, which is free, now.
About Legal Cheek Careers posts.