The College of Legal Practice's module leader for the Graduate Foundation in Law, Laura Hall, discusses her law conversion experience and time in legal practice, ahead of her appearance at next month's virtual event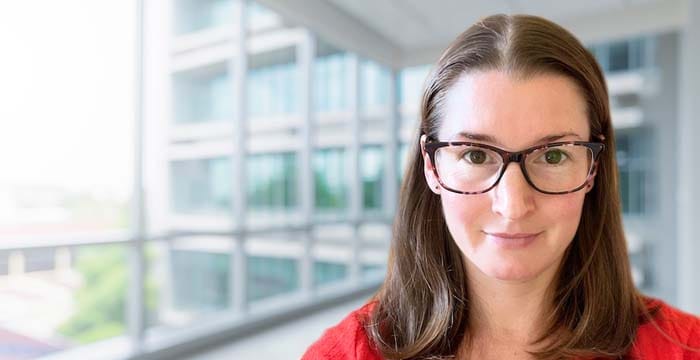 Making the switch to law might seem more daunting for non-law students and graduates under the new Solicitors Qualifying Exam (SQE) regime.
Whilst it's no longer necessary to complete a law conversion course, it's generally accepted that non-law students should complete one so they have some level of legal knowledge prior to embarking on the two-part SQE.
We caught up with The College of Legal Practice's (CoLP) Laura Hall, a former solicitor turned module leader for the College's Graduate Foundation in Law (GFL). Hall will be speaking at next month's 'Dispelling the law conversion course myths' event with CoLP, and so ahead of her appearance, we spoke about the GFL programme which she helps run, along with her own law conversion experience and time in legal practice.
You are exactly a year into your position at The College of Legal Practice — what's it been like so far and what does a typical day for you involve?
The last year has flown by, and I've really enjoyed my time so far with the College. There's such a positive atmosphere and a real focus on student experience. One of the exciting things about working in legal education is that each day is different, with a mix of teaching, meeting with students to offer pastoral support, providing students with course updates, marking, and (for me) managing the day-to-day running of the Graduate Foundation in Law (GFL) programme.
We look to continuously improve, so I'm always busy thinking about how things are done now and what changes could be made to improve the student journey in the future.
Can you tell us a bit about your background?
I grew up in Portsmouth and attended a state school. I really enjoyed maths, science and PE, which are perhaps not the most obvious subjects for a future lawyer. At college, I chose to do  A-Level law because it sounded interesting. I didn't really know anything about being a solicitor or barrister at that stage and didn't think that university, let alone a career in law, was an option for someone like me.
I was persuaded by my English tutor to apply to Oxbridge to study English, and was amazed when I received an offer. My sister and I were the first in our family to go to university, so this was a massive achievement. My time in Oxford was difficult, but brilliant, and gave me the confidence to go on and complete a Graduate Diploma in Law (GDL) and (eventually) qualify as a solicitor.
So you have spent time in both legal practice and legal education — what prompted your move into legal education and is there anything you miss about legal practice?
I've always had an interest in learning, which is one of the key things that initially attracted me to a legal career. As a lawyer you are constantly learning and being challenged, so you need to be adaptable and curious.
After I qualified, I found that my favourite aspect of working as a solicitor was, slightly surprisingly, training the junior members of the team and supporting them on their journeys as paralegals and trainees. For me, this was incredibly rewarding and it was so lovely to see those members of the team grow in confidence and experience. Given how much I enjoyed this aspect of being a solicitor, moving into legal education seemed a natural step. It's been six years now and I haven't looked back.
You've practised as a lawyer in both London and Southampton — how do the two cities compare in terms of work quality?
As a trainee I spent time in Portsmouth, Southampton and London because my firm offered different seats in different locations. This was a good opportunity to see how the work compared, and to look at the culture across offices. As someone who is naturally quite introverted and likes the outdoors, I found living and working in London difficult and I was confident I wanted to qualify in Southampton.
I was fortunate that work within my team was largely the same in London and Southampton, although most advocacy was done by the London team. Shortly after I qualified, the whole team moved to the London office, meaning I was unable to stay in Southampton. Being in London gave me greater exposure to tribunal hearings and appeals in the High Court, which was exciting and more fast-paced, but on a personal level I missed being on the south coast. Work location is such a personal decision, but for me, being outside of London didn't negatively impact the quality of my work.
You spent some time working as a paralegal at the firm you eventually trained and qualified at — how did you leverage this experience in your application to the firm, and would you recommend students also take a 'tiered' approach as such?
I had a slightly unusual start with my firm, in that I secured a training contract with them before being approached about a paralegal role. As such, I wasn't able to use my paralegal experience in making my application, but I did put it to good use when choosing training contract seats and where I wanted to qualify.
I was also able to use the time to count, so I qualified six months early. A tiered approach can work well, particularly in a supportive team, but perhaps more importantly, it gives you a clear insight into the firm's culture and working practices which are difficult to ascertain from an interview or vacation scheme.
Being a paralegal can be challenging, but it's also really rewarding and helps you hit the ground running as a trainee.
CoLP offers the Graduate Foundation in Law programme (GFL) as an alternative to the Postgraduate Diploma in Law (PGDL). Can you tell us a bit about the differences between these and why CoLP designed the GFL?
The GFL covers the seven foundation areas of law and has been developed to align with the SQE syllabus, so in that sense it is very similar to a GDL or PGDL. The course is shorter, so the material is covered in less detail and depth but is intended to provide students with a good understanding of the core subject areas so they can start an SQE preparatory course on an even footing with those who have completed an LLB, GDL or PGDL.
From a more technical perspective, the GFL is taught at level 6 (equivalent to the final year of an undergraduate degree) which is the same as a GDL, whereas a PGDL is taught at level 7 (equivalent to master's level). Currently, the GFL is not award-bearing so students receive a transcript confirming completion of the subjects, but no diploma certificate. Finally (and this is really close to my heart), in line with the College ethos of improving accessibility to the profession, the GFL is more affordable than a GDL or PGDL, with course fees of £3,250.
You converted to law from an English literature degree from the University of Oxford. What would you say are the key skills that students need to succeed on a law conversion course?
I think the key thing with a law conversion course is that there is a lot of law to learn over quite a short period of time, and it can feel very difficult at times. I remember feeling a bit daunted and overwhelmed at the start of my own GDL, and I've subsequently realised that this is completely normal.
As you progress through the course you start to develop your skills as a lawyer so it does get easier over time. I would say that the students who succeed are the ones who are organised and disciplined from the start. It's so important to have good time management — not just to get through the reading, but also to ensure you're taking breaks, and finding the time to rest and relax.
Finally, what advice can you share with non-law students looking to secure training contracts?
As a non-law graduate you are likely to bring something slightly different to the table, particularly if you are also a career-changer. More frequently we are realising that differences can be hugely positive, so it's worth thinking about what makes you stand out, what skills and experience you have that make you unique.
Often, we take our own skills for granted, so if you're struggling then consider asking friends or family where they think your strengths lie and then think about how those skills could be transferred to a legal setting.
Laura Hall will be speaking at 'Dispelling the law conversion course myths — with The College of Legal Practice', a virtual student event taking place next month, on Tuesday 1 August. You can apply to attend the event, which is free, now.
About Legal Cheek Careers posts.