White & Case trainee Miebi Inokoba discusses his experience which has seen him work in both London and Paris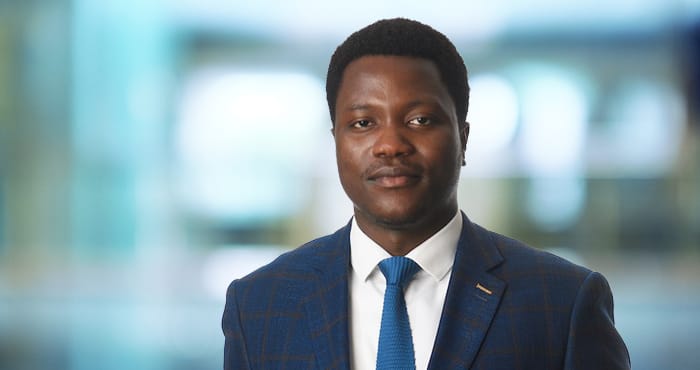 "International is a word synonymous with White & Case," says Miebi Inokoba, a fourth seat trainee at the Firm. Inokoba is completing his guaranteed overseas seat in Paris at the time of this interview, and tells me the breadth of international work differentiates the Firm, and was an important factor for him deciding to apply for a training contract.
Inokoba grew up in Nigeria where he completed his first degree in Social Justice. Afterwards, he proceeded to the UK to complete a two-year LLB at the University of Edinburgh. It was after this time he decided to apply for training contracts in London, telling me he thought the City would offer a more international community with individuals from diverse backgrounds and the opportunity to get involved in cross-border transactions.
He secured a vacation scheme at White & Case, which he describes as instrumental for eventually accepting a training contract at the Firm. It is for this reason Inokoba encourages aspiring solicitors to complete one. He talks about how a vacation scheme exposes you to the culture of a firm, and the nature of work that you will be doing throughout your training contract. "It's also a good way to see if you're a good fit for the firm and vice versa," he adds. What stood out for him during the scheme was the Firm's "open-door policy" — "it is engrained in the Firm's culture, regardless of seniority," he says. "There are no restrictions as to how much you can learn."
In addition to this, Inokoba describes the Firm as one which places importance on lawyers being "entrepreneurial". He says that whilst you are supported by the Firm throughout your training, you are also "actively encouraged from the start to take initiative and ownership of your work".
Inokoba has experienced this throughout his training contract. He had considerable client contact on matters as early as his first seat in Private Equity within the corporate team. He then moved seats to Debt Capital Markets, telling me that the complexity of this area of law was a major attraction for him and that he learnt a great deal from his colleagues. For his third seat, he was in the Project Finance and Development team within the Energy, Infrastructure and Project Finance practice group, saying that this offered further opportunity to deepen his understanding of financing structures, and hone soft skills including effective communication which has enabled him to build good rapport with colleagues and clients alike.
For his final seat, Inokoba is in Paris with the Private Equity and M&A team. White & Case guarantees an overseas seat to its trainees, and Inokoba tells me how much he values this experience. He takes part in French classes, courtesy of the Firm, which he says have helped him when interacting with his colleagues in the Paris office. This is part of White & Case's continued support for trainees while completing their overseas seat, as they stay in contact with the Graduate Development team and are offered other financial support. He has also gained some insight into the French legal system, whilst mainly assisting on transactions with an English law element to them.
He speaks about how valuable his varied experiences at the Firm have been, saying that he has seen his teams' confidence in his work and his own confidence in himself grow throughout his training contract.
Inokoba will be speaking at tomorrow's Legal Cheek x White & Case event, 'Global business in an era of higher interest rates'. He tells me about the changing economic circumstances throughout his training contract, and how these affect the work that he does. He says that events such as the recent collapse of Silicon Valley Bank, rise in interest rates and inflation, all generally affect activity across the market/City. However, even in periods when work may slow down, there is "never a time when you are not meaningfully engaged", and this time is rather channelled towards knowledge and business development.
For those looking to follow in his footsteps and obtain a training contract at a global law firm like White & Case, Inokoba speaks of "standing on the shoulders of those who've gone ahead". By this he means using networking tools to actively reach out to individuals that work at the law firms you are interested in, to gain an insider's perspective and learn from their experiences. He also stresses the importance of "individualising your applications" and using it as a platform to tell your story and establish an alignment with the firm's objectives and values.
Miebi Inokoba will be speaking at 'Global business in an era of higher interest rates — with White & Case', a virtual student event taking place tomorrow (Thursday 27 April). You can apply to attend the event, which is free, now.
Any views expressed in this publication are strictly those of the authors and should not be attributed in any way to White & Case LLP.
About Legal Cheek Careers posts.