A panel of lawyers and legal education experts give the lowdown on legal life in Bristol and beyond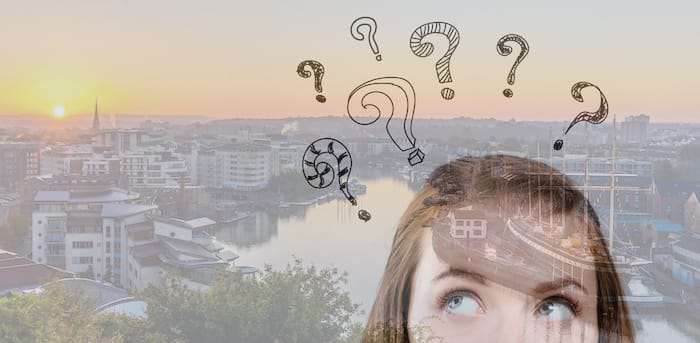 At Legal Cheek and The University of Law's (ULaw) latest virtual student event, 'Secrets to Success South West — with Osborne Clarke, RPC, TLT and ULaw', a panel of industry experts discussed the South West legal scene and the opportunities it presents for aspiring lawyers.
The line-up featured: Will Robertson, a partner in the commercial team at Osborne Clarke specialising in technology and privacy; Katharine Cusack, a senior associate at RPC specialising in defendant professional negligence; Chris Crighton, a pensions partner at TLT; and Zoe King, a former solicitor and dean of ULaw's Bristol and Exeter campuses.
South West versus London
Throughout the 'Secrets to Success' event series we have seen lawyers make the case for different UK cities as potential career locations for aspiring lawyers — challenging the age-old idea that working in London is crucial for visibility and career progression.
It was apparent in the responses from each of the panelists at this month's event that their firms are committed to expanding their footholds in the South West market. Will Robertson explained that Osborne Clarke has seized "a great opportunity" in signing a new lease for an office in Bristol, describing the move as "a blank canvas to design a workplace of the future". Katharine Cusack predicted that RPC's base in Bristol will continue to grow, while Chris Crighton of TLT — which has been headquartered in Bristol since its formation through a merger in 2000 — gave an overview of the firm's links to the South West.
"We are extremely proud to have our roots in the South West. Whilst we have expanded rapidly across the UK over the past decade, Bristol very much remains our HQ. We support clients all over the country but it is extremely important for us to remain focused on the local South West market, which remains buoyant. We are committed to the South West, and we look forward to seeing how it develops as a region over the next few years."
As to why the South West is an attractive proposition for law firms, Zoe King — who spoke at greater length about the local legal scene in a recent feature for Legal Cheek Careers — outlined some of the motivating factors for London firms launching in Bristol. She told the virtual audience of 300 students:
"There's quite a lot of movement from firms out of London and establishing bases in Bristol, and this may continue. There are cost savings in rents being lower, and it allows for more diversity in the work that you can do. Bristol is a hub for technology, media and aerospace, and there is more emphasis on work/life balance and wellbeing."
Zoe King, @UniversityofLaw's campus dean in Bristol and Exeter, offers her advice to those looking to pave a career for themselves as a solicitor in the South West #LCCareers pic.twitter.com/6PCrRQljIG

— Legal Cheek (@legalcheek) June 24, 2021
Intuitively, there are differences in culture between the South West and London. Robertson described what he perceived to be "a big focus on people, culture and values", adding that he saw the South West as being "a good place to switch off". He continued: "In the South West, this is easier. You're closer to the countryside; it's easier to switch off 'the machine'."
For those who feel that they may be selling themselves short by electing to work away from the capital, worry not. "The training that the Bristol trainees get is identical to the London cohort", Cusack explained, adding: "The work is very similar. You do not have to restrict yourself to London just to get a particular type of work." Crighton agreed, explaining that geography is no barrier to working for clients from across the country, including London.
Impact of COVID-19
Looking at the impact of COVID-19 on working practices, the panel considered the expedience of "hybrid working" as a way of carrying out legal work in the future.
While Crighton was accepting of the fact that working practices are moving in a direction towards a hybrid model, he argued that the strongest relationships between lawyers and clients are formed "in a face-to-face way". He added: "There will be a sea change in the long-term with the way we have meetings. The in-person and online hybrid is likely. But getting in-front of clients is invaluable." This sentiment was echoed by Cusack:
"In terms of size, will offices shrink with more remote-working? That is entirely possible. A lot will be governed by how we can work effectively and provide support for our employees. But there is great benefit with face-to-face encounters."
Cusack elaborated, explaining how these "face-to-face" interactions are equally as important for junior lawyers:
"Junior lawyers learn so much by listening to their colleagues, by overhearing, and building relationships through working collaboratively. It is a necessary part of their development. They need senior lawyers to teach the junior lawyers. But overall, I hope we can allow more flexibility, and more focus on wellbeing."
We are currently live at 'Secrets to Success South West' – with @OsborneClarke, @LifeinaLawFirm, @TLTtrainees and @UniversityofLaw ! The key themes for the panel discussion include: pic.twitter.com/LreTqcYupF

— Legal Cheek (@legalcheek) March 2, 2021
About Legal Cheek Careers posts.