A 'herculean effort' has been exerted to increase the availability of protective gear for frontline NHS staff — but should more have been done sooner, and if so, who is accountable?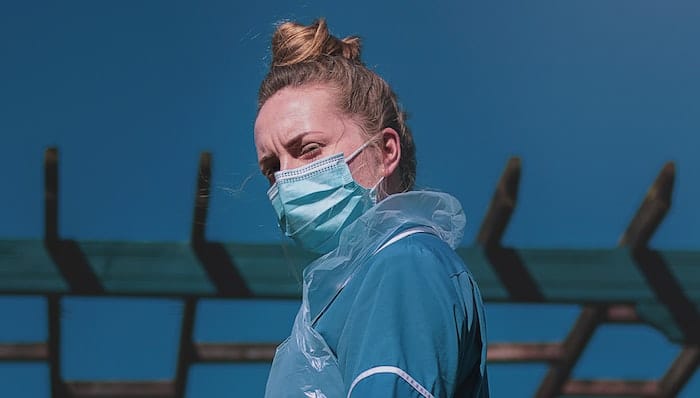 Undoubtedly, the coronavirus pandemic has caused rapid change to numerous aspects of life as we know it, touching the legal sphere in numerous ways.
If there is a public inquiry into how the pandemic has been handled, it is likely to include the availability and supply of personal protective equipment (PPE) to those working on the frontline, especially NHS staff or health and social care workers.
Since the COVID-19 crisis reached the UK the government has been under increasing pressure to accelerate the supply of PPE to those working on the frontline, addressing a fear that these people are most at risk of catching, spreading, and of dying from the novel virus.
There is a growing concern among health workers as to whether they are being put in harms way in their place of work due to the lack of PPE, and some have expressed their unwillingness to carry out their duties because of the heightened risks. The law relating to this is set out in the Health and Safety at Work Act 1974, which places an obligation on employers to provide a safe place of work.
One medic couple, Dr Meenal Viz and her husband Dr Nishant Joshi, have already instructed solicitors who have written to their trust setting out their claim (pre action protocol, as is required of them under the law) before taking out legal action. This is likely to be one of many.
For health professionals who have already lost their lives after contracting COVID-19 a more serious question which needs addressing now is whether there should be an investigation carried out under criminal law and charges brought against individuals or trusts for manslaughter (the unlawful killing of an individual). These investigations are the responsibility of the Health and Safety Executive (HSE).
The focus of HSE at present is on helping the government's response, rather than investigating breaches from employers who may have failed in their moral and legal duty to limit their employees' exposure to coronavirus.
Yet, the potential for future litigation and prosecution of those who may be considered to have failed may be numerous. In this short piece we look at whether a successful prosecution could be instigated against the NHS trusts in their failure to provide PPE to NHS and healthcare workers on the frontline for manslaughter.
To try to improve the UK's situation over the past few weeks the NHS Supply Chain has delivered 397 million pieces of PPE equipment including FFP3 masks (masks which offer advanced levels of protection against dust, fumes or infection), surgical masks and other PPE equipment to NHS trusts and other healthcare settings. A hotline for NHS trusts to order PPE whenever they need it has also been introduced.
The World Health Organisation (WHO) has since confirmed that the UK's new guidance is consistent with the highest levels of protection in the world.
In announcing that the distribution of PPE would be stepped up further (10 April) the Health Secretary Matt Hancock caused a backlash in suggesting that NHS workers have been using too much PPE, which may be a reason for the shortage. Hancock claimed "there is enough PPE to go around, but only if it is used in line with our guidance. We need everyone to treat PPE like the precious resource that it is".
The Royal College of Nursing openly rejected this. Dr Jenny Vaughan, of the Doctors Association UK also told Sky News that "we absolutely acknowledge that things have improved, but there are still many, many gaps and we can't afford gaps when it comes to people's lives". As well as this, a member of the British Medical Association's council, Dr David Wrigley, claimed that over 50% of doctors had responded to its survey saying they do not have the supplies they need in the first place.
The lack of PPE available to NHS staff and other healthcare workers, could potentially be a cause of death for those fighting this 'war' against COVID-19. Consultant urologist Abdul Mabud Chowdhury died aged 53, on 8 April, more than two weeks after first being admitted to hospital. Five days before his death he took to Facebook to warn the Prime Minister about the lack of PPE, appealing for "appropriate PPE and remedies" to "protect ourselves and our families". John Alagos also died from the virus, the youngest nurse known to have died of COVID-19 in the UK, at the age of 23. His mother has since claimed he had not been wearing the right protective clothing at work after treating COVID-19 patients in 12-hour shifts at Watford General Hospital.
We have seen a 'herculean effort' being exerted in efforts to increase the availability of PPE recently. However, should more have been done sooner? And should we be holding anyone accountable for the death of those NHS/healthcare workers before PPE was stepped up?
The Corporate Manslaughter Act 2007 was a landmark Act introducing into law the possibility for finding companies and organisations liable and guilty of manslaughter as a result of serious management failures which resulted in a grossly negligent breach of a duty of care.
For a successful claim, the prosecution must prove the following three things:
(i) that the defendant is a qualifying organisation,
(ii) who owed a duty of care,
(iii) and that there was a gross breach of that duty (by the organisation) in the way in which its activities were managed/organised.
The management would need to be seen to be a substantial element in the breach and the gross breach of the organisations duty caused, or significantly contributed to the death.
Section 11(1) of the 2007 Act provides that specified government bodies can be prosecuted for corporate manslaughter, contrary to the exception that usually 'Crown bodies' cannot be prosecuted for criminal offences.
Schedule 1 lists the government bodies to which the offence applies, which includes the major departments of central government such as the Department of Health. The Department of Health and Social Care (DHSC) is a department of Her Majesty's Government, responsible for government policy on health and adult social care (in England). Public bodies such as local authorities and NHS trusts, are bodies incorporated by statute (s.25 para 15) which can also be liable.
Sections 3-7 of the 2007 Act specify exceptions from liability relating to actions which exempts public body liability in public emergencies, exempting "decisions of a public authority in relation to issues of public policy (such as the allocation of public resources)". This equally applies to policy decisions made by the central (or local) government, who are also exempt in these circumstances.
Due to the pandemic being a global issue, this 'emergency' exemption is something the trust would seek to rely upon.
Given the knowledge and advice our country gained from the preceding Italian experience and other countries around the world, we were behind the curve and by all accounts we were slow to take action and prepare for what was to come. There is much information as to what was known and what should have been done including mass testing and testing of healthcare professionals to stop them spreading the virus to colleagues. What was foreseeable weeks and months before it reached our shores, is wholly different to an emergency which was unknown before it was identified.
The question of whether this amounted to gross negligence is something which is a live issue and needs to be addressed as a matter of urgency by the HSE once we regain a sense of normality. Only then can criminal charges be contemplated.
The government has recently announced an inquiry into the disproportional impact the virus is having on obese, male and black, Asian and minority ethnic (BAME) communities following the higher number of deaths in proportion to those from white backgrounds, however the terms of reference do not go so far as dealing with the whole issue of the lack of PPE and testing or whether criminal charges should be brought.
Anna Hayes is a second-year law student at the University of Birmingham. Khadim Al'Hassan is a criminal barrister at Park Square Barristers.