Swansea University law and media student Alice Wills explains why copyright law appears to be stifling artists' creativity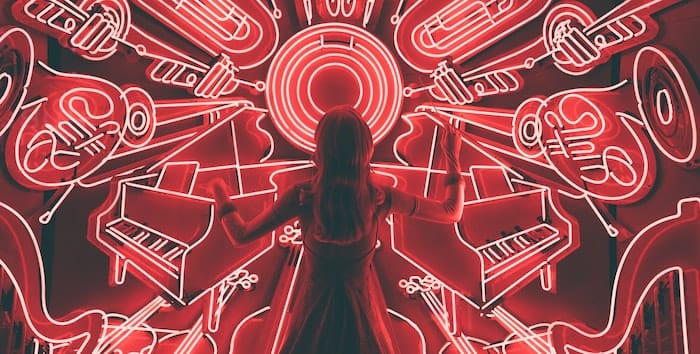 Twitch hit the news back in August when artists confronted Jeff Bezos over royalty disputes.
The Amazon-owned live streaming platform — recognised for its use of unlicensed music as background to video game playthroughs, eSports competition broadcasts, and other creative content — came under fire by music labels and artists after rights holders issued 2,500 'takedown notices' against videos featuring their music.
Appearing before Congress earlier this year, Amazon CEO Bezos could not answer on whether Twitch allowed users to stream unlicensed music.
Now, months on, Twitch is still unlicenced by major record companies, choosing instead to strike deals with independent artists and labels. Their rights-cleared music catalogue launched at the end of September.
Twitch is not the only social media platform to have suffered takedown notices from the music industry. TikTok — which has rarely left the news following President Trump's bid to ban the platform in the United States, which led to lengthy competition and Oracle winning the bid to buy the video-sharing app from Chinese owners ByteDance — revealed in its transparency report that it received 3,345 copyright takedown notices in 2019 alone. Instagram Reels could follow soon.
Relevant copyright law
So, what's the issue? Copyright is a proprietary right which protects the expression of ideas through the Copyright, Designs and Patents Act (CDPA) 1988. Section 1(b) of the CDPA protects sound recordings — surely those who make the music should have full rights to it?
Many disagree. The original notion of copyright law stems from the Statute of Anne 1709 which aimed to encourage public learning through the creation of a public domain, where people could freely access previously restricted content. Today, copyright law must balance the interests of the creators and those of the public when protecting intellectual property rights. Yet, copyright protection has become increasingly more difficult to enforce since the rise of digital media, with copyrighted material being easily accessible over free-streaming sites.
For music, this problem first emerged when the Apple iPod converted music to digital files, kickstarting digital music retailing and leading to a host of copyright cases against platforms such as Grokster and StreamCast in 2005. According to a 2010 report by the International Federation of the Phonographic Industry (IFPI), the rise of hosting sites led to a global decrease of 30% in music sales between 2004 and 2009, despite a 940% increase in digital sales in that time. The music industry blames piracy for this fall, with global music piracy costing just the US economy $12.5 billion in economic loss every year.
But if we look back to the original aim of copyright, the intention was to protect not only the author but the public. Lawmakers recognised cultural development required access to existing productions and the opportunity to use and be influenced by past creativity. There is a strong line of argument that no new song is original — they are all created from influences. This was evident in the copyright cases against Katy Perry, Ed Sheeran, Sam Smith and a long list of other musicians, meaning it isn't just amateur creators that are being stifled by copyright law.
More recently, there seems to have been a shift in direction as Nicki Minaj won the first part of her copyright battle against Tracy Chapman. Chapman alleged that Minaj's track 'Sorry' contained interpolations from Chapman's 'Baby Can I Hold You'. Minaj originally removed the track from her album, 'Queen', after Chapman refused to grant her permission to use the song, however a copy of the unreleased track found its way to New York radio DJ, Funkmaster Flex, who broadcasted it on air.
Minaj argued her use of Chapman's song constituted fair use — a legal defence to copyright infringement — and the judge agreed that prohibiting artists from experimenting with pre-existing songs would limit creativity and stifle innovation. This is an unusual decision: precedent usually sides with the original creator, as seen in the landmark case involving Robin Thicke and Pharrell Williams over their 'Blurred Lines' song and most subsequent cases. The law in this area is generally so strong that most artists choose to settle and name the original creator as co-author to avoid litigation.
There is an issue with enforcing copyright against music, however, and it's one that has been outlined by musician and lawyer, Damien Riehl, and programmer, Noah Rubin. They discovered that there were only a finite number of melodies, so copyright infringement in music is inevitable. If the Minaj case represents a shift in attitude towards music, it is unlikely to spread far because most artists will continue to settle and avoid lengthy cases and potential reputational damage.
I'm not arguing artists should relinquish all rights to their work: it would be unfair to expect creators to keep producing new work if they had no control over who could access, use, or distribute it. However, the fact that copyright cases against musicians has led to a notable increase in musicians taking out insurance and a decrease in new singles from emerging artists surely proves how copyright is stifling creativity?
The value of social media
Platforms such as Twitch and TikTok are a breath of fresh air for creativity, and both have played a key role in the music industry: TikTok is credited for 'Old Town Road' by Lil Nas X being one of the most successful songs of 2019 after its remix was widely used on the platform, and one of the reasons why The Weeknd's 'Blinding Lights' was number one in the UK for eight weeks, Germany for ten weeks, and Australia for eleven weeks. Artists themselves have been using these platforms to promote their content as a cost-effective way of reaching an audience of millions, and the musicians behind many of the viral songs on TikTok are overjoyed with the way their music is used to create new content. Saweetie, the artist behind TikTok 'Tap In' dance challenges, has commented that she enjoys when users use her songs as background music, because it shows they "really like the song". Using a song in a video should therefore be seen as a positive to the music industry as it evolves in the digital era, not as a threat to traditional forms of broadcasting.
Does anybody really watch TikTok or Twitch as an alternative to streaming the same song on Spotify, YouTube or playing it on a CD? Plus these platforms could be seen as free marketing for musicians. So, why must the TikTok generation be deprived of our dance routines and amateur remixes, and Twitch users of their music compilations? If Bezos doesn't know whether or not the music is licensed, how are Twitch users supposed to know that the music they're using is unlicensed and could result in their video being taken down? The user experience is sure to decrease if advertisements are increased to counter the costs of licensing music, and these platforms could find themselves losing users, but is this justifiable?
As it stands, music law appears to be stifling creativity from both ends: from the musicians battling copyright claims as a result of similarities to their influences, to the creators on TikTok and Twitch having their videos removed for including unlicensed music. Copyright is failing to strike the right balance between creators and the public, and with there being no end to new ways of getting around licenced material, some allowance for the new breed of creators should be made.
Alice Wills is a third year law and media student at Swansea University.