LSE law graduate and future trainee Matthew Unsworth takes a look at how competition authorities are responding to misleading eco claims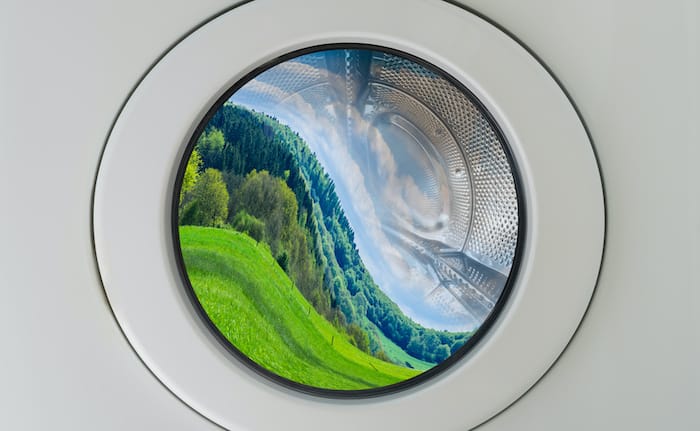 What is 'greenwashing'?
The essence of 'greenwashing' is making an untruthful or misleading statement about how eco-friendly a product or service is. Companies are unlikely to tell outright lies but they might make claims which are quite subtly deceptive. Imagine, for example, a new appliance which is said to be more energy efficient than its rivals, with no mention of the fact that it uses more water too. Or an aerosol which is advertised as free from chlorofluorocarbons (CFCs), even though it would be illegal to use these chemicals anyway. In each scenario, a consumer is likely to believe, erroneously, that the product in question is better for the environment than alternatives.
Greenwashing is not a recent phenomenon; it has existed in some form since at least the 1980s. However, there are signs that the problem has become especially acute. In January, the International Consumer Protection and Enforcement Network investigated almost 500 websites making product sustainability claims and found that in 40% of cases there was a risk of consumers being misled. This is of real concern when UK shoppers alone spend over £41 billion on sustainable goods each year and there has been a global shift towards greener purchasing decisions amid the COVID-19 pandemic.
The legal position
There is no specific anti-greenwashing legislation in the UK. Having said this, many misleading environmental claims will fall foul of the restrictions contained in the Consumer Protection from Unfair Trading Regulations 2008. In particular, instances of greenwashing are likely to contravene Regulation 5, which prohibits false and misleading commercial practices, or Regulation 6, which prohibits commercial practices serving to hide or obfuscate material information. It is worth bearing in mind that a deceptive eco-claim will only constitute an offence under either regulation if it causes or is likely to cause consumers to enter into a transaction when they would not otherwise have done so. The situation is broadly similar in the EU, under Articles 6 and 7 of the Unfair Commercial Practices Directive 2005, in the US, under §5 of the Federal Trade Commission Act 1914, and in Australia, under Section 18 of the Competition and Consumer Act 2010.
Alternatively, in some circumstances, it might be possible to bring a claim for fraudulent misrepresentation against an alleged greenwasher. There are precedents for this on both sides of the Atlantic. In the Californian case of DeWind v Glenmore Wind Farm, a developer was sued for having overstated the energy potential of a wind farm site, which, according to the claimant, gave the impression that the project was economically viable when this was not true. The claim was ultimately dismissed. Misrepresentation is also the basis for a class action brought against Volkswagen in the UK relating to the "dieselgate" scandal. The car manufacturer is alleged to have programmed diesel vehicles to artificially lower their nitrogen oxide output to cheat emissions tests. As well as an apparent breach of air pollution laws, this practice is said to have led buyers to believe they were getting a cleaner car than was in fact the case. Lawyers at Slater & Gordon, Leigh Day and Freshfields are all advising on the claim, which a Law Society report predicts will pave the way for further greenwashing class actions over the next 30 years.
Other legal grounds for challenging deceptive green marketing are more speculative. Depending on the context, consumers who receive a product which is less sustainable than advertised could pursue a claim for breach of contract on the basis that the product is not of satisfactory quality. Furthermore, it has been argued that greenwashing by companies with a large market share could be tackled as an abuse of dominant position contrary to EU competition law rules. In reality, this is doubtful unless those rules are radically rewritten, which, with the exception perhaps of competition enforcers in Greece, few in Europe have the desire to do.
In terms of remedies, the exact consequences for companies who have engaged in greenwashing will vary depending on the jurisdiction. Consumers will usually be entitled to either cancel the relevant contract or receive compensation, with damages also available if loss has been suffered. In addition, some competition authorities have the power to issue substantial fines for violations of consumer protection rules; this is an important deterrent given that it will not often be worth consumers' while to bring legal action themselves.
What action is being taken?
A number of regulatory bodies have highlighted greenwashing as one of their focus areas for 2021. The UK's Competition and Markets Authority (CMA) is currently investigating whether sustainability claims are being used to deceive consumers and held a consultation on the subject at the end of last year. Misleading green marketing is high on the agenda in France and the Netherlands too, particularly in relation to the energy sector. There is also a push at EU level to create a standardised methodology for justifying eco-claims; this is intended to deliver on a commitment in the EU Green Deal to improve access to "reliable, comparable and verifiable information" on the environmental impact of products marketed as sustainable.
Moreover, the last couple of years have seen firms called out more readily for exaggerating their eco-credentials. In the UK, Ryanair was reprimanded for declaring itself to be Europe's "lowest emissions airline": a contention it based on old and incomplete data. Similarly, Italy's competition authority fined ENI, an oil and gas company, €5 million for alleging that its "Diesel+" fuel had 40% lower greenhouse gas emissions than competing products without adducing sufficient evidence to back this up. Meanwhile, beauty brand Truly Organic was hit with a $1.76 million penalty by the US Federal Trade Commission after it was found to be advertising certain products as vegan when they contained honey and lactose.
In defence of these, and other companies, greenwashing is not always easy to avoid. The consumer, tort and contract law rules discussed above are very general and establish only that sellers must not mislead buyers. They do not offer any insight as to what a misleading sustainability claim looks like or how it could be amended, qualified or better substantiated. Little wonder there is a growing fear of "greenhushing", where retailers whose products are genuinely eco-friendly avoid drawing attention to this fact in case they are caught out on a legal technicality. Some regulators have responded by producing detailed guidelines to help firms lawfully advertise the environmental advantages of their products. The US "Green Guides", which have been around for almost three decades, set out when terms such as "recyclable" and "non-toxic" can be used by way of illustrative examples. Dutch competition officials have now drawn up five rules of thumb for environmental marketing, while the CMA has indicated it might follow suit and update its own guidance.
Beyond consumer protection…
Concerns about greenwashing are not unique to the consumer context. Similar problems have arisen in sustainable finance. Almost $270 billion worth of "green bonds" were issued in 2020 by the likes of Daimler and JP Morgan Chase, plus several sovereign states, as record demand from investors drove down borrowing costs. Issuers are supposed to spend the bond proceeds on projects to reduce their environmental impact but some of these projects make very little difference. A green bond issue might be described as funding eco-sensitive offices, for example, when the issuer simply intends to fit a handful of solar panels to regular buildings.
In an attempt to limit the scope for greenwashing, non-governmental organisations such as the Climate Bonds Initiative and the International Capital Markets Association have suggested minimum criteria which must be met in order to use the green bond label. There are also proposals for a voluntary EU Green Bond Standard under which companies issuing green bonds would have to explain how they plan to use the money raised and exactly what benefits will accrue to the environment as a result.
Sustainable investment funds have come under scrutiny as well. From this month, EU asset managers have to state how they are measuring their investments against a range of environmental, social and governance factors or, if they are not, to explain why. A series of further rules will be phased in gradually, culminating in a requirement for investment firms to collect and publish sustainability data on the companies they buy into. It would seem, then, that organisations involved in greenwashing in any form are in for a rude awakening. Unfortunately for them, money will no longer grow on trees.
Matthew Unsworth graduated in law with a first class honours from the LSE. He is a future trainee solicitor at a London-based US law firm and is currently completing the LPC at BPP Law School. Matthew has an interest in competition/antitrust and emerging companies.