Heritage law enthusiast and future pupil barrister Hillary Curtis takes a look at reforms to protect our rich history of art and culture, in the first of a series on this fascinating subject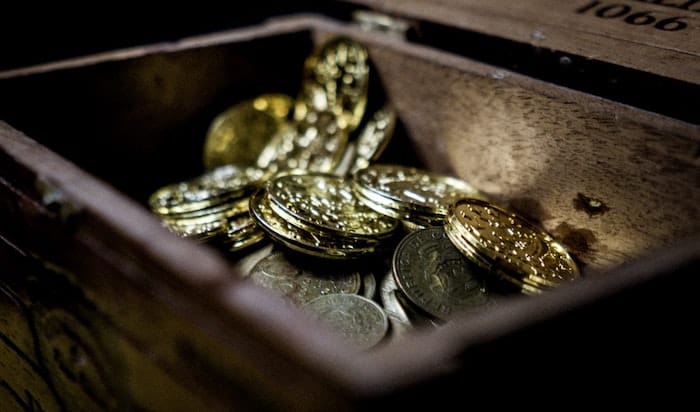 'Arghh me hearties, there be treasure in these parts'… and the government has identified that the law surrounding it calls for some reform.
Treasure is most commonly associated with stormy seas, adventures, maps with X marking the spot where antique chests heaving with fabulous jewels, doubloons and items of exquisite luxury are to be found, usually by outlaws and old-timey pirates. What you don't think of are individual enthusiasts, wigged barristers or frankly anything remotely close to the 21st century.
But in actual fact, treasure and its discovery are as common — if not more common — now as they ever were.
What's more, treasure law in the UK is completely distinct from that found in any other country — not least because the government allows individuals to actively look for treasure, through mudlarking (digging about in mud) and metal detecting.
Currently, the law in this area is substantially governed by the Treasure Law Act 1996. If goods found, including while mudlarking, a practice with roots in the late 18th and 19th centuries, fall within the 1996 Act's definition of 'treasure' then they must be handled in accordance with the Act.
The meaning of 'treasure'
The Act came into force in 1997, replacing the previous doctrine of "treasure trove" and was intended to be the last word in the way treasure finds are handled in this country. As many legislative pieces do, it streamlined the law in this area, providing clarity around definitions, rights and duties. Crucially, it defined treasures as: (i) items 300 years old made of silver or gold; and (ii) all coins from the same find if it consists of two or more coins as long as they are 300 years old, and if they contain less than 10% gold or silver, there must be at least 10 coins. It also set out a clear process for how to handle treasure finds. Specifically, the need to register the finding with the coroner, and, if found to be treasure as defined by the Act, to notify a museum in case of a desire to accession it, as well as a scheme of rewards for finders and landowners.
Some 25 years since its introduction, it remains a vital piece of legislation but, as you might expect, a number of issues have cropped up.
First, and most crucially, the conception of "treasure" the act provides is extremely narrow. It excludes anything that is not in part gold or silver or that is gold or silver in insufficient quantities or form. This means any coin or artefact that is, for example, bronze is not classed as treasure at all and is not subject to the Act. Second, there was a lack of clarity around who paid for the reward.
How the Leasingham Horse & Birrus Britannicus got lucky
It was with this scenario that the Leasingham Horse was nearly lost. In 2020, a small enamelled horse brooch of Roman origin was found in Lincolnshire. Its main material was bronze. It was therefore not counted as treasure and so, despite being identified as "incredibly rare", did not fall within the jurisdiction of the Act. Fortunately, the finder of the artefact recognised its value and kindly donated it for display in the Collection Museum, in Lincoln.
Nor was this an isolated incident: a similar near-miss occurred in 2017, involving the finding in Chelmsford of an artefact known as the Birrus Britannicus. The name refers to the hooded duffle coat-like item of clothing that the small figure (believed to be a hunter or archer from the quiver on his back) appears to be wearing. The "birrus britannicus" was a specifically British item of clothing and was a main export during the Roman occupation of Britain. It is extremely rare to find portable art of this time depicting a typically British figure, especially with this high level of artistic craftsmanship. The item, a copper alloy, was to be sold overseas.
On the recommendation of the British Museum, however, the then arts minister John Glen intervened and placed a temporary bar on the export licence to allow time for the Chelmsford Museum to gather funds sufficient to purchase the item. Subsequently, the Chelmsford Museum was contacted by a "well wisher in America" who kindly donated the purchase price as a gesture of goodwill between the two countries.
Both these stories have happy endings but it all too easily could have gone the other way. Moreover, while it is admirable and a touching win for the goodness of human nature that the items should be donated or the purchase funds donated, respectively, the system shouldn't rely on this.
The definition clearly doesn't reflect our cultural understanding of treasure, as it fails to take into account cultural, artistic and historical value. This brings us to the next problem, and the real heart of the issue, namely, that items of significance are being lost.
Do you remember when Indiana Jones would say, "that belongs in a museum"? (Strictly speaking, the particular items he was talking about didn't belong in a museum, but with the traditional owners of the artefacts ie their rightful owners, and in their cultural and historical context.) Nevertheless, Indiana Jones' basic point is a good one. These items are at risk of being not declared, not studied, damaged or forgotten about or otherwise lost to the public and the academics that could learn from studying them. If they end up in a public collection on display in another country, that is better than being damaged but nevertheless represents a huge loss to the British public.
Due to these issues, the need for reform was clear.
Safeguarding our heritage
In February 2019, the government launched plans to update the Act and revise the definition of "treasure", in a consultation paper, "Revising the definition of treasure in the Treasure Act 1996 and revising the related codes of practice". Feedback from museums, landowners, detectorists, archaeologists and members of the public revealed that treasure finds had been growing year on year for the past six years and had each time exceeded 1,000 finds with a total of 20,906 artefacts found in 2018 alone, and that the majority of these finds (96%) were made by detectorists.
As a result of this consultation, new statutory instruments will be introduced within the next year (there was some delay due to the Covid-19 pandemic). The changes will span five areas: (i) procedures for declaring finds, including the inquest procedure; (ii) museums' expressions of interest; (iii) valuation of treasure, crucially, a re-defining of treasure; (iv) a new rewards system and clarity on who provides that reward (the museum); and (v) greater speed when handling cases.
Most positively, it is set to expand the definition of treasure to focus less on materials and more on the item's historical and cultural significance.
As always, the consequences of any new reform can never be fully understood until they have been introduced and have had time to settle into practice. It is, however, likely that with the broadening of the definition of "treasure" itself we will see a great deal more treasure finds being reported. Hopefully also we will see important objects go into museums, many of these being local and regional galleries that continue to act as important heritage repository sites and providers of specialist knowledge.
One thing is certain, however, and that is that treasure law will continue to be a spicy little area of the law, full of swashbuckling finds and interesting cases.
This is the first of a series of Journals examining Treasure law reforms in England and Wales.
Hillary Curtis has a bachelor of science (botany) and a bachelor of arts (art history and anthropology) degree from the University of Sydney, and has worked in galleries and museums. She is due to commence pupillage next year.