The rivals that rookies rate best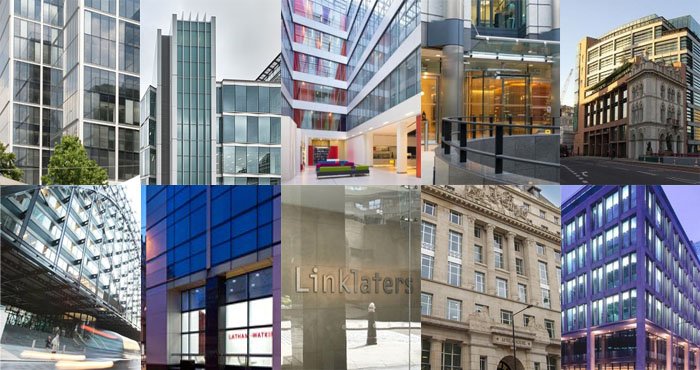 Law firms pride themselves on their reputation. From slick branding to even slicker offices, many big legal players certainly know how to present themselves.
As part of our exclusive research, we asked more than 2,000 trainees and junior lawyers at the 60 leading corporate law firms the following tantalising question: 'Which firm other than your own do you most admire?' The results were interesting.
In alphabetical order, the ten firms most admired among lawyers in our Legal Cheek Trainee and Junior Lawyer Survey 2017-2018 are…
Allen & Overy
No real surprises here. Located in plush offices on the fringes of the City, Allen & Overy boasts magic circle-topping finances. The latest figures show profit per equity partner (PEP) was last year up by a whopping 26% to £1.51 million, while revenue enjoyed a sizeable uplift of 16% to £1.52 billion.
Away from an impressive set of financials, the big corporate player — which takes on roughly 90 trainees annually — has 44 offices in 31 countries. Embracing its proximity to the hipster-filled cafes of Shoreditch, A&O has its own Zuckerberg-esque "tech innovation space" called Fuse where free dwellings have been assigned to a host of lawtech start-ups.
Its lawyers, who earn £81,000 upon qualification, are drowning in perks and international secondment opportunities, according to our findings. Sweeteners include a free on-site gym, while popular secondment destinations are Dubai, Paris and Singapore.
Read Allen & Overy's full firm profile, including The Legal Cheek View and Insider Scorecard.
Bird & Bird
Bird & Bird, a technology-focused City outfit affectionately known as 'Two Birds', recently moved into an impressive London office on 12 New Fetter Lane. The firm has — according to our insiders, anyway — an incredible canteen which serves "excellent munch", while offering spectacular views of the City. A small trainee intake of just 18 coupled with an A* rating for peer support helps foster Bird & Bird's strong internal culture.
The firm's client list deserves a nod too. The 28-office outfit acted for Nokia in its patent spat with Apple and advised the European Commission and UK government on changes to data protection regulations. All the while, its PEP increased for a second consecutive year in 2017, jumping by 11% to £503,000.
And while a newly qualified salary of *just* £62,000 might prompt the odd grumble, an average clocking-off time of 7:02pm is not to be sniffed at.
Read Bird & Bird's full firm profile, including The Legal Cheek View and Insider Scorecard.
Burges Salmon
Unlike its fellow nominees, Burges Salmon conducts most of its City work from its bustling Bristol office. Its riverside operation is just a short walk from Temple Meads station, from which lawyers can reach London in an hour and 45 minutes. The firm — which has a smaller office in the capital — dishes out around 30 training contracts annually.
Training is top notch, according to our spies. Trainees are put through a six-seat rotation (rather than a typical four) and can take advantage of secondment opportunities in cities including Copenhagen, Brussels and Paris. Then, they'll earn £48,000 upon qualification.
And Burges Salmon appears to a genuinely fun, nice place to work. Perhaps it's the fresh Bristol air keeping spirits up, or maybe lawyers' virtually commuteless start to the day — but what we can say is recent staff soirées featured a senior partner dressing as Mick Jagger and an NQ doing a James Bond tango with another partner.
Read Burges Salmon's full firm profile, including The Legal Cheek View and Insider Scorecard.
Freshfields
Freshfields, whose roots go all the way back to 1743, has seen PEP rise by 5% to £1.547 million and turnover hit a cool £1.33 billion. The 28-strong office takes on a hefty 80 trainees, who are paid an even heftier £85,000 upon qualification.
The Anglo-German giant provides its staff with the perkiest of perks including freshly-made sushi every Tuesday and Thursday evening (courtesy of an expert chef), a subsidised ski trip, an on-site gym and half-price theatre tickets. If that wasn't enough, its rookies have a 40% chance of a stint abroad. Destinations include Berlin, Hong Kong, New York and Singapore.
Freshfields — which has represented the Bank of England since the 18th century — recently signed a 20-year lease for a new London headquarters. Ditching its Fleet Street base, the magic circle outfit is set to take up residence in a brand new skyscraper at 100 Bishopsgate in 2021. We bet the views will be insane.
Read Freshfields' full firm profile, including The Legal Cheek View and Insider Scorecard.
Herbert Smith Freehills
Herbert Smith Freehills — which is based in a spaceship-like office straddling Liverpool Street Station — is arguably the most prestigious UK-headquartered law firm outside the magic circle.
The outfit boasts its own advocacy unit staffed by a host of QCs and will regularly second trainees to organisations including: Sky, human rights group Liberty and tech company IBM. Lawyers looking to spread their wings can spend time at one of Herbies' 26 offices, which are based in destinations including: Dubai, Hong Kong, Moscow, Paris, Seoul, Singapore and Tokyo.
The firm takes on roughly 80 new recruits each year and coughs up an NQ salary of £82,000 (more than what some magic circle firms are paying their junior lawyer talent). Like most of its corporate counterparts, HSF is known for the range of its practice, which these days spans everything from finance and fintech to transport and TMT.
Read Herbert Smith Freehills' full firm profile, including The Legal Cheek View and Insider Scorecard.
Hogan Lovells
Hogan Lovells is the product of a 2010 tie-up between London's Lovells and Washington DC outfit Hogan Hartson, one of the most successful mergers of the past decade. The international colossus has 49 offices in 26 different countries, including a substantial presence in South America and Asia as well as Europe and the US. No doubt more interestingly, it's also understood to be the only City firm to have its own range of rubber ducks.
The firm's latest set of financials is almost as impressive as its London HQ's steel-clad lobby fountain. Last year Hogan Lovells saw revenue climb to a staggering £1.53 billion and global PEP reach just shy of £1 million (the UK figure is £760,464).
Away from the numbers, Hogan Lovells also has a plethora of pro bono and corporate social responsibility initiatives close to its heart. The firm works with organisations including the British Paralympic Association, while its head-honcho, Nicholas Cheffings, is the current chair of City law social mobility scheme PRIME.
Read Hogan Lovells' full firm profile, including The Legal Cheek View and Insider Scorecard.
Latham & Watkins
Los Angeles-founded Latham & Watkins is a force to be reckoned with. Enjoying seven years of consecutive growth, revenue now stands at a hefty £2.19 billion and PEP at a staggering £2.38 million.
Junior pay is equally impressive. Latham's fresh-faced associates in London start on a whopping £124,000 — one of the biggest figures in the City and certainly enough to turn even the most well-remunerated magic circle NQ green with envy. Rookie pay is equally impressive. Trainees — of which there are roughly 24 annually — earn £46,000 in year one and £48,000 in year two.
But with great pay comes great responsibility. Expect to be "thrown into the deep end" from the start, with one trainee noting: "There is definitely a high expectation on trainees to be organised and have the initiative to ask questions or attempt new things from the get-go." Thankfully, the US player's top talent enjoy a break from the London grind during international secondments in the likes of Hong Kong, Paris, Madrid, Singapore, Washington DC and the firm's home city of Los Angeles.
Read Latham & Watkins' full firm profile, including The Legal Cheek View and Insider Scorecard.
Linklaters
Founded in 1838 when John Linklater joined forces with Julius Dods (it was then known as Dods & Linklater), Linklaters is one of the most-respected firms in the City. Offering "technically brilliant" training, according to one insider, the major legal player takes on 110 rookies annually and pays them a tidy £78,500 upon qualification.
Like its training, Links' perks are said to be some of the best around: an in-house fitness centre, a firm doctor, drinks trolleys, Deliveroo allowance, cabs and excellent coffee, to name but a few. And then there's the staff canteen, Silks. The in-house eatery (which even has its own Instagram page) serves up culinary delights that wouldn't look out of place at a Michelin-starred restaurant.
Those who thrive at Linklaters stand to make big money: the firm's latest PEP is £1.57 million. But expect a ferocious battle to reach such dizzying heights.
Read Linklaters' full firm profile, including The Legal Cheek View and Insider Scorecard.
Mishcon de Reya
One of law's cooler customers, Mishcon de Reya has represented the likes of Gina Miller (of Article 50 fame), Princess Diana, Christian Louboutin and Harvey Nichols. If that wasn't impressive enough, the firm's Africa House home, located on the fringes of Holborn, features a swish cocktail bar, where clients can grab themselves fresh sushi and ice-cold martinis before meetings.
Drinkypoos aside, Mishcon's cool, modern vibe is demonstrated further in its penchant for tech. The firm — which has just two offices, in London and New York — was one of the first firms to launch its own start-up incubator. Punting for the rather catchy name 'MDR LAB' and teaming up with London-based innovation investor L Marks, Mischon de Reya recently opened it doors to six up-and-coming lawtech start-ups.
Mishcon may pride itself on its progressive vibe, but it stills pays traditional City firm salaries. Expect £67,000 on qualification, and in excess of £1 million at partner level.
Read Mishcon de Reya's full firm profile, including The Legal Cheek View and Insider Scorecard.
Slaughter and May
Slaughter 'don't you dare use an ampersand' May is one the City's most elite British law firms. From its protected Twitter account to the partners' personal pigeonhole and napkin, Slaughter and May prides itself on standing slightly apart from the rest of the City crowd. It's also pretty mysterious, not providing the details of its associates on its website nor disclosing its PEP. As for the latter, the PEP is rumoured to be big: around £2 million.
However, there's plenty we can tell you about the firm. For starters, it has just four offices — London, Beijing, Brussels and Hong Kong — and recently confirmed it had taken a 5% equity stake in AI-diligence tool Luminance.
As for the trainee/junior lawyer experience, the firm's 80 trainees a year can expect a "high volume of good quality (partner-delivered) training" and "lots of responsibility from early on".
Read Slaughter and May's full firm profile, including The Legal Cheek View and Insider Scorecard.
We'll be announcing the winner of Most Admired Law Firm 2018 at the Legal Cheek Awards on Wednesday 14 March.