As magic circle firm expands tech incubation programme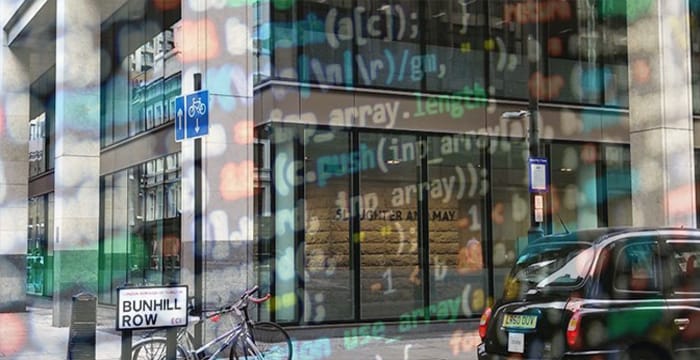 Magic circle law firm Slaughter and May is trialling a new training scheme in a bid to improve the digital and cognitive skills of its lawyers.
The pilot, which kicked off earlier this summer, is part of the firm's wider innovation strategy and could see some of its young associates get to grips with coding. The uber-traditional law firm (partners' still have access to their own private dining room) is considering sending a group of its lawyers on an eight-week long coding workshop to learn the basics of Python, one of the most popular programming languages. If given the go-ahead, this would follow similar coding initiatives offered by the likes of Linklaters, Clifford Chance and Addleshaw Goddard.
As part of this fresh approach to training, The Lawyer (£) reports that Slaughters is hoping to boost the creativity and productivity of its lawyers. The Bunhill Row outfit recently hosted two seminars focused on how lawyers can approach problems in different ways and is considering bringing in an efficiency expert to teach its lawyers cognitive skills like speed-reading.
The firm's training pilot, which runs until early next year, comes on the back of heavy investment in artificial intelligence (AI) technologies. Last year, Slaughters took a 5% stake (£7.5 million) in machine learning-backed due diligence tool Luminance. All trainees are required to learn how to use the system as part of their due diligence training, according to the report.
Meanwhile, the magic circle player has expanded the scope of its legal incubation programme to include a broader range of emerging technology businesses.
As part of the Bunhill Row outfit's 'Fast Forward' programme, Slaughter and May provides free legal and business support to early and growth-phase technology businesses. Each lucky start-up accepted into the programme receives up to £30,000 worth of magic circle support.
The law firm has now opened its third round of applications and hopes to attract a more diverse range of business from up and coming sectors including cryptography, cyber, robotics, machine learning and fintech. It said it hopes to include at least one business with sustainability or "greentech focus" in its latest cohort and particularly encourages businesses with strong environmental credentials to apply.
Ben Kingsley, a partner at Slaughter and May, said:
"The main aim of our programme is to support some fantastic young businesses by giving access to the first class legal support that our firm can provide; but it also helps us to gain knowledge and experience that we can use to better our offering to all our clients. Emerging technologies are touching clients across all sectors and so opening up Fast Forward outside the fintech space is a totally logical step at this point."
The firm's programme, originally named 'Fintech Fast Forward', has so far supported 11 fledgeling businesses. As reported by Legal Cheek, the first five companies to receive the firm's backing were Enforcd, Tide, Garrison, Just Miles and World Remit. A year later, another six businesses joined Slaughter and May's scheme: Digital Fineprint, Flock, Multiply, TAB, TrueLayer and Valsys.
The outfit isn't alone in dishing out free support to tech-minded entrepreneurs.
Addleshaw Goddard launched a similar scheme in 2016 which saw the firm provide up to £500,000 in free advice and mentoring. Meanwhile, Simmons & Simmons said it was setting aside over £100,000 to help "exciting" new fintech businesses. Other firms to launch offer support to tech business include Allen & Overy (Fuse innovation hub), Mishcon de Reya (MDR LAB) and Dentons (Space Camp).