From swimming pools to sleeping pods — and everything in between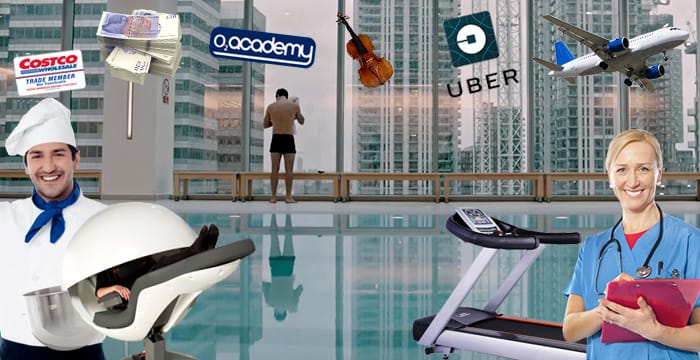 We asked the question 'How good are your firm's perks?' to over 2,000 trainees and junior associates at the country's leading corporate law firms, as part of this year's Legal Cheek Trainee and Junior Lawyer Survey. Respondents then rated their places of work on a perk-o-meter ranging from one to ten — with one defined as 'Ryanair', and ten as 'Mayfair'.
Ten firms secured our highest A* ranking. Here is the shortlist, listed alphabetically, for the best corporate law firm perks 2018–19…
Allen & Overy
The roof terraces (there are three) at Allen & Overy's London office win rave reviews. And with a heavily subsidised bar that serves delectable spritz — it's happy trainees all round.
When they're not clinking glasses over closing drinks, these trainees have a complete range of magic circle essentials to sample. 24-hour gym, tickets to Wembley gigs, free tennis lessons and taxi rides after 9pm are just some of the perks on offer. Fancy brushing up on your violin skills? Well, there are "music practice rooms", as one insider tells us. Fancy.
"Private medical care is fantastic," adds a rookie. Indeed, the firm has its very own doctor (to deliver its legendary annual flu jabs), dentist and physiotherapist on-site to keep its trainees in tip-top shape. "It really is very convenient, particularly when working long hours," says another.
Read Allen & Overy's Legal Cheek profile in full, featuring its 2019 scorecard grades and firm review.
Clifford Chance
"There's an endless supply of freebies," says one Clifford Chance trainee, "you just need to know how to access them."
Swanky gym featuring "squash courts" and "a dance studio for zumba lovers", private healthcare, on-site dry-cleaning facilities, hairdressers and even hot dinners delivered to your desk after 7:30pm to keep late-nighters' spirits high. Over the summer apparently every World Cup match was screened in the firm's canteen. Footie fanatics rejoice.
The firm's box at the 02 Academy is another highlight. Trainees can apply for tickets. To make the evening gratis they recommend taking a partner with you to cover drinks costs, because at CC "trainees never pay".
Not to forget the firm's signature perk — the firm's very own swimming pool, which according to one rookie is "usually empty".
Read Clifford Chance's Legal Cheek profile in full, featuring its 2019 scorecard grades and firm review.
Freshfields
Where do you start with the lavish menu of perks offered by magic circler Freshfields?
As an aperitif there's the cultural stuff, like two-for-one National Theatre tickets, and use of the firm's corporate membership to the National Portrait Gallery. Next up are the ski trips and other sports tours abroad, such as a recent all expenses paid netball tour to La Manga, Spain.
The main attraction has to be the amazing health perks, the centre point of which is the "great" on-site gym. In addition to this, Freshfields employs its own doctor, dentist, masseuse, and physiotherapist, who rookie lawyers can pop down to see between deals. To round off there are the £15 meal vouchers after 7pm and free taxis home after 9pm.
Read Freshfields' Legal Cheek profile in full, featuring its 2019 scorecard grades and firm review.
Hogan Lovells
Trainees love one of the best in-house gyms in the City. OK, so it's in the basement but the "fantastic" Hogan Lovells fitness centre puts many private health clubs to shame.
When they're not burning off the calories, the firm's rookies are consuming them in the "decent" canteen, enjoying discounts at local lunch restaurants, and munching "excellent" cookies in the firm's meeting rooms. Look out, too, for "champagne trolleys when the team wins a deal or new client".
Read Hogan Lovells' Legal Cheek profile in full, featuring its 2019 scorecard grades and firm review.
Kirkland & Ellis
Kirkland & Ellis' perks sound like something out of The Great Gatsby. Corporate hospitality seats at the Yankees, Stewards enclosure at Henley, 'Attorney retreats' at swanky five star hotels with lucky trainees tagging along. Kirkland's London office, located on the 19th-25th floors of Sir Norman Foster's iconic Gherkin building in the City, is also rather glamorous.
Other freebies include free breakfast, a £25 dinner allowance after 7pm, paid taxis past 9pm. There is even a concierge service. Given the demanding hours, trainees may find they're making use of these extras rather regularly.
And then, of course, there's the money. That $190,000 dollar-tied NQ pay could soar even higher after a Sterling plunge no-deal Brexit…
Read Kirkland & Ellis' Legal Cheek profile in full, featuring its 2019 scorecard grades and firm review.
Linklaters
From onsite a gym "that's better than most Virgins", to 24/7 food from the excellent canteen, and sleeping pods for those working on big deals, Linklaters is a mini-world in its own right. There's also a doctor, physio, shop and dry-cleaning service within the megafirm's Silk Street headquarters, where ice cream is on supply "most days in the summer".
It's one of the friendlier places in the City too, with "amazing staff in the print room, IT and the post room who go above and beyond and make trainees lives so much easier".
For those stepping outside Links' warm magic circle bosom, fear not, fun abounds. The outside world holds such joys such as "a day trip to Paris as a deal-closing celebration" and "free entry to all top London art exhibitions and private views".
Read Linklaters' Legal Cheek profile in full, featuring its 2019 scorecard grades and firm review.
Milbank
US firm Milbank has a neat list of perks to write home about. "I could mention the medical or dental care packages, but the free Costco membership clearly wins the day!" quips one trainee.
Plenty of stateside trips for the firm's London lot are another attraction. There's "orientation week" for associates in the Big Apple and the prestigious 'Milbank@Harvard' programme, which sees juniors trained by Harvard boffins for a week each year — nice jollies to look forward to. The jet set lifestyle continues: one rookie raves about "European retreats" and this year's apparently took place in the sunny South of France.
"Does the salary count?" asked one trainee. Indeed it does. "$$$$$$$$$$$$$" adds a colleague.
Read Milbank's Legal Cheek profile in full, featuring its 2019 scorecard grades and firm review.
Ropes & Gray
When you're aged 25 earning £115,000 working in a manageably-sized London office of a US firm where the average leave time is a not too bad 8:10pm, and you don't have to pay for your Deliveroo if you stay past 8pm, what more do you want? No wonder Ropes & Gray rookies are happy with their lot.
Another Ropes & Gray attraction are the numerous charity projects that it is involved in. Recently the firm's London office has taken part in running and cycling challenges and had lawyers sleep rough for homeless charities and other good causes.
Read Ropes & Gray's Legal Cheek profile in full, featuring its 2019 scorecard grades and firm review.
Skadden
Skadden is a firm which makes the A* grade, we sense, less because of the quality of its biscuits and away days and more, perhaps, due to cold hard cash. The firm's NQs earn a whopping £118,000, which buys a lot of sushi/theatre tickets/champagne brunches. What's more, all associates get their own office decked out in wood furniture at the firm's London base in Canary Wharf.
On top of this, Skadden subsidises its rookies' gym membership and provides them with a reasonably plentiful supply of "good social events".
Business trips to the mothership in New York are also a regular feature of trainee and junior lawyer life.
Read Skadden's Legal Cheek profile in full, featuring its 2019 scorecard grades and firm review.
White & Case
Healthcare hasn't gone amiss at international giant White & Case. Treats include subsidised yoga, weekly therapist sessions and an annual health and wellness allowance called 'Wellness Works for Me'. "£500 a year to spend on gym/exercise classes/massages(!)" gushes one trainee.
Generosity spreads further. After completing their training, which includes a guaranteed international secondment, rookies can take "three-month qualification leave".
The money is not bad either. London newly qualified solicitor salaries hit a generous £105,000 this year.
Read White & Case's Legal Cheek profile in full, featuring its 2019 scorecard grades and firm review.
---
Peruse all of the firm's new 2018-19 survey scorecards — including training, quality of work, perks and much more — via the Legal Cheek Firms Most List 2018-19.