Fiona Onasanya released from prison last month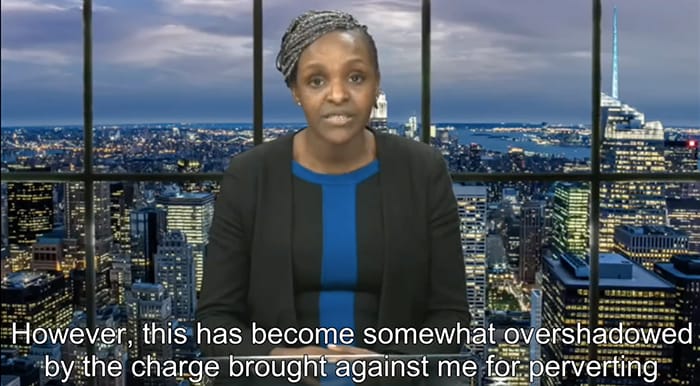 A junior lawyer turned MP who was jailed for perverting the course of justice has produced a bizarre YouTube video maintaining her innocence and vowing to be a "voice of change in parliament".
Fiona Onasanya, a commercial property law specialist, was jailed for three months in January after she was found guilty of lying to the police over a speeding ticket. The 35-year-old, who was expelled by the Labour party but continues to sit as the independent MP for Peterborough, was released last month after serving one-third of her sentence.
Onasanya now faces a by-election if more than 10% of her constituents — roughly 7,000 — sign a recall petition opening today.

Ahead of the petition, the Eversheds (now Eversheds Sutherland) lawyer released a two-minute YouTube video in which she protested her innocence. Speaking in front of what appears to be a New York City backdrop, Onasanya said: "Now I have this opportunity, I would like to ask: people have asked for my resignation but what would you do if you were innocent?"
Onasanya, who earlier this month lost a challenge against her conviction for perverting the course of justice, continued:
"Would you sit back and accept it? Would you accept it knowing in your heart of hearts that you are innocent? Or would you fight to clear your name? I am telling you I am innocent and I will continue to pursue avenues to clear my name. If you wish for me to continue as your independent member of parliament, I am willing and able to do so. But the choice is now in your hands."
At trial, Onasanya told the court she assumed she was in Westminster when her Nissan Micra was photographed by a speed camera doing 41mph in a 30mph zone in Thorney, near Peterborough, on 24 July last year. The prosecution, however, maintained that she had schemed with her brother to deceive police by claiming a former tenant, Alek Antipow, was driving the vehicle. Inquiries later revealed Antipow was at home with his parents in Russia at the time.
Onasanya's brother, Festus Onasanya, admitted three charges of perverting the course of justice a week before he was due to face trial. He was sentenced to ten months in prison.
The recall petition will remain open for six weeks.