Human rights specialist Jessica Jackson dishes the goss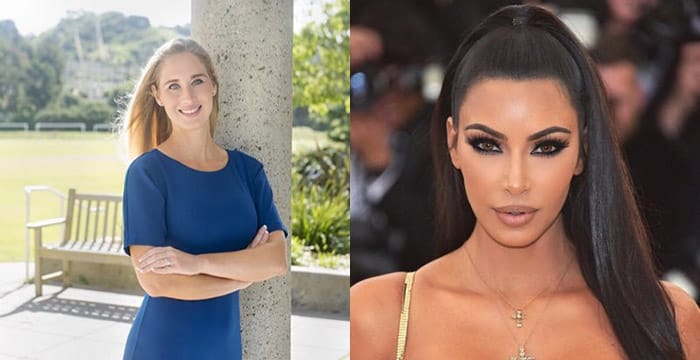 Kim Kardashian broke the internet when she revealed last month she is studying to become a lawyer. Now, one of her attorney mentors, Jessica Jackson, has opened up about what it's like training up the media mogul.
To some it would seem a rather unlikely pairing: Jackson, a human rights attorney and co-founder of #Cut50, an organisation fighting to end mass incarceration, and Kim Kardashian, reality TV star, social media sensation and global beauty icon whose rise to fame is perhaps better left unsaid.
Yet, the two have come together; notably through Jackson's involvement in criminal justice reform and her reaching out to Kim K to bring a dash of celebrity to the case to free 63-year-old Alice Marie Johnson from a life behind bars after a first-time, non-violent drug offence (a union that resulted in Kardashian meeting with President Trump at the White House to discuss prison reform). She's also the lawyer tasked with helping Kardashian realise her lawyer dream — and one Jackson says shouldn't come as a surprise.
Dishing out the goss to US women's lifestyle and entertainment site Refinery29, Jackson said:
"I would say never underestimate Kim Kardashian West… In all her business ventures, she has been successful. I have no reason to believe her commitment to criminal justice reform will be any different. Ms. Alice's story awakened something in her — something that resonates with her father's career as a lawyer."
Indeed, Kimmie's lawyerly ambitions haven't materialised out of thin air. Her late father, Robert Kardashian, was a US defence lawyer who famously worked on OJ Simpson's murder trial.

Elsewhere, Jackson discusses the first-year law student's work with the #Cut50 team. "Kim cares deeply about people who are negatively impacted by incarceration. She has spent time with us meeting with people living inside prisons, meeting with formerly incarcerated people, crafting policy, and working on individual cases, while also learning more about the law. I'm proud of the work she's doing."
The 38-year-old socialite of Keeping up with the Kardashians fame confirmed she had begun a four-year legal apprenticeship with an unnamed law firm in San Fran last summer, with a view to sitting the California bar exam in 2022 in May's issue of Vogue. Despite not possessing a university degree, Kardashian's path into law is possible because California is one of a number of US states that allow aspiring lawyers to sit their final bar exams without a law degree.
It seems the help of Jackson and her other mentor, Erin Haney, both of whom were pictured alongside Kardashian in a snap posted to the glamorous star's Instagram account where she has over 136 million followers, appears to have helped. The mother-of-three (soon to be four) sat her first of three exams last month and tweeted, "Aced my test btw ⚖️✏️?".
This follows Kim K's sister and fellow reality TV star, Kourtney Kardashian, revealing to host Ellen DeGeneres on Monday's episode of the popular day-time TV show, The Ellen DeGeneres Show, that Kimmie has already begun laying down the law on her famous siblings.
"Everything is such a liability… When we were at one of our Sunday services that Kanye [Kim's husband] throws … they used to be indoors … and she's like 'Oh my gosh this is such a liability'. She just knows all these laws now… it's annoying," she told DeGeneres.